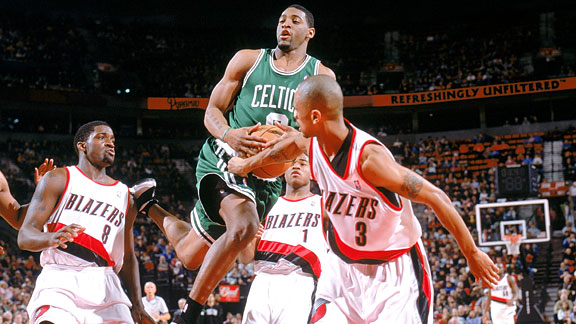 Sam Forencich/NBAE/Getty Images
"I wish," says former Celtic Orien Greene, now in the D-League, "I would have been been a little bit more professional."
Orien Greene is well aware he would have fit nicely as a Celtic. "Oh man," he says, "my friends tell me that all the time. Every time the Celtics are on TV."
He used to be one. Some of it is recorded. There he is on the bench, in a photo, yukking it up with Paul Pierce, or beating Allen Iverson off the dribble for a dunk. There's Doc Rivers whispering in Greene's ear.
Close to six years ago Celtics executive Danny Ainge watched Greene -- nearly 6-5 and eye-poppingly strong -- deliver some of the best perimeter defense in the NCAA, while handling the ball expertly against the best full-court press in the country. Ainge drafted Greene in the 2005 draft's second round, and Greene played 80 games in green that season.
The Celtics, of course, were a few years from acquiring Kevin Garnett and becoming an insane, title-winning defensive juggernaut. But they were well into an ongoing search for the kind of two-way wing production Greene knows in his heart he can deliver. Tony Allen, Marbury, Nate Robinson and Delonte West have all taken turns in recent years, to say nothing of Von Wafer, Bill Walker, Lester Hudson, J.R. Giddens, Gabe Pruitt, Sam Cassell, Allan Ray, Sebastian Telfair, Marcus Banks and Dan Dickau.
Meanwhile, at age 28 Greene continues to deliver elite defense for the D-League's Utah Flash, to go with -- as of today -- 23 points, five rebounds, five assists and two steals while making 48 percent of his 3-pointers, and 52 percent of all field goals.
How is a guy like this not in the NBA?
Ask NBA front offices and you'll hear that he's a perfectly good player, but something of a knucklehead; Near the end of that rookie year he was pulled over going close to 100 miles an hour in suburban Boston, for instance. There have been drug test issues.
Ask Greene -- who has played briefly for the Pacers and Kings, as well as in New Zealand, Jerusalem, Amsterdam and Orem, Utah since leaving the Celtics -- and he'll tell you the same thing.
"The drug test. That night in Boston. Everything. ... I would have done a lot of things different. If not for those, maybe I wouldn't be at this point right now," he explains. "That's the thing: I wish that I would have been a little bit more professional when I was in the league."
---
It was a Lexus QX56 SUV. Or at least it had been.
Greene had a perfectly good season in the D-League last season, but had not been called up to the NBA. The money was terrible -- barely enough to survive the regular season. The offseason would have to pay for itself.
His summer plan had been to play in Puerto Rico, but when he'd gotten down there, on his own dime, the team told him some other player was getting a one-game tryout. If that guy failed, Greene was in. "The guy went for, like, 25 and nine," Greene remembers.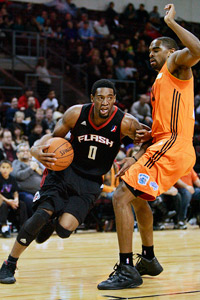 Jake Schoellkopf/NBAE/Getty Images
Greene averages 23 points, five rebounds, five assists and two steals for the Flash.
Venezuela! Outside the NBA, players do a lot of this: Play a whole season in one country, then head to another one for the playoffs. Venezuela was cool, they paid his way, and were happy to have him. Until, after a few games, that team learned about a drug suspension Greene had from Amsterdam -- where his team had won a championship -- more than a year earlier. (A positive drug test! In Amsterdam! His last job before Amsterdam had been in Jerusalem. "It ain't Jerusalem," says Greene. "You have to go check out Amsterdam for yourself. Can't really do nothing about that." ) Through some basketball equivalent of the U.N., or Interpol, the Venezuelan team resolved to honor the Dutch suspension.
So Venezuela was off, and it was back to Orem, to pack his pregnant girlfriend and his clothes and everything else into the Lexus, bound for Charlotte, North Carolina to visit friends.
Ordinarily they'd fly, but they had some time on their hands, now. "Just decided to drive," says Greene. "Like a little road trip."
Greene had the first shift behind the wheel, about five hours. Then his girlfriend -- he doesn't want to say her name, but calls her his "girl" even though he has a daughter now -- took the wheel. She was pregnant, and worried the seatbelt on the driver side was pushing against the baby in a bad way. She took off her seat belt.
Even in April, temperatures on the high plains of Wyoming can dip well below freezing at night. Roads can get icy. Asleep in the passenger seat, Orien woke up to the nightmare.
By the time they finally came to a stop, the vehicle had rolled three times and spun at least once. "We were headed East, but by the time the car stopped, it was facing West," says Greene.
They climbed out of the driver's side door, because the SUV was parked on the passenger side, at the bottom of a big ditch. (To get it back out of the ditch, they had reverse whole process, rolling it three times back the other way, with big chains hooked to tow trucks.)
The windows, the mirrors, every panel of the body ... smashed, smashed and smashed. The car was totaled.
"It was a real nice car," remembers Greene. "It was white. I really miss that car."
---
Miracles.
Somehow Greene's unbuckled girlfriend, rolled thrice in the car with the steering wheel in her two trimester lap, was fine.
Somehow Greene -- for whom a back or knee injury could have been professional devastating, walked away too.
They might have frozen out there on that bitter Wyoming night had it not been for the working men in the Chevy truck who decided to be late for work in Denver to keep the shell-shocked couple warm while the tow trucks showed up.
Has Greene been back to Wyoming since? "Heeeeeeeeeell no," he says. "First and last time."
The fun road trip vibe was beyond dead. New plan: Fly to Houston, to her family and her family doctor.
The whole way, Greene stressed the hell out about that baby. Was it OK in there? Who knew what that kind of impact could do to an in utero precious tiny little loved one. Even after the doctors in Houston said everything looked OK, Greene was nervous.
"At that point, I broke down," he says.
A baby to worry about. A totaled truck. A bad reputation with the people who matter most in the business. Trying to pay bills at the whim of this or that hoops executive in Puerto Rico or Orem.
"Teams don't want to mess with me because of off-the-court stuff. Not on the court," he was thinking. "I just need get my life together, man. Do all the right things. Stay out the street, stay out of all the bulls---, excuse my French, but there ain't no way I ain't supposed to be in the league right now. I'm making such-and-such dollars. It ain't about that, but ain't no way I shouldn't be playing with the best guys in this game. I feel like I belong."
"I was scared the whole time," he explains. "When July came and I had my little girl, everything just came to light. This is what it's all about right here. She came out OK."
They named her Heiress.
---
The little family is back in Orem together. Greene is proud as hell of Heiress -- he brags that she only fusses if she's hungry or tired or needs to be changed. Instead of giving up sleep to nightlife, now he's giving up sleep to being a dad. Heiress and Orien watch the 7 a.m. SportsCenter together.
Greene's job now is to prove to NBA front offices that he's a different man. A father. A professional. An ex-knucklehead.
He's also somebody who is wrestling with the financial realities that have been smacking a lot of Americans around the last few years.
"I had money and I was young," he says. "You just have to go through some of that." And go through it he has, he says. The difference is now he's older, wiser and, thanks to Heiress, entirely reprioritized.
Telling people that, he realizes, is nothing like showing them. So that's what he's doing.
Even as he says the things you're supposed to say ("Just trying to keep my nose clean so I can play basketball," and "I haven't messed with no marijuana in two years,") he doesn't expect people to take his word for it. He's a man with a history. It's hard to establish one reputation before your 30th birthday -- Greene's working on his second and the clock is ticking.
Meawhile, Greene has been considering his various bills and obligations. He's a semester from a business degree, which he says he intends to get. He has thought about one day -- a long time from now -- becoming someone who trains basketball players. He has some other business ventures in mind.
"I'm not trying to do that tomorrow, of course," he explains. This is not the sound of his giving up on his playing career five years after being drafted.
"I ain't getting no younger. More guys coming out, more athletic. More a lot of stuff," he says. "But I don't think there's a lot of guys in the league right now who can bring what I bring. I'm 28. Whatever. A lot of guys in the league, that I see right now, don't really play both sides of the ball.
"Lord willing, lord willing, somebody's going to call me and I can get back in."
He's not hung up on getting back to the Celtics, or a team with a winning record, nice weather, a good role for him or any of that. "I'm just envisioning the call right now," he says. "I'm going to play it on out after that. I'm focused on a call that goes somewhere where I can feed my people. That's it. I can't really sketch out a story about living happily ever after, winning championships and all that. But I know I can go help a team somewhere."