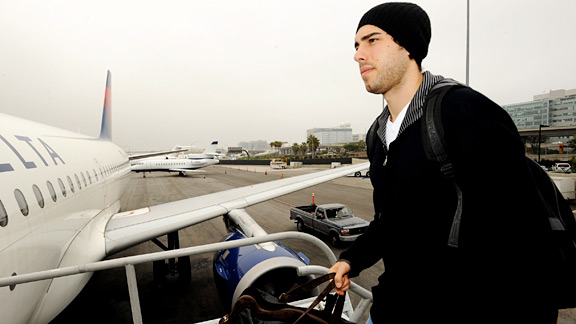 Andrew D. Bernstein/NBAE/Getty Images
Sasha Vujacic, shown here during last year's Finals, is reportedly on the move.
Come every December 15, wheeling and dealing begins in earnest.
'Tis the season -- that is to say, the start of the NBA trade season. Players signed over the summer can't be traded for three months or until December 15, whichever is later. This means the bulk of last summer's bumper crop of free agents is eligible to be traded starting today. Any player signed September 15 or earlier -- i.e., most players signed over the summer -- can now be dealt.
The Lakers, Nets and Rockets started their holiday shopping a little early Tuesday, reportedly agreeing to a three-way trade that sends Sasha Vujacic to New Jersey, Joe Smith to Los Angeles, and Terrence Williams to Houston, with the Nets netting (hard to resist the pun) a pair of first round picks in the deal. Smith was signed over the summer -- so the trade can't be made official until today.
Who are the other players who just became eligible to be traded? Below is a list of the 108 players who can now be included in trade discussions.
Miami in particular gains a lot of flexibility -- prior to Wednesday, the only Heat players eligible to be traded were Mario Chalmers and Dexter Pittman. Of course, most of these players will stay put. The Big Three aren't leaving Miami, the Celtics aren't moving Ray Allen, Paul Pierce or Shaquille O'Neal. But many of the players on this list certainly will be discussed -- and some of them probably will be moved in the NBA's trade season, which starts today and ends at the February 24 trade deadline.
Atlanta Hawks: Joe Johnson, Jason Collins*, Josh Powell, Etan Thomas.
Boston Celtics: Paul Pierce, Ray Allen*, Jermaine O'Neal, Nate Robinson, Marquis Daniels*, Shaquille O'Neal, Von Wafer, Delonte West.
Charlotte Bobcats: Tyrus Thomas, Shaun Livingston, Kwame Brown, Dominic McGuire, Sherron Collins.
Chicago Bulls: Carlos Boozer, Kyle Korver, Ronnie Brewer, C.J. Watson, Kurt Thomas, Keith Bogans. Eligible later: Brian Scalabrine (December 27).
Cleveland Cavaliers: Joey Graham, Samardo Samuels. Eligible later: Jawad Williams* (December 21), Manny Harris (December 27).
Dallas Mavericks: Dirk Nowitzki (no-trade clause), Brendan Haywood, Ian Mahinmi. Eligible later: Steve Novak (December 23), Brian Cardinal (December 27).
Denver Nuggets: Al Harrington, Anthony Carter*, Shelden Williams. Eligible later: Melvin Ely, Gary Forbes (December 28).
Detroit Pistons: Will Bynum, Ben Wallace, Tracy McGrady
Golden State Warriors: David Lee, Dorell Wright, Louis Amundson, Rodney Carney, Jeremy Lin.
Houston Rockets: Luis Scola, Brad Miller, Ishmael Smith, Kyle Lowry**.
Indiana Pacers: (none).
L.A. Clippers: Randy Foye, Ryan Gomes, Rasual Butler*, Craig Smith*, Brian Cook. Eligible later: Jarron Collins (December 27).
L.A. Lakers: Steve Blake, Derek Fisher, Shannon Brown*, Matt Barnes, Theo Ratliff.
Memphis Grizzlies: Rudy Gay, Tony Allen.
Miami Heat: LeBron James, Chris Bosh, Dwyane Wade, Mike Miller, Udonis Haslem, Joel Anthony, James Jones*, Eddie House, Zydrunas Ilgauskas, Carlos Arroyo*, Juwan Howard, Jamaal Magloire*. Eligible later: Erick Dampier (February 23).
Milwaukee Bucks: John Salmons, Drew Gooden, Keyon Dooling, Jon Brockman, Earl Boykins.
Minnesota: Darko Milicic, Luke Ridnour, Anthony Tolliver. Eligible later: Sundiata Gaines (February 12).
New Jersey Nets: Travis Outlaw, Anthony Morrow, Jordan Farmar, Johan Petro, Stephen Graham, Ben Uzoh, Joe Smith (Smith reportedly has been traded to the Lakers).
New Orleans Hornets: Aaron Gray*. Eligible later: Pops Mensah-Bonsu (December 24), DJ Mbenga (January 11).
New York Knicks: Amare Stoudemire, Raymond Felton, Timofey Mozgov, Roger Mason. Eligible later: Shawne Williams (December 23).
Oklahoma City Thunder: Royal Ivey.
Orlando Magic: Chris Duhon, Quentin Richardson, Malik Allen, Jason Williams*, J.J. Redick**.
Philadelphia 76ers: Tony Battie.
Phoenix Suns: Josh Childress, Channing Frye, Hakim Warrick. Eligible later: Garret Siler (December 27), Earl Barron (February 16).
Portland Trail Blazers: Wesley Matthews. Eligible later: Patrick Mills* (December 26), Sean Marks (February 6).
Sacramento Kings: Eugene Jeter. Eligible later: Luther Head (December 27).
San Antonio Spurs: Richard Jefferson, Matt Bonner, Gary Neal. Eligible later: Chris Quinn (February 5), Ime Udoka (February 24).
Toronto Raptors: Amir Johnson, Linas Kleiza.
Utah Jazz: Raja Bell, Francisco Elson. Eligible later: Earl Watson (December 24), Kyrylo Fesenko* (December 29).
Washington Wizards: Josh Howard*, Hilton Armstrong. Eligible later: Cartier Martin* (December 24), Alonzo Gee (February 22).
* Players with one year contracts (excluding any option year) whose team will have Bird or Early Bird rights at the end of the season cannot be traded without the player's consent.
** Restricted free agents whose offer sheets were matched cannot be traded for one year without the player's consent.