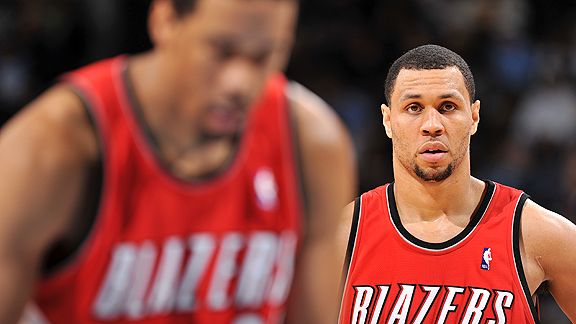 Garrett W. Ellwood/NBAE via Getty Images
If a split comes in Portland, Andre Miller appears to be the more tradeable of the two Blazers guards.
It's no secret that playing alongside Andre Miller frustrates Brandon Roy. Miller keeps Roy from handling the ball as much as he wants and doesn't spread the floor enough for Roy's liking.
After Monday's loss to Memphis, Roy all but blamed his struggles this season on Miller, saying "I wasn't that slow until you put a guy who is kind of slow next to me. I've always been kind of slow. Not to be controversial at all, but I was slow my rookie year, and now it's ...''
Roy, who's lacked the explosiveness we've seen from him in the past, apologized for his comments two days later, but his frustration remains -- and Wednesday's four-point performance in another L at Dallas certainly didn't improve his mindset.
But is Roy frustrated enough to leave Portland?
Depends on who you ask.
One plugged-in person with knowledge of Portland's inner workings told me Roy spoke with Blazers management less than two weeks ago about the need for Miller and him to part ways. While Roy did not issue a trade demand or request, I'm told he said something to this effect:
This is not going to work, so you should trade one of us. Whether it's him or whether it's me, somebody needs to be traded because this is not going to work.
Portland general manager Rich Cho, as well as Roy's agent, Bob Myers, denied that such a discussion ever happened.
"It's not true,'' Cho said on Thursday.
Whether Roy made those comments or not, it's unlikely that he'd be the player on the move because Miller's trade value is much higher. Not only is Miller having another strong season, averaging 13.3 points and 7.4 assists, but there's a team option on the $7.8 million the Blazers owe him next year. So essentially, the 34-year-old point guard is on an expiring contract.
As for Roy, well, his trade value has never been lower.
Slowed by his bad knee, Roy is having the worst season of his five-year career, averaging a career-low 16.6 points on career-low 39.9 percent shooting. Drained of some of his athleticism, he's been turned largely into a jump shooter.
But that's not the worst part. Doctors have told the Blazers that Roy's knee isn't likely to improve and sources say the feeling within the organization is that he'll never return to the 22-point per game, perennial All-Star he was the past two seasons.
On top of that, Roy is in the first-year of a five-year, $82.3 million contract extension. And sources say his knees are not insured.
Add to all that the fact that Roy's publicly criticized the team's personnel, and you get a player that no club is likely to trade for.
"People would respect Roy more if he came out and said, 'I'm not playing well, it starts with me, I've got to do a better job on both ends of floor,'' one league executive said.
I'm told that Roy respects Miller's game but that he just doesn't think the two of them are a good fit. Roy wants to handle the ball like Kobe Bryant, Dwyane Wade and LeBron James. And think about it, none of those guys have ever played next to a good, ball-dominating point guard like Miller.
"He knows 'Dre is good,'' a person close to Roy said. "But he feels that most of the elite-level two-guards are better with the ball in their hands.''
With teams -- Dallas and Orlando, in addition to New York and New Jersey -- trying to put together trade packages for Carmelo Anthony, Portland's phone is ringing off the hook. The Blazers have several assets that would be desirable in a three- or four-team deal. Wonder if Miller could be one of them.