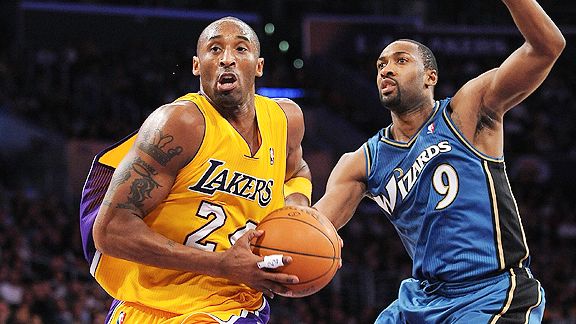 Andrew D. Bernstein/NBAE/Getty Images
Right this way, Kobe: Gilbert Arenas has long ranked as one of the NBA's very worst defenders.
The last three years, thanks largely to Stan Van Gundy and Dwight Howard, the Magic have played tremendous defense. In terms of points surrendered per 100 possessions -- a far better measure than points given up per game -- the Magic had the NBA's most efficient defense in 2008-2009. They have been in the top five since. And it's plain to see: look at those defenders flying around the floor, contesting passes and shots. Watch opponents shy away from Howard in the paint. It's something.
Defense is tricky, though. We can't measure it and break it apart nearly as well as we can offense. Who's responsible when a team plays good defense? Is that a coaching thing?
And, the big question for the Magic: is it really possible to add Jason Richardson, Hedo Turkoglu and most amazingly, Gilbert Arenas -- three mushy defenders, for sure -- to any team and remain good at defense?
I don't know the answer to that, but we all will soon. And if, by the playoffs, the Magic are among the NBA's top five defensive units, let's remember to pause and celebrate Van Gundy's magical powers.
Watching the NBA's best teams of recent years-- the Lakers, Celtics and Magic, for instance -- it is clear that great defense is not a case of simply stringing together a lot of good defenders. Yes, those teams have great defenders like Dwight Howard, Kevin Garnett and Ron Artest. But it's not as simple as throwing an elite big man out there and letting him protect the rim. (Pau Gasol played defense in Memphis and lost a ton. Chuck Hayes is lauded as a great defender in Houston, but they have struggled. Andrew Bogut can play some serious D. Tyson Chandler has played some elite defense in his day.) You need a system where every defender works cohesively.
Think of it like trying to weave a watertight basket (which people can actually do, by the way, which is amazing, but a story for another time). If you have almost the whole basket woven tight as a drum, it's a nice accomplishment that won't hold even a teaspoon of water. One little opening and all the water rushes through.
Similarly, having some good NBA defenders on your team is kind of pointless if you're still going to leave, say, Gilbert Arenas isolated against the Kobe Bryants of the world.
Keeping an NBA offense at bay is, inevitably, about helping and recovering effectively. That's not just a task of covering ground with length and athleticism, though. It's also a task of recognizing and reacting. There's an open shooter. Who is supposed to close out on him? When?
On bad teams, some of these things appear to be almost left to chance. On good teams, it's fine-tuned. Even players who aren't as long, quick or tenacious can still be put to good use, simply by knowing where they have to be and when, and doing the best they can. They may not win a lot of one-on-one confrontations. But simply by being in the right place at the right time, even the worst defenders can make the difference between a wide-open shot and a contested one. That's big.
The Magic made it to the Finals a couple of years ago with reputed poor defenders Hedo Turkoglu and Rashard Lewis (and a rookie, Courtney Lee) all starting. Statistics suggested Ray Allen was a horrible defender before he arrived in Boston and was an integral part of the most memorable NBA defense of the last decade. But coaches like Doc Rivers, Tom Thibodeau and Van Gundy have been able to make good defenses that include bad defenders.
If Van Gundy can pull it off on a roster with this many poor defenders, that'll be the kind of coaching accomplishment that ought to get Van Gundy into the conversation for coach of the year.