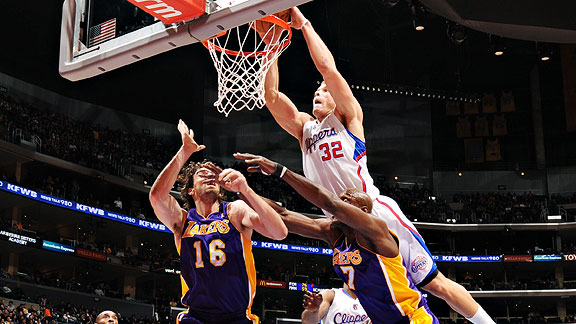 Noah Graham/NBAE/Getty Images
Blake Griffin may soon cause opponents to start wearing helmets.
We love dunks. We're enamored with them. We have contests to see who can do them the best. They get fans out of seats and players not even involved in the game showing unchecked emotion. Without the dunk, Blake Griffin is still probably great, but it's his ability to soar with his head literally at rim level before he comes crashing down on an orange-painted piece of metal that's putting him at legend-in-the-making status.
Dunks are magical events. They are only worth two points, but potentially can count for so much more. A well-timed dunk can slap the psychological makeup of a game in the opposite direction.
It's the dunk that has the likes of Charles Barkley frothing at the mouth, definitively saying he would watch an All-Star dunk contest pitting Griffin against LeBron James, perhaps two of the most physically ferocious dunkers the game has ever seen. I wouldn't bet on LeBron entering this year's contest, but I imagine Barkley has already thrown money down on it anyway.
According to the Dunk-o-Meter on CBSSports.com, 295 players have had at least one dunk this season. Griffin leads the league with 70 total dunks, 55 different players have totalled just one dunk on the year according to the stats.
But who dunks the most per minute played? And if you're looking to maximize your NBA dunk viewing, which teams should you watch? Here's a list of players who have seen at least 100 minutes of court time this season and their ranking in minutes played per dunk:
DeAndre Jordan (LAC) - 12.4 minutes played per dunk

Derrick Brown (CHA) - 13.2

Shaquille O'Neal (BOS) - 13.8

JaVale McGee (WAS) - 15.6

Derrick Favors (NJN) - 15.7

Blake Griffin (LAC) - 15.7

Hakim Warrick (PHO) - 15.9

Brendan Haywood (DAL) - 17.1

Tyson Chandler (DAL) - 17.1

Amar'e Stoudemire (NYK) - 17.6

Ryan Hollins (CLE) - 17.8

Omer Asik (CHI) - 17.9

Dwight Howard (ORL) - 19.6

Brandan Wright (GSW) - 20.0

Kevin Durant (OKC) - 20.1

Andre Iguodala (PHI) - 21.4

LaMarcus Aldridge (POR) - 21.5

Tyrus Thomas (CHA) - 22.2

Semih Erden (BOS) - 22.3

Nene (DEN) - 22.7
Dwyane Wade ranks 11th in the NBA with 37 total dunks, but he sits 35th in frequency with a dunk for every 28.2 minutes he's on the court. And that LeBron guy? His 31 total dunks ranks 15th, but his 37.2 minute frequency ranks 66th.
So which squads should you watch for the most dunks? Here are the top six teams in dunk totals for players currently their roster:
Clippers - 170

Thunder - 155

Knicks - 153

Wizards - 121

Sixers - 117

Mavericks - 113
And the least dunking teams?
Rockets - 52

Bucks - 59

Pistons - 61

Spurs - 64

Hornets - 65

Cavaliers - 69
Basically, the teams Griffin has more dunks than by himself.
The Heat-Lakers or Celtics-Magic games will be great tomorrow, but if it's dunks you want, you might want to tune into the noon kickoff game that pits the Knicks against the Bulls (ranked seventh in team dunks with 110). Or maybe you should wait to open your dunking presents for when the Mavericks and Thunder play on Monday.