LOS ANGELES -- Dominique Wilkins was a spectacular dunker, as Blake Griffin is now. Wilkins was an older player adjusting to diminished physical abilities, as Kobe Bryant is now. And Wilkins was a star who competed in the dunk contest ... something LeBron James has yet to do.
Wilkins was a five-time participant in the dunk contest, beginning with the inaugural contest in 1984 and going out by winning for the second time in 1990. He squared off against the likes of Michael Jordan and Julius Erving, back when the sport's biggest names had no problems battling for slam supremacy.
Today's players "don't want to know who the best is," Wilkins said at Staples Center before his color commentating duties on the Hawks-Clippers broadcast Sunday afternoon. "Simple as that. They don't want to know who the best is. We always wanted to know. It's that competition thing, where guys don't want to compete on that level, in a one-on-one situation. It's not just for you as an individual, it's for the fans. That's what we did it for. Yeah, we wanted to win, but it's for the fans. Guys just don't want to do it anymore."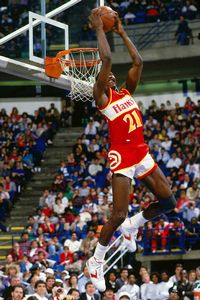 Andrew D. Bernstein/NBAE/Getty
Dominique Wilkins showed no fear of flying during dunk contests.
Entering the dunk contest would be a great opportunity for LeBron to win back some of the public relations points he lost with "The Decision" and add some luster to an All-Star Weekend event that felt so flat in Dallas last year some called for it to be eliminated. Some believe there's too much downside, that if he lost the contest it would be another setback for him. The man who once lost to 5-foot-6 Spud Webb doesn't want to hear it.
"Even if you lose the dunk contest ... so what?" Wilkins said. "'He lost. It doesn't hurt his potential legacy later in life. It's a dunk contest for a weekend for his fans."
Wilkins dunked at every opportunity when he entered the NBA with the Hawks in 1982, similar to the way Griffin is assaulting the rim in his rookie year.
"Being a great athlete, you think you can play at one speed your whole career," Wilkins said. "And you can't. You've got to pick your spots by finding a way to get yourself some easy baskets to conserve some of that energy. Because when you play at that 100 percent speed all the time eventually it's going to catch up with you as you get older.
"When you're a young man, you can get away with it. But I found out early on ... put it this way: I used to come out to the games, right? I would come in the game in the warmup line, I would put on a show. By the fourth quarter, I ain't got no energy. I stopped doing that. I stopped really dunking in warmups. I was trying to conserve my energy for the fourth quarter.
"Lou Hudson [a Hawks star in the 1970s] told me something a long time ago. He just told me to look at the game as getting three buckets a quarter. Just three buckets. If you add those three buckets up a quarter, what do you have? 24 points. That's not even counting free throws. If you concentrate on getting that, you're conserving your energy."
Wilkins had no choice when he finished his career with the San Antonio Spurs and Orlando Magic.
"I knew I couldn't go all out against a guy, especially athletically," Wilkins said. "I knew I had to become more of a basketball player, doing the fundamentals. When I had to do those explosion plays, I still had those reserves in the tank where I could do that.
"I had a game in San Antonio where we're playing against Dale Davis and Antonio Davis [of the Indiana Pacers], where I had to play the four. I had to conserve my energy to box those big guys out. And I had [16] rebounds. And those guys were relentless on the glass. Maybe you had to sacrifice a little bit of your scoring. It depends on the situation and the player you're going against."
That was in Wilkins' 14th season, when he was 37 years old. He still averaged 18 points per game that year and topped 30 four times. Kobe is also in his 14th season, even though he's only 32. His game is more grounded, he's looking to pass more … he's going through the same transition Wilkins did.
"Just getting older, man," Wilkins said. "Just getting older, where he has to pick his spots, where he can't just blow all his energy out in the first half. 'OK, I'll go hard here, then I'll pull back a little bit and try to get somebody else involved, then third quarter I'll go hard again.' Then fourth quarter…"
Against the 76ers on Friday, Kobe had paced himself well enough to hit the Lakers' last basket and final free throws to preserve the victory. And he even soared for a two-hand dunk over Spencer Hawes in the first half.
Wilkins had those moments as well late in his career.
"Afterward I'd say, 'I did that?' When you're caught up in the game, you don't think about it."
Dunkers dunk. A lesson for LeBron.