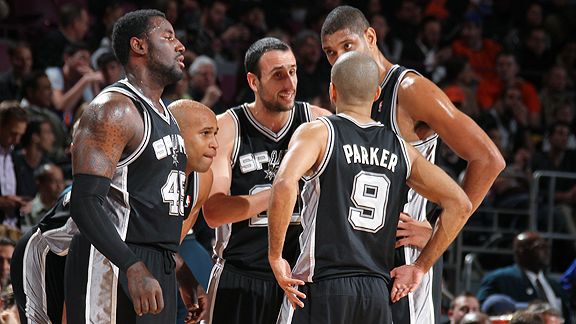 Nathaniel S. Butler/NBAE/Getty Images
Not mounting a late comeback against the Knicks: Manu Ginobili, Tim Duncan and Tony Parker.
Spurs coach Gregg Popovich values rest more than most NBA coaches. He loves seeing his best players on the bench, whenever possible, and sometimes when it's downright awkward.
It happened last night. With three minutes left in a game in New York, the Spurs down by ten and the game a longshot, but decidedly undecided, Popovich summoned from his bench three players who had not taken off their sweats all night: Chris Quinn, Ime Udoka and Tiago Splitter. They were to complete the Spurs' comeback -- or not, as it turned out -- teamed with Matt Bonner and Gary Neal.
Sitting on the Spurs' bench: Some of the greatest clutch performers in NBA history, including Tim Duncan, Manu Ginobili and Tony Parker. With the best players out there playing, maybe this was about to become three minutes for the ages. The Spurs have come back from bigger deficits in less time.
The TV announcers were befuddled. There was zero chance Popovich was doing everything he could to win this game.
But at the same time, who can tell the most successful regular season coach in recent NBA history that he doesn't know what he's doing?
Tim Duncan played 40 minutes a game, for 82 games, when he was 25. His minutes per season have been dropping ever since. Last season he was on the court about 900 fewer NBA minutes -- for him about 29 games' worth of play -- than he played in 2001-2002. This season he's playing even less -- his average minutes per game is under 30 for the first time in his career.
It's clearly a major priority for the Spurs to get their best players rest during the season, so that they're as fresh as can be for the long-term, and especially playoffs.
Sometimes it's a little awkward to watch, like last night. In the moment, it never looks smart to bench great players.
But evidently, it's brilliant. The Spurs have one of the oldest teams in the league, and the best record so far this season. (And they are playing the Celtics -- the team with the NBA's second-best record -- tonight.) Despite a fairly frail and injury prone crew, and pressure to keep salaries reasonable, they have won four championships during the Duncan era, and are candidates for a fifth. You could make a strong case that every team should emulate them.
Only ... NBA teams can get in trouble if they're not trying to win every game. The league must protect the value of each ticket, and thus the import of each event. The league needs people to pay $250 for a good seat, and nobody wants to shell out that kind of dough to watch the best players in the world sit with towels draped around their necks.
So, of course, tanking -- or even just not trying your damnedest to win -- is strictly verboten.
If the NBA cared to really investigate teams that don't go all out every night to win every regular season game, the Spurs would emerge as a prime offender.
The irony is that these Spurs, in the Tim Duncan era, have won more regular season games than any other team in the NBA. So, yes, you can prove they didn't try their damnedest to win certain games, mostly by resting Duncan, and sometimes Ginobili and Parker, for parts of games when they might have helped their team win. But that rest ... it really seems to have helped the team win.
Which makes you wonder: Is there some better way Popovich could be deploying his players? Maybe going all-out every night is simply not the recipe.
And: Is the NBA season just too long? If the optimal strategy is for the best players to go hard for, say, 2,500 minutes a year, and if the league wants stars on the court as much as possible, does it make sense to have a (roughly, depending on overtimes) 4,000 minute season?