There's only one consistent theme that emerges from the latest filings obtained by ESPN.com in Elgin Baylor's wrongful termination lawsuit against the Clippers: getting owner Donald Sterling to spend money on players is a daunting prospect.
Declarations from Baylor, the Clippers' former general manager, and Mike Dunleavy, the coach who took over Baylor's general manager duties before Dunleavy lost both jobs, were included in Baylor's response to the Clippers' motions for summary judgment. The Clippers' legal action, filed in November, had essentially asked the court to dismiss Baylor's suit in which he claims he was fired on the basis of age and race.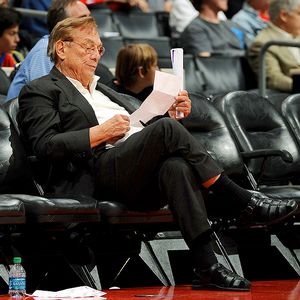 Noah Graham/NBAE/Getty Images
Donald Sterling could have some fresh courtside reading of legal documents to do.
Clipper legal counsel Robert Platt stated through the team that he would withhold comment until reviewing the documents himself.
Dunleavy said that Sterling "always told me to give him a great player and he'd pay for him, but there were several players I wanted to sign and we didn't because Sterling refused to spend the money. The Clippers' biggest concern was making a profit."
Baylor took it a step further, adding a racial component.
"Because of the Clippers unwillingness to fairly compensate African-American players we lost a lot of good talent, including Danny Manning, Charles Smith, Michael Cage, Ron Harper, Dominique Wilkins, [Corey] Maggette and others," Baylor said.
Baylor, who describes himself as "an African-American male over the age of 40" in the declaration (the NBA Register lists his date of birth as Sept. 16, 1934), said that Sterling and Clippers president Andy Roeser made references to his age for the last 10 years of his employment and questioned his ability to still do his job.
Dunleavy referenced similar comments about Baylor's age from the Clippers' upper management, but Dunleavy stated, "The entire time that I worked for the Clippers, I never saw any change in Elgin's ability to perform his duties, or that his age had any adverse impact on the performance of his duties and responsibilities as general manager."
Dunleavy said that during a team trip to Russia in 2006, Clippers officials were dining at a restaurant called Rasputin when Platt, the Clippers' attorney, told him that the Clippers thought Baylor was too old and they were going to fire him. While the Clippers told Dunleavy that Baylor only wanted to work for two more years, Dunleavy said he never heard that from Baylor, and Baylor said in his statement that he never told anyone that he wanted to retire.
Meanwhile, Dunleavy participated in the diminishing of Baylor's power, as Dunleavy took over trade talks and draft selections, while Roeser negotiated contracts. Baylor said it reached the point that he learned of team transactions through media reports.
Dunleavy said he wanted to make Baylor aware of his increased role, but he never did so directly. Dunleavy said he tried to bring it up in a meeting with Sterling, Roeser and Baylor, but was cut off by Sterling.
Dunleavy said that "I always tried to keep Elgin in the loop and let him know what I was doing", but Baylor said he was caught off guard when Neil Olshey (whom Baylor described as "a protégé of Mike Dunleavy") was named the new director of player personnel instead of Baylor's choice, Gary Sachs.
"There were other instances where Dunleavy negotiated deals that I learned about through the media," Baylor said.
Olshey took over the general manager job from Dunleavy last season, after Dunleavy had already been relieved of his coaching duties.
Baylor, who worked for the Clippers as an executive from 1986 to 2008, said he received only one raise in his final 16 years. He was most upset that after the team reached the second round of the playoffs in 2006 he did not receive a pay raise, while Dunleavy received a contract extension and Roeser was promoted.
Then there was this non-sequitur paragraph:
"While ignoring my suggestions and isolating me from decisions customarily reserved for general managers, the Clippers attempted to place the blame for the team's failures on me," Baylor said in the declaration. "During this same period, players Sam Cassell, Elton Brand and Corey Maggette complained to me that DONALD STERLING would bring women into the locker room after games, while the players were showering, and make comments such as, 'Look at those beautiful black bodies.' I brought this to Sterling's attention, but he continued to bring women into the locker room."