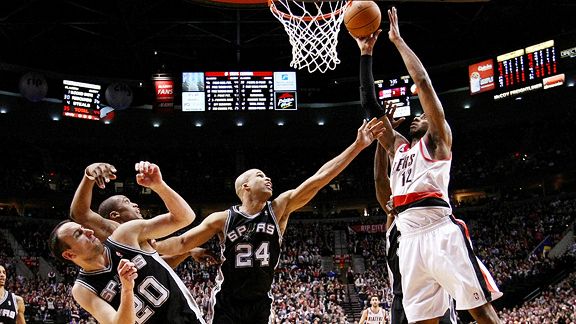 Jonathan Ferrey/Getty Images Sport
The Spurs are giving up buckets they never used to. Does that matter?
Last night, after a fluke loss in Portland (a Blazer airball that turned into an assist; a Blazer lob that missed by two yards, hit the backboard, and found its target anyway; Antonio McDyess passing to a referee ... I could go on) I heard from several Spurs fans who were despairing about their team. Like, really upset. Tearing their hair out.
This from the fans of a team that has won a nutty 40 of 48 games, including eight of its last ten, even while playing starters the shortest minutes of any team in the league.
Fans of most teams would ask: What on earth are these people complaining about?
The answer: defense. They see the aging Spurs conceding a certain kind of easy buckets they used to stop.
And what they're seeing with their eyes -- mostly trouble sticking with long, mobile scorers like LaMarcus Aldridge, who had a career-high 40 -- is backed up by some numbers.
These numbers, in fact:
That's where the Spurs' defense ranked, in the whole NBA, in Tim Duncan's first 11 years. In the bolded years, they won titles.
In the two-and-a-half seasons since then, however, the Spurs' defense has ranked fifth, eighth and -- this season -- seventh.
So those fans are right. The defense is simply not the same. It's a new era, and Duncan is no small part of why. He's not as mobile in any direction -- to the rim, to passing lanes, to cut off drivers, to help and recover, to the sky -- as he once was.
What's different this year is that the offense is picking up a ton of slack. Before this year, Duncan's teams have had, on average, the NBA's 11th best offense. The best-ranked offense he has ever been a part of was in 2006-2007, when the Spurs were fifth. (In 1999, they won a title with the NBA's 11th best offense.)
At the moment, however, the Spurs are tied for the NBA's second-best offense. They are a whisper out of first. That's new. Is the offensive improvement enough to offset the declining defense? Well, that's why they play the games. But it is certainly in the realm of possibility that the Spurs could continue to disappoint fans with their diminished defense, and win a title anyway.