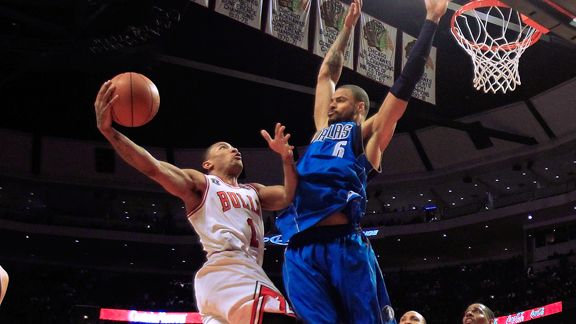 Jonathan Daniel/Getty Images Sport
Brilliant guard Derrick Rose faces big obstacles in an MVP bid -- mainly the Bulls' record.
A couple of weeks ago, I wrote that Derrick Rose was lucky to be considered a leading candidate for MVP.
A lot of people have been telling me how much I underappreciate Rose. That's not the point! I love that guy. He's humble, hardworking, fun as hell to watch and (despite what Nicolas Batum says) improving by the second.
I'm not making any judgment about who should be the MVP. (For now, let John Hollinger and Brian Windhorst speak to that.)
I'm talking who usually wins, fair or not.
And who usually wins the MVP award? I just dug in and found out: the star of a team that wins 75 percent of its games, and who very often leads the league in scoring or some other kinds of production (expressed here as player efficiency rating). That's the deal.
Of course, we all know that great players can be stuck on so-so teams. But evidence is that MVP voters don't think like that. To them, there's a certain profile. And a look at the past 20 years shows that it's essential to play for a team with a top-four NBA record.
Winning is king
MVPs come from teams that win a ton. Period. At the moment, many of those mentioned as MVP candidates (Oklahoma City's Kevin Durant, New Orleans' Chris Paul, the Lakers' Kobe Bryant, Chicago's Derrick Rose, Orlando's Dwight Howard, New York's Amare Stoudemire) play for teams that would need to climb the standings to give their stars credible cases by the standards of the past 20 years, when:
Every MVP came from a team that finished with a top-four record leaguewide.

Seventeen of 20 MVPs were from a team with one of the two best records in the NBA.

Nineteen of 20 MVPs (or all of them if you toss that outlier Steve Nash 2005-06 award from the analysis) came from a team with one of the NBA's three best records.

MVPs' teams, on average, won 62 games (after adjusting for the lockout shortened 1998-99 season) a season, or about a 75 percent clip.
This season, only San Antonio is on a better pace, while just Boston, Miami and Dallas join San Antonio in winning more than 70 percent of their games.
This is why Basketball-Reference's MVP predictor tool, based on historical patterns showing that wins, points per game, rebounds per game, assists per game and win shares per game are paramount to voters, suggests that the top four candidates all play for the Heat and Spurs.
If you're not winning a hell of a lot of games, you'd better have some really special story to sway voters at the polls -- just as Steve Nash was once the Pied Piper of an entirely new, eye-catching brand of basketball.
Fifteen of the past 20 MVPs ranked first overall in one of more out of points per game, regular-season wins or PER.

Every MVP not named Steve Nash was top-three in at least one of those categories, and Nash led the league in assists.

Michael Jordan (in 1991-92) and Shaquille O'Neal (in 1999-2000) were the only two MVPs in the past two decades to finish the regular season first in points per game, wins and PER. However, eight of the past 20 finished first in two or more of those categories.
The players MVP voters love
During the past 20 years, winning an MVP award has essentially required a top-three NBA record, and extremely high scoring and PER are important, too.
All data courtesy of the NBA and its new StatsCube tool.
<div class="mod-container mod-no-footer content-box mod-inline full mod-no-header-footer">
<div class="mod-content">
<h4>TITLE</h4>
<p>
Sample text goes here. Sample text goes here. Sample text goes here. Sample text goes here. Sample text goes here. Sample text goes here. Sample text goes here.
</p>
<table>
<thead>
<tr><th>Col 1 Title</th>
<th>Col 2 Title</th>
<th>Col 3 Title</th>
<th>Col 4 Title</th>
</tr>
</thead>
<tbody>
<tr class="last">
<td>Col 1</td>
<td>Col 2</td>
<td>Col 3</td>
<td>Col 4</td>
</tr>
<tr class="last">
<td>Col 1</td>
<td>Col 2</td>
<td>Col 3</td>
<td>Col 4</td>
</tr>
<tr class="last">
<td>Col 1</td>
<td>Col 2</td>
<td>Col 3</td>
<td>Col 4</td>
</tr>
<tr class="last">
<td>Col 1</td>
<td>Col 2</td>
<td>Col 3</td>
<td>Col 4</td>
</tr>
<tr class="last">
<td>Col 1</td>
<td>Col 2</td>
<td>Col 3</td>
<td>Col 4</td>
</tr>
<tr class="last">
<td>Col 1</td>
<td>Col 2</td>
<td>Col 3</td>
<td>Col 4</td>
</tr>
<tr class="last">
<td>Col 1</td>
<td>Col 2</td>
<td>Col 3</td>
<td>Col 4</td>
</tr>
<tr class="last">
<td>Col 1</td>
<td>Col 2</td>
<td>Col 3</td>
<td>Col 4</td>
</tr>
<tr class="last">
<td>Col 1</td>
<td>Col 2</td>
<td>Col 3</td>
<td>Col 4</td>
</tr>
<tr class="last">
<td>Col 1</td>
<td>Col 2</td>
<td>Col 3</td>
<td>Col 4</td>
</tr>
<tr class="last">
<td>Col 1</td>
<td>Col 2</td>
<td>Col 3</td>
<td>Col 4</td>
</tr>
<tr class="last">
<td>Col 1</td>
<td>Col 2</td>
<td>Col 3</td>
<td>Col 4</td>
</tr>
<tr class="last">
<td>Col 1</td>
<td>Col 2</td>
<td>Col 3</td>
<td>Col 4</td>
</tr>
<tr class="last">
<td>Col 1</td>
<td>Col 2</td>
<td>Col 3</td>
<td>Col 4</td>
</tr>
<tr class="last">
<td>Col 1</td>
<td>Col 2</td>
<td>Col 3</td>
<td>Col 4</td>
</tr>
<tr class="last">
<td>Col 1</td>
<td>Col 2</td>
<td>Col 3</td>
<td>Col 4</td>
</tr>
<tr class="last">
<td>Col 1</td>
<td>Col 2</td>
<td>Col 3</td>
<td>Col 4</td>
</tr>
<tr class="last">
<td>Col 1</td>
<td>Col 2</td>
<td>Col 3</td>
<td>Col 4</td>
</tr>
<tr class="last">
<td>Col 1</td>
<td>Col 2</td>
<td>Col 3</td>
<td>Col 4</td>
</tr>
<tr class="last">
<td>Col 1</td>
<td>Col 2</td>
<td>Col 3</td>
<td>Col 4</td>
</tr>
<tr class="last">
<td>Col 1</td>
<td>Col 2</td>
<td>Col 3</td>
<td>Col 4</td>
</tr>
</tbody>
</table>
</div>
</div>