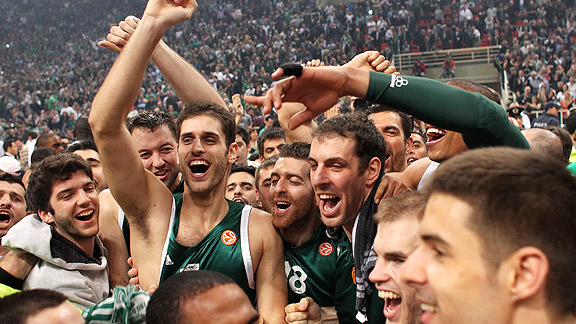 Vladimir Rys Photography/Getty Images
European teams have no clue how to ride superstar players, and maybe that's a good thing.
When I first met Stephen Danley, he played forward for the Penn Quakers. He graduated in 2007, and has since been a Marshall Scholar at the University of Oxford. Occasionally he pops up writing for The New York Times. Other times, he pops up to chat, including yesterday when he mentioned that he was in Athens and fixing to attend a Euroleague playoff game between Panathinaikos Athens and Ricky Rubio's Regal FC Barcelona.
In the intervening 24 hours, he has:
Attended one of the more raucous games of his life,

been attacked by a dog on his way to the Acropolis and,

received treated in a Greek hospital, where he was assured he will be fine.
Despite all that, Danley found time to pen some thoughts about how the game he saw on Thursday is nothing like the NBA:
In baseball, RBIs used to get a hitters MVPs. In football, an onside kick was only a desperation tactic, while fourth downs were almost exclusively for punting. Over time, the attitudes towards such stats and decision-making have radically shifted.
Could European-style player management, with more rigid rotations and less focus on dominating play by stars, be a similar perception-changing shift in basketball?
European coaching wasn't on my agenda when I bluffed my way into a press pass at the Olympic Stadium in Athens. I was there because at lunch I had been confused for a local basketball player, and an avid fan had asked if I was going to see Panathinaikos BC play FC Barcelona in the Euroleague playoffs. I thought it'd be a good chance to see a few NBA draftees (Ricky Rubio, Nick Calathes, Fran Vasquez and former Grizzly Juan Carlos Navarro), while seeing if European basketball crowds were really as crazy as their reputation.
The fans didn't disappoint. By the time I took my seat, still half an hour before tipoff, all 19,000 of them were standing, singing, and as far as I could tell, smoking. The haze was made worse by some sort of torch that fans lit during big moments of the game, so much so that the smoke notably hung over and obscured the action on the court.
It took one minute and fifty-five seconds for the first fan to throw something on the court, and the singing, hissing, booing and cheering never stopped. The fans even sang and screamed during their own teams' free throws.
As my dad would say, this was a cultural experience.
But basketball is basketball, right? Especially at this level, in the Euroleague playoffs, with so many of the top players in the world. Both teams featured Americans, with two former University of Maryland Terrapins, Terence Morris and Drew Nicholas, that I'd been big fans of as a kid. Barcelona featured three of the starters from Spain's Olympic Team who'd all been drafted to play in the states: Juan Carlos Navarro, Fran Vasquez and Ricky Rubio.
But from the get-go it was obvious this wouldn't be an NBA-style game. There was too much zone and pressure defense. Both teams sagged into the lane, creating a cluttered half court setup that more resembled the NCAA than the NBA.
I had my eyes out for what I'd been told by European teammates was a superior brand of team basketball, with better ball movement and crisp offensive sets. It wasn't there. The offense was ugly, partly because of stingy defense, and partly because there simply weren't enough shot creators on the floor to make the defense scramble to cover them.
Even so, the reduced emphasis of individual play and shot creation appeared to be part of a distinct coaching style. It wasn't about beautiful offense so much as it was about player management; these coaches liked balanced offenses that didn't emphasize individual ability, even though that style was leading to contested shots.
The lack of individual play was accompanied by deep rotations. This was not just a result of parity and depth for these clubs; there were clear differences in players' abilities. It was just that, unlike the NBA, where star players see their minutes bump up in the playoffs when wins are more valuable, Barcelona stuck to its rotation even at the brink of elimination. It was a tactical choice.
It's not just that more guys played regular minutes. It's when they played the minutes. Former lottery pick Vasquez was sent to the bench only two minutes and twenty seconds into the second half. There was nothing atypical about it; Vasquez and Juan Carlos Navarro were both resting inside of the five minute mark of the fourth quarter.
Even when on the court, stars weren't emphasized the same way they are in the states. Rarely did one player dominate even a stretch of play. Vasquez did it for a few minutes at the beginning of the second quarter, with eight straight points. But he wasn't featured again until the final minute. In the second half, he played only 11 minutes and took just three shots. Nevertheless, he was the leading scorer in the game with 14.
At first glance it's a baffling strategy. It's clear watching European teams that American-style coaching gets more out of its stars. It's hard to watch. Morris, with the skill set and athleticism to dominate at this level, seemed to coast through the game. He was still playing hard, he did not try to dominate like best players often do in the states. No single player left Olympic Stadium with his fingerprints on the game.
But if players like Vasquez and Morris suffer from deep rotations and the lack of emphasis on stars, then the role players around them flourished. Ten different players scored for Barcelona. Navarro missed large chunks of the first half to foul trouble, and Rubio put together a horrifyingly poor offensive display, but Barcelona turned to Jaka Lakovic who had six assists and several clutch plays from the perimeter to keep Barcelona close. Panathinaikos saw its most gifted scorer, Dimitris Diamantidis, get into foul trouble, and its designated shooter, Drew Nicholas, sprain an ankle, and seemed to get better on offense. Panathinaikos relied on crafty players such as Statos Perperoglou for a lift. Perperoglou was one of eight players who scored between eight and a team-high 12 points for the club; there didn't appear to be hardly any pecking order at all.
If European-style player management is losing production from its stars, it seems possible that it's gaining that production back from its role players. To my American eyes, the quick rotations and unfeatured talent was puzzling. But the more I thought about it, the more it made sense. European teams have long been competing with more talented American ones in international competition, getting the most out of less talented teams. Of course, there are plenty of explanations for that: strong national programs, more cohesion, less of an emphasis on scorers. Maybe one more needs to be added. European teams have found a coaching strategy that gets the most out of marginal players.
It wouldn't be the first time the European system has brought something innovative to American basketball. Player development has long been championed overseas, where players are drilled in basic skills for longer, rather than playing an infinite slate of bad-habit building AAU games when they are young. Similarly, the USA National Team has become more European, stressing continuity over years, and focusing on developing a young pipeline of players.
But can giving worse players more minutes and bigger roles really help a team improve? Maybe it's not as crazy as it sounds. Certainly, on every team I've ever played with, most of the guys felt like they weren't playing to their fullest potential. Sure, players always think they're a little better than they are, but they've also been taught that it's necessary to sacrifice some of what they can do in a team setting.
But what if that sacrifice is really just untapped potential? And what if European coaches have found a way to tap into it?
Sure, not playing your best players seems foolish. But years ago did anyone in baseball really think a pitcher with a losing record could win the Cy Young? Or that a football team that barely even tried to run could win the Super Bowl? Years from now, coaches may be baffled that we ever depended on our most talent players to dominate the entire game through exhaustion. That untapped players remained fresh on the bench, their abilities wasted. That maximizing the abilities of the very best seemed like a better idea than maximizing the abilities of the rest of the roster.
I'm not saying it will happen. But watching Panathinaikos BC beat FC Barcelona to advance to the Euroleague Final Four, I was sure convinced that it could.