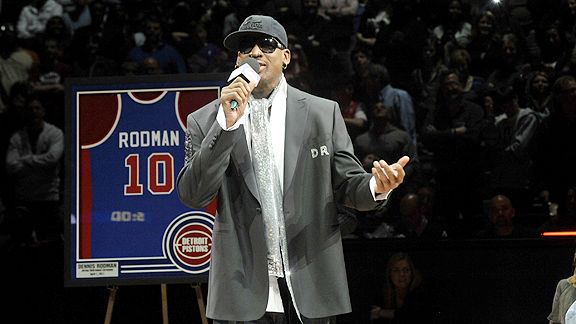 Issac Baldizon/NBAE/Getty Images
Dennis Rodman says he has been told that he will be inducted into the Basketball HOF.
AUBURN HILLS, Michigan -- Dennis Rodman isn't built for the present.
His game, so prolific, the Detroit Pistons retired his No. 10 on Friday, was straight out of the past. Since 1983, a player has finished a season averaging at least 15 rebounds per game (while playing more than six games) -- a once-common feat -- just eight times. Rodman did it six times.
His persona is straight from the future. With his multi-chromatic hair, body-covering tattoos, multiple piercings and outlandish costumes, Rodman often looks alien, like a visitor who has come from a distant planet.
For Rodman, it's probably best everybody focuses on his past and future -- "Did you see what he did?" "What will he do next?" -- instead of his present.
The present scares Rodman. The times there's nothing to do but live in the moment overwhelm him, because that's inevitably followed by a self-reflection about his journey from living in the Oak Cliff projects to staying on the streets to working as an airport janitor and getting fired for stealing 50 watches to becoming an NAIA All-American to playing in the NBA.
Friday, during an entire evening meant to honor him, Rodman had to deal with the present. And he had to do it at the site of, perhaps, the biggest battle he ever faced his demons.
Not even three minutes into his pregame media conference, Rodman began to cry. This giant man who contained some of the best players in NBA history on the court couldn't contain the emotions pouring through his body.
The sounds he made -- part snort, part grunt, part sob -- barely sounded human. Then, moments later, when the tears rolled beneath his oversized butterfly sunglasses, you couldn't help but feel how human he actually is.
"I just felt like I didn't deserve to have my number retired," Rodman said after he regained his composure, pushing the tears back up his cheek as they hit his mouth, "because I didn't do as much I should here."
Rodman played his heart out for the Pistons. He keyed two world championships. He used to pick up homeless people on his way to games, give them tickets, then take them shopping and give them money afterward.
On and off the court, he owes Detroit nothing.
But that doesn't mean his Pistons tenure was as magical as he remembers it.
Long before Dennis Rodman became the first NBA player ever to wear No. 91, the first ever to wear No. 73 and the first in 40 years to wear No. 70, he was the 163rd to wear No. 10.
Back then, Rodman's life looked simple to outsiders. He was a hard-working player from a small college who overcame a rough childhood that spilled into a rough early adulthood. But with guidance from a kind family in Oklahoma, a growth spurt and hard work, Rodman made the NBA.
If there was ever a feel-good story, Rodman was it.
Inside, though, Rodman was a mess. He didn't know how to deal with his newfound fame and fortune.
Even in his more "normal" days, Rodman didn't follow a common schedule. That's how he ended up at The Palace of Auburn Hills -- which, because of its secluded location, he often used as his personal late-night gym/shooting range -- in his pickup truck with a loaded shotgun on an April night, one probably not all that different than Friday, in 1993.
Rodman thought about the person he had become -- rich, famous and empty -- and contemplated suicide. He said he could've pulled the trigger, and once he overcame that fear, he decided to kill any phoniness within himself instead.
Then he went to sleep, the shotgun still beside him.
When police woke him that morning, it became a national story. The Pistons sent him to a psychiatrist. He had already been brooding for months after the Pistons fired his coach and mentor, Chuck Daly, and traded away the teammates he called his "big brothers" during Friday's ceremony. After an offseason that saw Rodman disappear to Las Vegas and remain out of contact with the organization, Detroit dealt Rodman to the Spurs.
So, here was Rodman at The Palace -- the site of all that joy and all that sorrow -- for the first time since he played here as a Bull 13 years ago.
How did he handle it? He glorified the past.
Maybe he had to do it that way. In many ways, despite all his outer flamboyance, Dennis is still the kid who hid behind his mom in the grocery store. Maybe he couldn't face the enormity of his experiences here.
Rodman is the guy who hyperventilated when he signed his first NBA contract, who cried when he won his first Defensive Player of the Year award, who cried on the court after blocking a Hakeem Olajuwon dunk late in a close game, who cried yet again after setting the Pistons' single-game rebounding record.
And he's still the guy who noted that his son's birthday is next week, his wife's birthday is the next day, his birthday and anniversary is two weeks after that and daughter's birthday is a week after that.
"So, I've got problems," Rodman said. "I've got problems. I'm screwed."
Those events should serve as joyous occasions, chances to look back and smile. But when Rodman looks back he feels too much pain, even if much of it was self-inflicted.
So, Friday, he romanticized his time in Detroit, associating with it an innocence he never quite had here.
That's actually how he's previously dealt with that part of his life. In his book, "I Should Be Dead by Now," Rodman writes about getting his first tattoo in San Antonio. He actually used to sit on the bench and stare at his tattoos near the end of his time in Detroit.
And why he wouldn't revere that era of his life? It featured one of the few times he fully basked in the moment without crumbling under the weight of his own memories -- when the Pistons won their first title in 1989 and he wore his champagne-soaked jersey on the flight home and celebrated for the next week.
"You couldn't help but smell him," Isiah Thomas said.
At center court on Friday, Rodman was much more chic, wearing a dark jacket with a silver-sequined "DR" on his breast pocket and a silver-sequined "10" on his back (and those were only the most notable of many sequins).
Rodman gave a long and rambling speech that, what it lacked in direction, made up for in passion. He hasn't stopped wearing his heart on his sleeve, even when his sleeves are lined with sequins.
The highlight came when Rodman held up a shirt featuring pictures of Chuck Daly and Bill Davidson, the Pistons' late coach and late owner. The shirt expressed his gratitude better than his words of the moment could.
Besides serving as a deserved tribute to others, the shirt also helped Rodman downplay the moment for himself. Instead of thinking about all his emotions, he could think about that piece of fabric between his fingers.
If Rodman needed any more help downplaying the moment, some peculiar coincidences served as distractions.
Of course, the Pistons would retire Rodman's number on April Fool's day. Of course, they'd already have given No. 10 to their most promising player, Greg Monroe. Of course, they'd be playing the Bulls, whom Rodman helped win three titles.
Strange follows Rodman like two follows one.
But so do the memories of Detroit, and he had no trouble discussing the positive ones. When asked about his favorite memory with the Pistons, Rodman recalled a time Daly took him into his office and said, "Good things come to people who wait."
Someday, I hope Rodman will accept the totality of his time with the Pistons -- the ups and the downs. Fans don't love Rodman for his perfections, but because he's imperfect like us. If he can embrace the imperfections of his stint in Detroit, I think he'd appreciate that time even more, too.
For now, I'll follow the advice Rodman passed down from Daly: I'll wait.