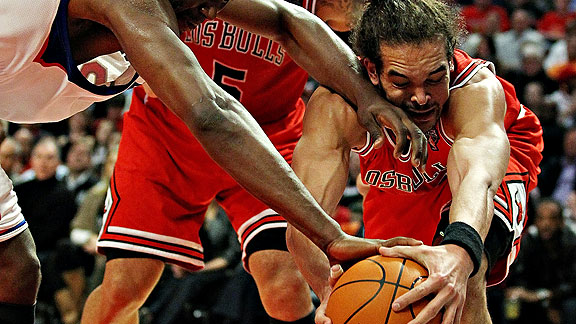 Jonathan Daniel/Getty Images Sport
Joakim Noah has battled (this time with Elton Brand) his way to the scrappy crown.
On Friday, we asked you to vote on the scrappiest players in the NBA. More 11,000 of you (in New Jersey they round up and call that a "sellout") did.
As of 11:09 AM ET this morning (when, I arbitrarily decided to count the final tallies) the winners were as follows:
Joakim Noah, Chicago Bulls
Not only does he play his freaking brains out, and embody just about everything this contest is about, but he also does all that with prominent hair, on a prominent team. That makes him one hell of an obvious scrapper, and the guy who led the voting from the very beginning.
Gerald Wallace, Portland Trail Blazers
For a period, Wallace was out of the top five, and trailing even Blake Griffin. Then online Blazer fans -- one of the stronger forces in the basketball blogosphere -- got on the case and came within a few votes of pushing "Crash" ahead of Noah.
Tony Allen, Memphis Grizzlies
Memphis radio host Chris Vernon is selling t-shirts of Allen saying: "All heart, grit and grind." More than accurate! Honestly, Allen didn't make this team, I was going to think about moving to some beachside hut in the Caribbean.
Rajon Rondo, Boston Celtics
This is the first season I've ever felt like Rondo was picking his spots a bit -- yielding for a second here or there, to the reality of being an injury-prone guy on a team that plays deep into the postseason. So, dope-slap to me for not starting this team a couple of years ago, when he could have been captain.
Ron Artest, Los Angeles Lakers
Whatever I just said about Rondo goes quadruple here. The Artest who played for the Bulls, and then the Pacers ... he was the role model of exactly what this team is about. Now he's like Elvis in the Vegas years. Still puts on a hell of a show, but with a little less verve than once there.
There's no denying that famous players got big bumps in the polling; all those Celtics, Lakers and Bulls up near the top!
The top 12 was rounded out by: Blake Griffin, Manu Ginobili, Kevin Garnett, Tyler Hansbrough, Chuck Hayes, Anderson Varejao and Chris Paul.
Meanwhile, having tons of heart and a low profile didn't work very well. The very last finisher out of the 28 nominees was Suns' backup guard -- and TrueHoop favorite -- Zabian Dowdell. I'm sure plenty of casual fans have hardly seen this guy (recently in the league only because of a 10-day contract, but now on a real deal) which hurt his case. But I'm also pretty sure that anyone watching a five-minute highlight reel would understand that Dowdell -- like fellow low-finishers Reggie Evans, Arron Afflalo, Ronnie Brewer, Luc Richard Mbah a Moute and several other lower-profile scrappers -- more than belongs on this list.
In any case, huge congrats to our scrappy starting five. As it happens, they're all going to be in the playoffs, so there will be more than enough opportunities for them to defend their titles.
And in the name of promoting scrappiness everywhere, here's an idea: Throughout the playoffs, if you see something really scrappy, mention it in Daily Dime Live or on Twitter with the #scrappy tag, and we'll do the best we can to honor some of the best plays as well as we can.