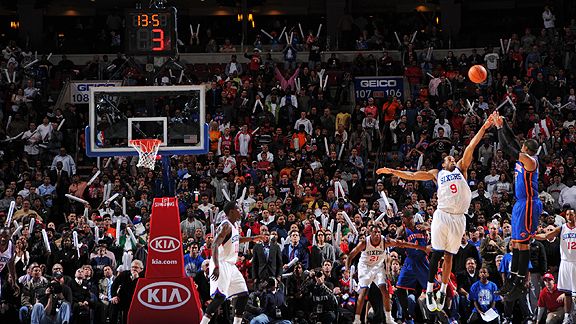 Jesse D. Garrabrant/NBAE/Getty Images
Offensive Player of the Year would be a chance to showcase a gunner like Carmelo Anthony.
On Monday we dangled the first word of the upcoming Idea Machine, and asked you to help us brainstorm new ideas for season-end NBA awards. With the help of Royce Webb, Beckley Mason and hundreds of your great suggestions, here's what we came up with:
1. Offensive Player of the Year
TrueHoop reader Rad Rico has a fiendishly clever suggestion. First of all, the existence of the Defensive Player of the Year begs the question: Don't care about offense? But then we get to the heart of the matter: The NBA's best offensive player is frequently rewarded with the MVP trophy. Breaking this out as a separate award frees the MVP for the player who contributes most all over the court. It also lets fan-favorite scorers like Carmelo Anthony, Kobe Bryant and Monta Ellis have another crack at earning trophies.
Want to nominate an Offensive Player of the Year? Hit the comments or e-mail us at basketball.idea.machine@gmail.com.
2. Scrappiest player
We have pretty much taken care of this award already, with Joakim Noah topping the list, but there's still a lot of love for Memphis' Tony Allen. Beckely Mason of HoopSpeak writes: "Tony Allen is nine parts scrap, one part maniac. Everytime he goes after a loose ball, I expect him to recover possession and maybe come out of the scrum with an opponent's finger in his mouth."
What's scrap, exactly? That's as good a definition as any.
Click to see our ideas of some of the scrappiest NBA players.
3. Best game
Every now and again you'll find yourself watching what you assumed would be a forgotten nook of the NBA schedule ... and it turns into an absolute classic. Makes me want to shower everybody involved with praise. Rad Rico (with a second "rad" suggestion) insists we should do that.
Some of the contenders include the Suns vs. Lakers triple overtime thriller.
Devin Kharpertian of Nets are Scorching: "It's hard to think of a better game than Knicks-Celtics back in December. Regulation, high-scoring, back and forth right to the very end ... to me, it's a standout among the many games I'd really call 'battles.' I think this photo says it all."
Jared Wade of 8points9seconds says his favorite game of the year was the Warriors' insane February overtime win over the Orlando Magic. "The teams combined for an NBA-record 36 treys with the Warriors knocking down 21 and Dorell Wright alone sticking 8. It improbably went into OT on a series of I-can't-believe-this-is-happening plays."
Breene Murphy of ClipperBlog remembers the Knick win over Los Angeles that witnessed some of Blake Griffin's most insane dunks. "You realize that Amar'e Stoudemire went nuts for 39 points, dunked all over the place and the thing he was most famous for, the thing that drew millions of views on YouTube was a friggin' nod? Blake Griffin gave us the Mozgov dunk, the Gallo dunk and some of the most entertaining basketball I've ever seen."
Want to nominate a game of the year? Hit the comments or e-mail us at basketball.idea.machine@gmail.com.
4. Best teammate
I've long had the suspicion that if you had real all-access to an NBA team, and watched all the little personal interactions year in and year out ... you'd come away wishing this award existed. The NBA is a very competitive league -- and not just between teams. Those rare players who consistently go out of their way to inspire their teammates are exceptionally valuable, and rare.
Mason's candidate is Kendrick Perkins: "His departure left an entire locker-room in tears. Since he's come to the Thunder, he's emboldened their whole squad to be tougher, communicate more actively on defense and play an even more fearless brand of ball."
Want to nominate the NBA's best teammate? Hit the comments or e-mail us at basketball.idea.machine@gmail.com.
5. Best beard
TrueHoop reader Steven Claeys suggested this and it started something of a riot behind-the-scenes at the TrueHoop Network.
Harper says: "James Harden and if anybody says otherwise, I'd like to curse them with Paul Pierce's beard."
Royce Young of Daily Thunder follows Harden's beard closely and concurs, pointing out that "Harden's beard actually has a 21.05 PER all on its own this season."
Breene Murphy of ClipperBlog, however, wasn't going with the flow, and brought up the mighty facial hair of Baron Davis. "I realize that this comparison is the Kobe-LeBron debate of beards, and statistical analysis will show that Harden's beard is better in every metric. But gosh darnit, give me Baron's beard every time. It might not be as big but it's an icon of beardliness the world over. Every man can either admire that beard, aspire to have that beard or be lucky enough to have a beard peer of the highest quality. I recognize Harden as the heir apparent, and maybe he's already taken over, but give me some Boom."
Young responded that "Baron's beard is a stone cold assassin. Best crunch time beard in history."
Want to nominate the NBA's best beard? Hit the comments or e-mail us at basketball.idea.machine@gmail.com.
6. Best thespian
J. Matt Cheshire suggested the award as a way to mock floppers.
Patrick Hayes of PistonPowered wonders if perhaps Raja Bell and Manu Ginobili could both win the award for the same play.
"Paul Pierce is a method actor," says Mason. "Every movement on the court screams 'Hey! That guy is mauling me like a starved Jaguar!' There is no line between Pierce the man, and Pierce the blunt force trauma victim."
Want to nominate the NBA's best thespian? Hit the comments or e-mail us at basketball.idea.machine@gmail.com.
7. Most underrated
Reader Seth Harthun suggested this award, which could probably go to Tim Duncan every year, even the two he was named MVP.
Who is the NBA's most underrated player? Tell us in the comments or e-mail us at basketball.idea.machine@gmail.com.
8. Best trade
It's a chance for a front office to earn some attention, but not just for cap management, nabbing free agents and drafting well.
Kharpertian nominates the Nuggets for the way the haul they got from the Knicks for Carmelo Anthony. His argument is subtle: "Just look at them!"
Harper prefers the Thunder, for nabbing Perkins -- who shows up in these awards way more than anyone could have predicted -- from the Celtics.
To name the best trade of this NBA season, hit the comments or e-mail us at basketball.idea.machine@gmail.com.
9. Best single game performance
When Daniel Ritchey suggested the award, he was thinking of Kevin Love's historic 31 point, 31 rebound game. But in discussing it, the leading contender among TrueHoop Network bloggers was that LeBron James' evisceration of Orlando in February -- with 51 of his team's 104 points, on 25 shots -- to go with 11 rebounds and eight assists.
Which performance most impressed you? Hit the comments or e-mail us at basketball.idea.machine@gmail.com.
10. Real sixth man
Every year we torture ourselves over how to define a sixth man. This year, for instance, Lamar Odom became the favorite only once people realized he wasn't a starter. He is third on the Lakers in minutes played this season, and has started a ton. He doesn't feel like what this award was designed to honor. Reader Alex Sudnik has a simple tweak: Only those not in the top five in minutes played per game are eligible.
Under these terms, Zach Harper nominates Eric Maynor, who he calls the "best backup point guard in the game." Dan Feldman of Piston Powered nominates several other candidates: Taj Gibson, DeJuan Blair, Tony Allen, Darrell Arthur, Tracy McGrady and Lou Williams. (See how this Pistons blogger just slipped McGrady in there, like we wouldn't notice? Dan's a pro.)
Want to nominate the NBA's best sixth man? Hit the comments or e-mail us at basketball.idea.machine@gmail.com.
11. Rim protector
David Thorpe loves to see his players getting dunked on ... because it means they're going all-out for their teams trying to make athletic plays at the rim. Even if you only block a handful, it's a tremendous thing for your team. For the player personally, however, the YouTube humiliation can last a lifetime.
The idea is that players who go all out protecting the basket deserve praise. Thorpe's reaction was: "Oh that ... I freaking love that. Who thought of that?"
TrueHop reader Brian Bunke, that's who.
Sebastian Pruiti of NBA Playbook says Kris Humphries deserves serious consideration. "He tries to throw just about every single shot attempt that happened near him. It hurt the Nets' on the weakside, and he got dunked on a few times, but he also came away with a lot of great blocks over the course of the season."
Harper likes JaVale McGee. Brett Hainline of Queen City Hoops nominates Emeka Okafor, while J.M. Poulard of WarriorsWorld points out that Dwyane Wade "gets himself in a position to get dunked on but usually walks away from the damage with his pride intact."
Who is most aggressive trying to protect the rim? Hit the comments or e-mail us at basketball.idea.machine@gmail.com.
12. Best screener
This was Thorpe's idea. It's not the sexiest part of the game to most of us, but to NBA head coaches it is. And it is an art form -- getting your teammate open is not just about being big and strong -- it's also about arriving at the right moment, at the right spot, with the right angle. Once that's all set, you have to extinguish the chosen opponent from the play without fouling. Some of the names that entered the early conversation: Perkins (who should probably grow a beard so he can be eligible for just about all these awards), Kevin Love, Joakim Noah and Al Horford.
Help us come up with a list of the NBA's best screeners. Hit the comments or e-mail us at basketball.idea.machine@gmail.com.