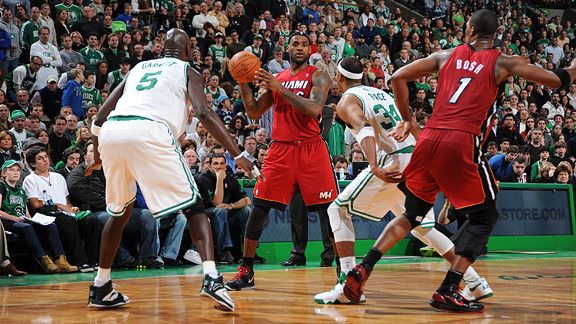 Brian Babineau/NBAE/Getty Images
(L to R) Garnett, James, Pierce and Bosh are four of the 12 current or former All-Stars in this series.
There's no doubt that part of the intrigue of the Eastern Conference Semifinal between the Boston Celtics and Miami Heat is based on the tremendous star power, specifically the "Big 3" on Boston (Kevin Garnett, Paul Pierce, Ray Allen) and on Miami (LeBron James, Dwyane Wade, Chris Bosh).
The Celtics and Heat combined to have seven all-stars this season. Boston had Garnett, Pierce, Allen and Rajon Rondo; Miami had James, Wade and Bosh. According to the Elias Sports Bureau, this will be the just the eighth series in playoff history in which seven or more All-Stars from that season will take the floor. (This excludes cases when teams had All-Stars who didn't play in the series for whatever reason.) The record is eight All-Stars in a series, set in the 1962 NBA Finals between the Celtics (Bill Russell, Sam Jones, Bob Cousy, Tom Heinsohn) and Lakers (Elgin Baylor, Jerry West, Frank Selvy, Rudy LaRusso).
The last playoff series with at least seven All-Stars participating was the 1983 NBA Finals, when the 76ers' All-Star quartet of MVP Moses Malone, Julius Erving, Maurice Cheeks and Andrew Toney swept the Lakers' All-Star trio of Magic Johnson, Kareem Abdul-Jabbar and Jamaal Wilkes.
Just looking at All-Star appearances this season might understate this series' actual star power, which is based on some of these players' tremendous career accomplishments. The Heat and Celtics' current rosters have combined for an astounding 80 All-Star selections.
Heat, Celtics on Current Roster
Total Accolades and Statistics
Not only that, but they've combined to earn 45 All-NBA Team selections, including 18 on the All-NBA 1st Team. If you look at win shares from Basketball-Reference.com -- a statistic that estimates how many wins a player accounted for in a given season or over the course of his career -- the players on these teams have combined for more than 1,500 regular-season win shares and nearly 150 postseason win shares entering this series.
Although most of these contributions come from the Celtics' roster, most would agree that the Heat currently have more stars in their relative primes than Boston.
If you look at the players with the most regular season win shares since James, Wade, and Bosh came into the league in 2003-04, the Heat have the players who rank first (James), seventh (Wade) and 14th (Bosh). The Celtics have the players ranked third (Garnett), 11th (Pierce) and 15th (Allen). So, six of the top 15 players over the last eight seasons, by this metric, will be facing off in this series.
In all, there are 12 current or former All-Stars in this series, six on each team, for a combined 80 All-Star selections. How historic is this type of battle of All-Stars in a playoff series? Depending on who actually plays (i.e. if O'Neal doesn't play, the combined number of All-Star selections would dip significantly), it could be among the most historic ever.
According to the Elias Sports Bureau, the most combined All-Star selections by players participating in a given postseason series is 63, which was the total for the Cavaliers-Celtics Eastern Conference Semifinals last year. The second-most combined All-Star selections among players participating in a given series was 61, which came in the 1973 NBA Finals between the Knicks (led by Walt Frazier, Willis Reed, Jerry Lucas, and Dave DeBusschere) and the Lakers (led by Jerry West and Wilt Chamberlain).
No matter how you look at it, this Eastern Conference Semifinals series will be one of the most star-studded postseason series in NBA history. Whether the quality of play within the series matches the hype surrounding it remains to be seen.