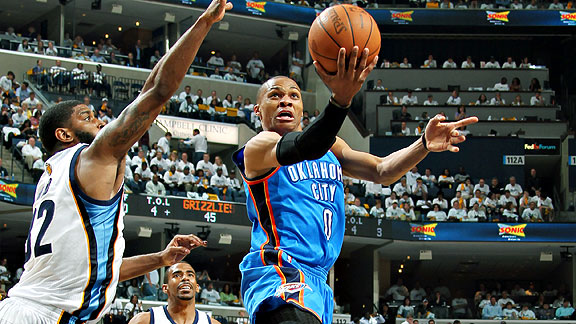 Joe Murphy/NBAE/Getty Images
One of Russell Westbrook's 33 field goal attempts in Game 4.
Back in the regular season, I joined a chorus of the geek-minded in pointing out that it's weird for Thunder point guard Russell Westbrook to have a top-five league-wide usage rate while playing alongside likely the greatest scorer of his generation.
Kevin Durant has notably better efficiency with notably lower usage than his teammate. There's also just something about seeing the point guard dribble up, pass not even one time, and take a shot. You only get so many of those before the basketball gods get antsy.
Realize this is no condemnation of Westbrook, a wonderful young player. Just a "things to work on" kind of note. The point is merely that if his three or four toughest shots per game were, instead, passes, then the Thunder's offense would be better.
The playoffs have only drawn more attention to the issue, including Monday night's triple overtime classic win in Memphis.
"It's more subtle than what we saw from Andrew Bynum," says David Thorpe, "but there were some moments late in that game where he was competitive to the point of becoming a little unstable emotionally. You want your players to be ultra-competitive but, like Kevin Durant, under control at all times."
The only player in the playoffs with a higher usage rate -- Derrick Rose -- plays on a team built for defense, where he's expected to carry the offensive load but has nevertheless been talking about cutting down his attempts anyway.
Westbrook is second out of all playoff contenders in terms of using his team's possession. Trailing him are noted gunners Carmelo Anthony, Kobe Bryant, Dirk Nowitzki, Dwyane Wade, Kevin Durant, Manu Ginobili, Dwight Howard, LeBron James and every other non-MVP in the NBA. Meanwhile, Westbrook less efficient than everyone in the top ten except 'Melo.
Durant is ninth in the NBA in true shooting percentage -- a measure that smartly accounts for two-pointers, three-pointers and free throws -- in these playoffs. Westbrook is outside the top 50 -- and sixth on his own team.
Now, the obvious conclusion is that Westbrook should simply give the ball to Durant more, but as Sebastian Pruiti demonstrates in video at NBA Playbook, it's more complicated than that.
On some plays, for instance, Durant stands around and watches, and is not making himself a good target.
It's worth noting that the Thunder won in no small part because of Durant's energy level in the third overtime. Coaches tell players all the time that if they need to rest, do so on offense. Maybe sometimes Westbrook calls his own number as a way to buy Durant a moment of peace.
Thorpe and Pruiti are in lockstep on another issue, too: The Thunder could do a lot more, as a coaching staff and team, to get Durant good looks. When they get Durant some space to make a clean catch, Westbrook appears to be plenty willing to give up the rock.
"The good news," says Thorpe, "is that experience is a good teacher. If Russell Westbrook watches the tape of the last 20 minutes of Game 4, he'll be able to make the corrections. You can see it on the video: Sometimes the moment seized him a little bit, instead of him seizing the moment."