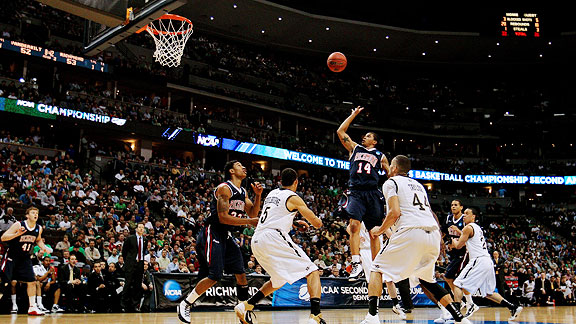 Justin Edmonds, Getty Images Sport
Kevin Anderson hit huge shots leading Richmond to the Sweet 16. Now he's hoping to be drafted.
Graduating Richmond Spiders guard Kevin Anderson is not on most draft boards. At 6-0, he lacks NBA size. And as a four-year college player, his story is less about potential than most. But his always-attacking style, inspired by Allen Iverson, has already earned him big wins, countless awards and NBA workouts. He has been keeping TrueHoop readers up to speed as he competes for a spot in the NBA.
Within a week after signing on with my agency, Sportstars, I was invited to work out for the Phoenix Suns.
Truthfully, although I was excited about the opportunity for the workout I was also nervous about the timing. Going to the Sweet Sixteen in the tournament took my season all the way into the middle of March. From there I participated in the Portsmouth Invitational and was also preparing for my final exams at the University of Richmond (the Suns workout was during the week of my finals).
Due to the limited time I had to get back into the gym for workouts, I was concerned about whether I would be in the best shape to perform well. Regardless of my apprehension, an opportunity to work out for the Suns was too big to pass up.
I landed in Phoenix after a six-hour flight from Richmond. That night I already felt as if I was living the pro lifestyle. I got a king-size room at the Sheraton by myself -- versus having a roommate like my entire college career.
Before workouts began the next morning we did a series of tests. Strength/agility, measurements and vertical/quickness. Actual workouts consisted of shooting drills, one-on-one, two-on-two, and three-on-three play.
There wasn't any critiquing or coaching through any drills. The atmosphere was very business-like. Any feedback would have to be obtained later through my agent.
I felt like I competed well and did well in the drills. It was a good experience and felt great to get the first NBA workout under my belt. After the one-day workout, I headed back to Richmond for the week to finish up my finals on Friday.
Saturday morning I was back on a plane to Bradenton, Florida, to the IMG Sports Academy where I am training. From the moment I arrived at IMG it's been all work and no play. I wake up at 7:30 every morning, eat breakfast at 8:30, and I'm on the court for workout number one by 9:15.
After morning workouts (11:15) I lift for an hour then eat lunch. I get a two-hour nap in then hit the court again at around 4 p.m. From 4 until 5:30 it's workout number two then I eat dinner and finally get to rest at eight.
I typically try to watch as much of the NBA playoffs before I fall asleep (usually around halftime of the second game). Then, my alarm goes off and I'm at it again.
Recently I was able to celebrate Mother's Day with my mom which coincidentally fell on the same day of my graduation. Not many people can give their mothers the gift of graduating from a prestigious school like the University of Richmond on Mother's Day. Not only were we celebrating my graduation and Mother's Day, but my mom's birthday was also this weekend. However, I could not use my graduation as her present for her birthday the next day too, she was not going for that!
Graduation felt like the beginning of the end. I was able to spend time and hang out with two of my closets friends from the university, Conor Smith and Justin Harper. We all came in as roommates and left as brothers, we had so many laughs, struggles and smiles throughout our four years.
To take our minds off the rigors of the basketball season, along with the demands of class, we did a lot of weird things.
Like ... rearranging our room situations every week. We stayed in a "jack and jill" style dorm. My room was on one side along with my roommate Chris McClain (a walk-on member of our basketball team for one year) with Conor and Justin on the other side. Our bathroom connected the two rooms.
However, we all piled in one room and turned the other into our game room. We had all the gaming systems, the N64, the Nintendo, the Sega, Xbox 360, Xbox and the PS3.
Our favorite game, though, was Mario Kart for the N64. We played that game every chance we got.
Now on the other side it started out traditional, with each of our beds blocked off throughout the four corners of the room. However, we all had to be able to see the 32-inch T.V. we had in the room, because we watched movies every night. From "Wedding Crashers" to "Four Brothers" to "Stomp The Yard," we watched them all and had the best movie collection on campus.
As I mentioned earlier, we changed up our room every week, not the game room, just the room we slept in. One of the craziest arrangements we had was when Conor and I both had "bat caves" under Chris' and Justin's beds.
We found like eight cinder blocks around campus one week and just randomly brought them back to our rooms for some reason. As we sat and stared at them wondering why we just carried those heavy things back to our already-crowded place we decided to stack our beds and make them higher. The new look was cool, as we noticed we had more space for storage under our beds. Then one of us decided to slide our twin-sized bed under the beds that were stacked high, we threw a little T.V. towards the end of it and the other followed. We loved the extra space because there were only two beds out opposed to four.
I really do not remember how long it lasted but I know it was fun for a while and whenever I wanted sleep I just dropped Justin's cover down over my bed (underneath his) and was knocked out in a deep sleep. This is where the nickname "bat-cave" comes from because its pitch black underneath.
We had a lot of fun doing weird stuff like this throughout our four years and it was great to reminisce on these times at graduation.