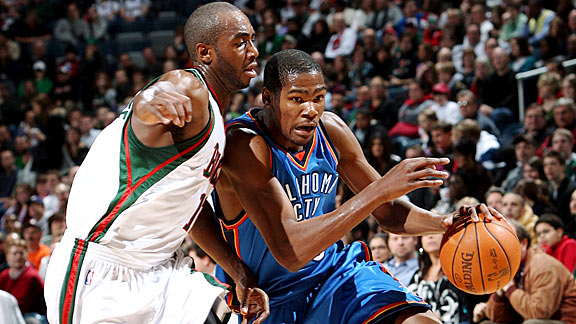 Gary Dineen/NBAE/Getty Images
Kevin Durant calls Mbah a Moute one of the best in the business.
6-8 Bucks forward Luc Richard Mbah a Moute is seen as one of the NBA's best defenders. Virtually every night of the Bucks' season, Mbah a Moute was asked to defend the opposing team's star, whether that was a lightning-fast point guard or a seven-footer with unlimited range. He has been watching the playoffs, and offers this report on stopping the conference finals' biggest stars:
When you go in against a scorer, you have to know they're going to get points. But what you have to try to do is making them have a tough night, make them get uncomfortable so they don't get in a rhythm. When I go into a game, I'm trying to take them out of that comfort zone. I don't want them to ever feel like they can take over the game at any point.
Every player is different. What might bother a guy like LeBron might not bother Derrick Rose or Kevin Durant. It depends on the player and the situation they're in.
Here are a few tricks to handling each of them:
Russell Westbrook
Strengths: Speed, athleticism
Preferred move: Drive to the basket.
Best defense: Prevent penetration. Turn him into a jump shooter. Use length.
I've known Russell for a long time, starting in college at UCLA. His improvement has been one of the quickest of anyone around the league.
After practices in college, Russell and I went one-on-one pretty much every day. It was me, Russell and Darren Collison. That helped me because I had to guard smaller guys so I got quicker at everything I did. Even then he showed a lot of signs of what he's doing now with his explosiveness and his athleticism to the basket.
Russell can drive as well as anyone in the league. He gets to the basket strong and is able to finish with contact. He has also developed his mid-range jumper and has a good pull-up game. So you have to make him take shots and try to contest them.
That's where I use my length. I'll play off him and I don't let him get to the basket. If you let him get to the basket, he can really do damage. If you make sure he's out on the perimeter taking contested jump shots, you can deal with the results.
Kevin Durant
Strengths: Size, makes shots from anywhere on the floor.
Preferred moves: Mid-range jump shots, off-balance floaters
Best defense: Deny the ball. Keep him out of his spots. Play physical. Get in his face. Force him into the post.
You have to be very physical with Kevin. You saw a little bit with the Memphis guys, Shane Battier and Tony Allen. Whenever they tried to deny him the ball and get physical with him, it kind of took him out of the game. When you take him out of the game it usually leads to them forcing shots and trying to force feed him. When they do that, it's a pretty good advantage for your team.
But Kevin is dangerous everywhere on the floor. The weakness of his game is that he doesn't post up. He has a really nice jump shot and he can get to the basket. But the main thing is to have him try to take contested jump shots and be physical with him.
He wants to get to certain spots on the floor. But if you body him up, you can wear him down. At the end of the game, it shows, because he's a guy that's going to live by the jump shot. As a jump shooter when you really don't feel your body and you've been beaten up all game, you don't make as many jump shots.
LeBron James
Strengths: Athleticism, power, versatility, handle
Preferred moves: Dribble-drive, dribble and shoot.
Best defense: Crowd him. Face guard. Don't allow him space to dribble. Force decisions.
A common misconception about LeBron is that he's so physical, he must be a drive-first player. Guys tend to play off of him. Players want to avoid contact and not get in a physical battle with him.
But I think being physical is the best way to defend him. When you give LeBron space and let him play around with the ball, he's such a good ball-handler that it gives him more options. Space also allows him to get a head of steam on his drive.
So what I try to do is play physical, get in his face, don't let him mess around the ball. LeBron is a lot like a point guard playing around with the ball and making decisions. If you get into his face, you make him do what you want instead of having him play you. A lot of guys still back off him a little bit because they don't want to get in that physical battle. That's a mistake. The best way to play him is to crowd him, get in his face, make sure he doesn't get to the basket and contest his jump shots.
You can force him to go to his left hand so he takes a jump shot instead of going right and getting all the way to the basket. You can make him pass the ball or use a screen and have help there for you. The key is to take him out of that dribbling rhythm and give him less time to figure out your defense.
Dwyane Wade
Keys: Quickness, penetration
Preferred moves: Drive to the basket
Best defense: Contest. Deny his spots. Take away the drive. Mix and match looks.
Dwyane's ability to drive is incredible. He can get wherever he wants to go on the court. That's what makes him special.
I try to make him take contested jump shots, because when he drives, he's tough to guard. If he can get to the basket, it's at least a foul on you or he's going to get an explosive dunk, sometimes both.
What you want to do is give him a little space sometimes, but a lot of what I do with Wade is mix and match. If you play tight on him, he'll figure it out so now you have to switch up and play off him a little bit. I try to give him a few different looks so he won't ever get comfortable with the way I'm guarding him.
When you go into it, you have to have a game plan, but at some point in the game you have to change it up just to mess around with him. He's a great player and he's going to adapt.
Dirk Nowitzki
Keys: Length, size, touch, stopping ability, confidence
Preferred move: Post-up fade-away jumper
Best defense: Play physical. Force the drive. Contest jump shots. Don't let him get comfortable.
The toughest thing about Dirk is that he's a seven-footer who can shoot. You rarely see that. Kevin Durant has it to some degree, but Dirk also has that post-up game and that fade-away that always seems to go in. So if you're 6-8, or even 6-10, that's a matchup problem.
But Dirk is a shooter, that's what he does. That's his game. So when you have a guy who shoots, you can contest his shots, you can body him up and you can take him out of his shots making it tough for him to get in a rhythm. I try to be physical with him at all times because most of these guys you come to find out that they don't like contact. So you get in his face and if he can't get his shot off the way he wants to, he's going to be uncomfortable.
You want a player like Dirk to drive all night. You want to give him the drive and make sure the help comes or try to take a charge. Sometimes when he drives, he's going to stop on a dime and pull up for a jump shot. But if he's also making some contested shots, which he usually does, you live with that.
He made a buzzer-beater on me where I knew he was going to drive, spin and shoot the ball. You can see in the replay, I'm right there, I'm looking for the spin. But when he spun, he still got me. I was so mad, but he's a seven-footer, so I tried to contest the ball.
I just remember watching the ball saying, "Please don't go in!" and next thing you know it goes and I was so mad at myself. But when I went back and looked at it again, I couldn't have played that play better. I played him for the spin, he did it, I was right there to contest and he just made it. You can't get discouraged by a play like that as a defender. You just have to go back and do it again.
But if he's making open shots or he's on the block and you don't body him up, he's feeling like everything is coming easy and it's going to be a tough night.
Derrick Rose
Keys: Body control, ability to finish, explosiveness, athleticism
Preferred moves: Driving layup, pump fake, reverse at the Rim
Best defense: Use length. Avoid the drive at all costs. Contest the jumper.
No one in the league has the ability to finish like Derrick Rose. His body control is amazing. I've never seen anything like that. He can be driving right, stop on a dime, jump, avoid the charge and finish on the other side of the rim in rhythm. There's definitely no other player his size with that type of body control. He's also gotten so much better with his jump shot that now he's complicated to guard.
Before you could just make him shoot, but nowadays you have to respect his jump shot because he will pull up and shoot a 3 right in your face.
The thing that bothers him most is length. In Game 1, Miami did a good job of pulling LeBron onto him. If he gets a shot off, it's going to be tough for him to see over the all that length to score a basket. If you can contest his jump shot with a guy who is 6-7 or better, it gets tough for him to get his shot off.
Letting him go to the basket is a mistake. He's going to score no matter who is on him. But if you make him take a jump shot, over a bigger player, you have a higher chance of him missing those shots.
Me personally, I'll play off of Rose because I know I'm long enough to contest his jump shot so I'll give him a lot of space. He's so quick that you can't be tight on him, he's going to get past you. You have to give him space and make sure you contest his jump shot. What makes him such a problem is that most of the guys that defend him aren't big enough to contest. He can see over them and he has a better chance of making that shot.
I take a lot of pride in my defense. There's no feeling like it when you can shut down a premier player on defense. You can score a lot of points, and that's always great, but for me there's no other feeling like making one of those guys frustrated because they can't get into what they want to do. If they can't score the points they usually score and they really look like they don't know what's going on, it's a great feeling -- especially if you get the win.
But at the same time, those guys are the best players in the world. They're going to make shots. As long as they're not getting anything easy, then I'm comfortable with that because then at the end of the game, they're going to wear down. I want them to be worn down when it comes to crunch time and we're fighting for the last couple of possessions.
Follow Luc Richard Mbah a Moute at his website, on Twitter at @mbahamoute, and on Facebook.