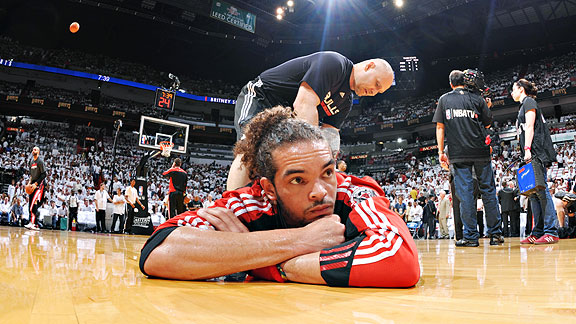 Jesse D. Garrabrant/NBAE/Getty
Joakim Noah hurled a gay slur at a fan at the Eastern Conference finals' Game 3 in Miami.
When Chicago Bulls center Joakim Noah was caught on camera Sunday night appearing to hurl the word "f-----" at an obnoxious fan, it was particularly heartbreaking.
Noah grew up in Manhattan's Soho, steps from the West Village. His childhood could scarcely have been more worldly; he literally attended the United Nations International School. His mother is Cecilia Rodhe, a sculptor and art therapist from Sweden, and his father is Frenchman Yannick Noah, who is also of Cameroonian descent.
Rodhe's best friend was Robert Tracy, a prolific writer and dancer whose partner was Rudolf Nureyev, one of the most talented ballet dancers of the 20th century. Tracy was with Rodhe the day she learned she was pregnant with Joakim. To young Joakim, Tracy -- who died in 2007 -- was simply known as "Mom," and was a frequent presence at Noah's basketball games.
This is the world Joakim grew up in and one he remains extremely close to. After his disappointing on-court performance in Game 3 -- and before he realized a storm was brewing about the slur he unleashed -- Noah had already texted his mother.
When word of the epithet reached Rodhe she was shocked. "My kids grew up in a home that was never anything other than open-minded," Rodhe says in a phone interview. "We're multicultural and multiracial."
Rodhe, the founder of Joakim's Noah's Arc Foundation, was admittedly disappointed, though she rationalized the context. "He chose the wrong word," Rodhe says. "He wanted to say, 'Move away and stop harassing me,' but he lost control and used that word."
Noah was contrite on Monday, apologizing profusely for hurling the epithet. As we sat down to talk at the team hotel on Monday, Noah, knowing I was an out, gay sportswriter, opened the conversation with "I'm really sorry about what I said." The discussion continues from there:
Kevin Arnovitz: I understand. I just wish it hadn't been you. I mean, that word is hard to hear no matter who says it, but you're supposed to be one of the enlightened guys. You're the guy who grew up in Soho and has European parents and friends all over the world. There are a lot of players in the league who, whether because they come from certain backgrounds or maybe choose not to care, don't surprise me. But you surprised me.
Noah: You know, all my best friends live downtown in New York City. I was made in Soho. Sometimes, when you're at this level you don't realize the consequences or how much a word can bother people. My mom's best friend was gay. We used to call him "Mom." So I'm disappointed because that's not me. I didn't mean any harm to anybody. I don't want anyone to feel disrespected by what I said, and I understand that's what's going to happen.
Arnovitz: Did you get any texts for people in your New York life? People who were, like, what the --
Noah: No. Not really. [The fan] said something -- I mean, I don't even want to say it -- but he said something about my mother. I just said what I had to say and I didn't even realize until after the game when I started getting texts and people started talking about it.
Arnovitz: F----- is one of those words people claim doesn't mean gay man. That somehow it's not denigrating to gay men because it's generic. Do you fall in that camp? Do you use f----- because there's nothing more insulting than insinuating someone on the basketball court is gay?
Noah: Sometimes you just get caught up. Now that we're talking about it and analyzing it, you know, it's even more disappointing. It's disappointing because I'm not like that.
Arnovitz: So it's safe to say you're really pissed off at yourself? Moderately pissed off at yourself? Pissed off at the potential consequences?
Noah: I'm pissed off that I'm a distraction to my teammates right now. We're playing the biggest game of our lives and this is off subject. I'm pissed off that I might've offended people.
Arnovitz: You realize you did offend people, right?
Noah: That's what I'm saying.
Arnovitz: Cool. It's just that sometimes public people when they say something they shouldn't will couch it as "I'm sorry if I offended anyone," emphasis on the if. When it's pretty definitive.
Noah: That's what I'm saying. I'm pissed off at myself because that's not who I am.
Arnovitz: Who are you?
Noah: Who am I?
Arnovitz: In the context of the league and the 400 or so guys who play in it. Who are you?
Noah: It's not for me to say. At the end of the day, people are going to say whatever they want. Who am I? It depends on who you ask. Everybody's opinion is different. I know who I am.
Arnovitz: How homophobic is an NBA locker room?
Noah: Not at all.
Arnovitz: But f----- is tossed around without people even thinking about it?
Noah: Exactly. But a lot less than you probably think.
Arnovitz: I guess that's encouraging. Does that mean we're ready for an out gay ballplayer?
Noah: No question. No question. If you look at the percentages, there have to be gay players in the NBA.
Arnovitz: But this could make it harder for them.
Noah: I know. And that's not who I am.