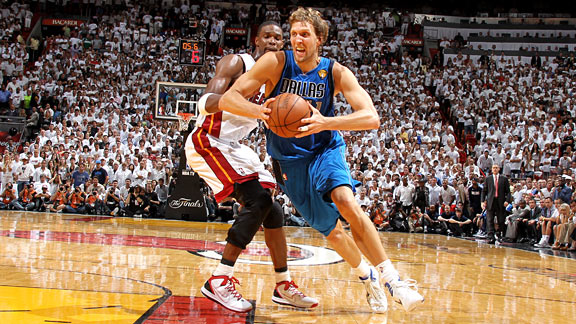 Nathaniel S. Butler/NBAE/Getty Images
In Game 2, Dirk Nowitzki hit the fifth "crunch-time" playoff bucket of his career -- tying LeBron.
Who is the best crunch-time player, the NBA's ultimate closer?
World peace may be simpler to solve.
The assumption has long been that among active players it's Kobe Bryant -- but that story's on thin ice, as Dirk Nowitzki, LeBron James (at least, a series ago) and Dwyane Wade have driven the conversation lately.
And the one real core assumption underlying everything is that nobody, and I mean nobody, can match Michael Jordan's record.
Now that we're knee-deep in the information age, a new question looms: How, exactly, did Jordan do, and how does that compare to today's players?
We have the scoop.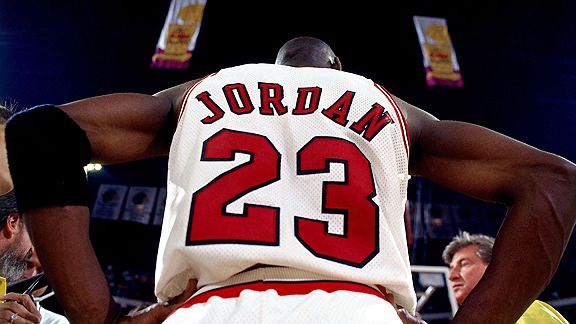 Andrew D. Bernstein/NBAE/Getty Images
One NBA, under Jordan.
While there isn't enough information available for a comprehensive study of crunch-time performance from the Jordan era, ESPN's Alok Pattani found a smart way to address this problem: He took a core sample, as it were -- like a prospector hunts gold.
Pattani made a very strict definition of a crunch-time shot to allow a direct comparison to the numbers we have readily available for today's players.
The big shots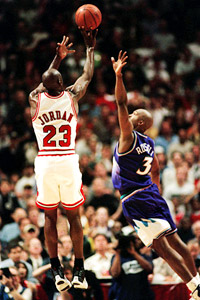 AP Photo/Fred Jewell
Michael Jordan was 9-of-18 over his career, and the league as a whole shoots 27.8 percent with the game on the line. How do today's players stack up on shots taken when trailing by one or two points, or tied, in the final 24 seconds of playoff games since 1996-97 with a minimum of three makes? (*Represents players who also played before 1996-1997 -- so the numbers below reflect partial careers.) From Alok Pattani of ESPN Stats & Information and NBA StatsCube.
Drumroll, please ...
Pattani painstakingly identified every close playoff game of Jordan's career (see below for the complete list of qualifying shots), then went to the video, the game recaps in newspapers, and any other resource he could find to find Jordan's shots that matched Pattani's "core-sampling" criteria:
Playoff games only (no regular season)

Go-ahead or game-tying shot attempts (free throws, turnovers and the like were ignored)

Final 24 seconds of the fourth quarter or overtime
While those aren't the only crucial situations, they do allow an apples-to-apples comparison with today's players.
Why not look at shots when up one point? Or down four points? In short, because those are times when weird things happen with intentional fouling. If you want a fair measure of crunch shot-making, it's good to keep the sample pure. Teams that are tied or behind by a bucket just want points, and they're fighting for them against honest defense.
The end result is a collection of incredibly tough and rare shots (Jordan took almost all of his teams' big shots, but these were still .0007 percent of his total shots). Even these Finals, where nearly every game has been incredibly close, boast just five field goal attempts so far that fit the description.
Chris Bosh's game-winner from the left baseline? Too early in the game. Jason Terry's dagger 3 in Game 5? His team was leading. Those are both out.
The five 2011 Finals shots that inform this list were Mario Chalmers' game-tying 3 with 24 seconds left in Game 2, Nowitzki's driving layup with 3.6 seconds left in the same game, Wade's missed 3 in the following moments, Nowitzki's miss in the final second of Game 3, with his team down two, and Mike Miller's airball that had a shot to tie Game 4 at the buzzer.
By definition these shots come against an opponents' best defense -- especially when attempted by a superstar like Jordan, James or Nowitzki. They're also almost always taken against the clock, which has a nasty habit of dragging field-goal percentages into the gutter.
There's a reason the league average on shots like this is a putrid 27.8 percent.
So, how did Jordan fare? Very well indeed.
He retired having attempted 18 such shots, and he hit half of them. The only players who can touch that 50 percent shooting attempted far fewer -- so few that it could be a total fluke.
In short: None of today's players can match Jordan's crunch-time record at the moment. But two of the leading candidates to get there, LeBron James and Dirk Nowitzki, are slugging it out right now in the Finals.
---
Tough to be like Mike
It is an article of faith in the NBA that, to win, you must have a player with skills, style and mentality approximating Jordan's.
To fit the profile players must be not merely explosive, multifaceted wing scorers (almost always wing scorers -- poor big men have a hard time getting the ball on some teams, in some cases because they don't shoot free throws well). In the most extreme version of the profile, they must be single-minded "assassins," creating shots for themselves no matter how much the defense loads up against them. No passing allowed. Scowling to show intensity. This is the Kobe Bryant model of crunch-time behavior, the style of play that's won him so much admiration over the years.
Testosterone personified.
Vince Carter has one of the best track records of clutch shooting, but never had any credibility as a crunch-time assassin -- in part because he smiled all the time!
Tracy McGrady, though he authored the best one-man comeback in NBA history and is has the fourth-best postseason scoring average in NBA history, has a demeanor that is more melatonin than adrenaline -- he just doesn't look the part.
The public wants to know who manned up when the chips were down, and they're not going to choose the sleepy guy.
Before we were able to count shots and see who actually got the job done, we assumed the cranky Jordan types were the only ones with the keys to the castle of NBA crunch time. But now, this is one of those great moments where reality blows into the living room of our assumptions, and doesn't just scatter the paper napkins … it's knocking over furniture.
---
Playing the right way
Look at who has been effective! Ignoring Tayshaun Prince and his mere three makes, we find: Ray Allen. His crunch time game is light on ball-hogging and creativity and heavy on catch-and-shoot jumpers created by a five-man offensive system. And yet, he would need to go only 3-of-6 for the rest of his career to match His Airness.
Some may say that Paul Pierce, a poor, slow man's crunch-time Jordan, with the proper array of shots and angry faces, creates those openings for Allen. (Should the Celtics lose Pierce, and keep Allen, tune in to Boston sports radio and I promise there'll be an outpouring of insistence the team acquire someone with the mentality to be "that guy.") But watch Allen's game-winners, and a hell of a lot of them have come simply from great picks, spacing, ball movement and hitting the open man.
Therefore, in doubt already is the idea that teams must have Jordan or a similar player to hit big shots. Allen's buckets have come from almost the opposite of the "one man vs. the world" approach that is assumed to prevail.
---
On LeBron James' passivity
It's been weird to see James so reluctant to his use his physical advantages in crunch time of the last two games of these Finals. A fat chunk of observers have taken a handful of recent passive plays and extrapolated to make a bigger point about James' career -- saying he shrinks from the big moments.
That assertion could hardly be on weaker ground. The 26-year-old James has taken 12 critical playoff shots already in his young career. Jordan took his 12th such shot when he was 32, in his 11th season.
Similarly, I recently had somebody explain to me at length that Wade has a long list of attributes that make him blatantly the better crunch-time scorer than James. There was a certain logic to the case -- one part willingness to take the big shot, another part dynamic skills going to the rim.
That theory ought to be balanced by the reality that by this definition, in 86 career playoff games Wade has taken a grand total of five shots that meet this definition, and has hit two. In 91 playoff games, James has taken a dozen, and hit five. That doesn't work as any kind of condemnation of Wade (for one thing, when he draws a foul without getting a shot off, that doesn't show up here -- one of our limitations). But it works nicely as a "you sure about that?" response to anyone who says Wade has the superior crunch-time DNA.
It's also a reminder that passive crunch-time James is an aberration.
Meanwhile Nowitzki and James are both making shots at a rate that rivals the best in history, and they already have Bryant in the rearview mirror.
It's a long shot but conceivable the 26-year-old James could match Bryant's career makes by late Tuesday night -- he is only two late makes away even though Bryant has played 208 playoff games, more than twice as many playoff games as James.
A year ago, Bryant won every poll imaginable when asked who performed best in the clutch, but that sentiment may be changing. The other day I asked Jeff Van Gundy to name the NBA player he'd most like to give the ball to with the game on the line, and after naming James, Nowitzki and Wade, he asked me to help him remember any other candidates he may be forgetting.
James and Nowitzki both boast efficiency far superior to Bryant's, and both remain candidates to match Jordan's 9-of-18 with a slight uptick in efficiency. At 7-of-25, Bryant will have a nearly impossible task to make enough crunch-time shots to match the efficiency of the others.
---
Does it mean anything?
The numbers in this list are small -- a lot of what we're seeing here may tell us about nothing other than luck, or randomness, or who is lucky enough to take these precious shots.
Even if we can't draw definitive conclusions, we know this much: Crunch-time success is not born of a certain mentality, facial expression or playing style. We are simply not seeing this list overrun with the Jordan clones everyone is clamoring for.
For a long time we've been asking: Does this player mimic MJ's mentality to score in the clutch?
A better question, in picking crunch-time performers, is to skip the psychological middle man and simply ask: Does he score in the clutch?
And a better question still, basketball being a team game and all, is to ask: Does our team outscore opponents in the clutch? Let's not get confused -- the real goal of crunch time is not to create highlights or a Hall of Fame resume, but to create wins.
After the jump: A list of all of Jordan's biggest playoff shots.
ESPN's Alok Pattani compiled an exhaustive list of Michael Jordan's career potential go-ahead or game-tying field goal attempts in final 24 seconds of fourth quarter or overtime in the playoffs:
1. Made go-ahead 2
First round vs. Bucks, Game 3, April 24, 1985
With the Bulls trailing 107-106, Jordan hit the eventual game-winning jumper from the corner with 22 seconds left. The Bulls won 109-107.
2. Missed go-ahead 2
First round at Celtics, Game 2, April 20, 1986
With the score tied at 125 late in the fist overtime, Jordan misses a 15-footer with three seconds left. The Bulls would go on to lose the game in double overtime, 135-131, despite Jordan's NBA playoff-record 63 points.
3. Missed go-ahead 2
First round vs. Cavaliers, Game 4, May 5, 1989
With the score tied at 99, Jordan missed a fadeaway jumper from the baseline in the last second of regulation. The Bulls would go on to lose the game in overtime, 108-105.
4. and 5. Two made go-ahead 2s
First round at Cavaliers, Game 5, May 7, 1989
With the Bulls trailing 98-97 late, Jordan hits a 12-footer from the right side to give the Bulls a one-point lead with six seconds remaining. After Craig Ehlo hit a layup with three seconds left to put the Cavaliers ahead once again, Jordan hit "the Shot" -- a jumper from the free throw line over Ehlo at the buzzer -- to give the Bulls a 101-100 win and the series.
6. Made go-ahead 2
Conference finals Game 3 vs. Pistons, May 27, 1989 (makes go-ahead 2-pointer)
With the game tied at 97, Jordan sailed down the right side of the lane before pulling-up for a jumper with about three seconds left to give the Bulls the lead in a game the Bulls won by two.
7. Missed go-ahead 2
NBA Finals Game 1 vs. Lakers, June 2, 1991
With the Bulls trailing 92-91 with 9 seconds left, Jordan took a pass near midcourt, drove towards the basket, and then pulled up for an 18-foot jumper that missed with about 3 seconds left. Lakers won 93-91.
8. Made game-tying 2
NBA Finals Game 3 at Lakers, June 5, 1991
With the Bulls trailing 92-90, Jordan went coast to coast and dropped in a 12-footer with 3.4 seconds left send the game into overtime. The Bulls went on to win 104-96.
9. Missed go-ahead 2
NBA Finals Game 2 vs Trail Blazers, June 5, 1992
With the game tied at 97, Jordan had a chance to win it with two seconds left but his jumper over Terry Porter banged off the back of the rim. The Blazers went on to win 115-104 in overtime.
10. Made go-ahead 2
Second round Game 4 at Cavaliers, May 17, 1993
With the score tied at 101, Jordan made an 18-foot fadeaway jumper over Gerald Wilkins at the final buzzer to give the Bulls a 103-101 victory.
11 and 12. Made game-tying 3, missed go-ahead 3
Second round Game 3 at Knicks, May 11, 1996
With the Bulls trailing 88-85, Jordan hit a 3-pointer over Derek Harper with 19.4 seconds left. With the score tied at 88, Jordan then tried to gather an errant inbounds pass and threw up a wild hook shot while falling out of bounds well behind the 3-point line. He missed and the Bulls would go on to lose in overtime 102-99.
13. Missed go-ahead 2
First round Game 3 at Bullets, April 30, 1997
With the Bulls trailing 95-94 with about 11 seconds left in the fourth, Jordan had his shot blocked by Tracy Murray. (It appeared Jordan lost the ball on the way up, but he was credited with a shot attempt nonetheless.) The ball bounced out to Scottie Pippen, who took the rebound in for a go-ahead "and one" dunk with seven seconds remaining. Though Pippen missed the ensuing free throw, the Bulls held on to win 96-95.
14. Made go-ahead 2
Finals Game 1 vs. Jazz, June 1, 1997
After Karl Malone missed two free throws with nine seconds left in the fourth quarter and the score tied at 82, Jordan hit a 20-foot jumper over Bryon Russell at the buzzer to give the Bulls an 84-82 win.
15. Missed game-tying 3
Finals Game 4 at Jazz, June 8, 1997
With the Bulls trailing 76-73, Jordan's 3-point attempt bounced in and out with nine seconds left. The Bulls went on to lose 78-73.
16. Missed go-ahead 3
Conference Finals Game 4 at Pacers, May 25, 1998
With the Bulls down 2 and 0.7 seconds left on the clock, Jordan caught an inbounds pass and shot a 3-pointer that rolled around and out at the buzzer. The Bulls lost 96-94.
17. Missed go-ahead 3
Finals Game 5 vs. Jazz, June 12, 1998
Trailing by two with 0.8 seconds left, Jordan caught an inbounds pass and launched a fallaway desperation 3 that missed everything at the buzzer. The Bulls lost by a final score of 83-81.
18. Made go-ahead 2
Finals Game 6 at Jazz, June 14, 1998
With the Bulls trailing 86-85 late in the fourth, Jordan drove right, crossed over at the top of the key, gave the stumbling Bryon Russell an extra little push, and hit the game-winning jumper with 5.2 seconds left. This shot -- Jordan's famous "Last Shot" with the Bulls -- would provide the final score in Chicago's 87-86 victory.