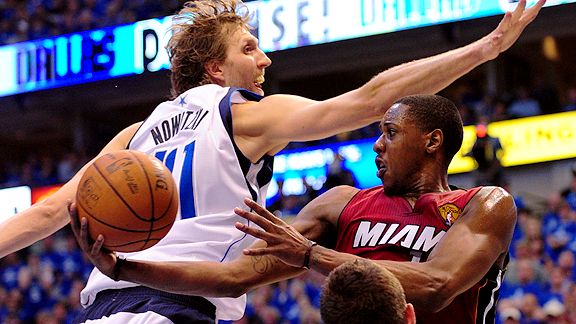 Mark Ralston/AFP/Getty Images
The Heat's Mario Chalmers is the bench guard making noise in the Finals.
Jason Kidd and Shawn Marion needed help from Tyson Chandler in containing the Heat's screen/roll in the middle of the floor.
They both stuck to Dwyane Wade, who kicked the ball to LeBron James, who in turn drew Chandler and a helping Marion. Dirk Nowitzki was left guarding both Udonis Haslem and Chris Bosh. James swung the ball to Bosh, as Haslem built a brick wall keeping Nowitzki from the play. Lonely in the corner, Chris Bosh splashed down a long jumper.
The Heat won 88-86, and those were the 87th and 88th points, so Bosh's bucket -- born of teamwork, skill, and making the right play -- was technically the game-winner. That bucket has a story, of teamwork, of execution, of winning basketball.
But in a game so close, there are no meaningless buckets, even if some of them might have seemed a bit silly.
Remember, if you will, how the first quarter ended. Mario Chalmers ran down the middle of the court. Haslem, desperate to find a scorer with the clock expiring, hit Chalmers with a pass that almost created an over-and-back. Entirely out of time before the buzzer, Chalmers threw up a prayer barely a full step over the half-court line.
Somehow it rattled home for 3. The Heat went up by seven. Maverick fans began to fret.
That shot's not such a story of teamwork, skill or much beyond good fortune. But you know what? It was another kind of game-winner. Without that bucket, the Heat almost certainly would have lost.
Luck is a part of this thing, too.
Two kinds of Heat players
The Heat's rotation players fall into two categories:
Glamorous players who made their name elsewhere.

Joel Anthony, Udonis Haslem and Mario Chalmers.
Of the three in the second category, only Chalmers was even drafted, and he was a second-rounder.
By the time he got to Heat training camp, however, he had extinguished any residual buzz of an NCAA title by failing the most basic of intelligence tests by reportedly sneaking marijuana and co-eds into the NBA's annual program that -- no joke -- trains rookies to stay out of trouble with drugs and women.
He has been a solid if unremarkable NBA player ever since -- never so good as to prompt that round of "he gets it now" stories. He has been second-guessed throughout his career, right up to and including the signing of starter Mike Bibby in midseason.
And yet in Game 3, as has become routine, Chalmers closed the game for coach Erik Spoelstra, playing the entire fourth quarter.
"He's a tough kid," says the coach. "He's a gutsy player. We all know in big moments he doesn't shy away. He gave us some big plays, especially when Dwyane was on the bench. He was able to create some opportunities for us, hit a big three. He's not afraid of the moment. So we needed those minutes, every bit of them."
Barea kryptonite
Chalmers, Bosh, Haslem, James, Wade and Anthony are the only very athletic players in the Heat's rotation. When five of those six play together, the Heat play with a vastly higher energy level that causes problems for opponents.
Through their march to the Finals, the Mavericks have been able to create vast acres of space in their offense by covering the floor with shooters. Few NBA players know how to exploit open space better than Jose Juan Barea, a good shooter who loves nothing more than to juke his man on the perimeter, put the ball on the floor, and sail into the wide open spaces of the Dallas offense.
From there, he has an array of floaters, runners and jumpers that are more than enough to get the job done.
Barea has been pretty bad against Miami, however. That's because when the Miami defense is loaded up with athletes like Chalmers spaces don't last long. Somebody long and strong is always rushing to fill the gap.
Barea has taken 23 shots over the Finals first three games. 18 missed. It's big letdown for a player who had made 51 of 117 playoff shots in the first three rounds. Watching Chalmers fight over picks to stay with Barea it's easy to see why he's finding space at a premium.
Over the course of a season, or a career, Chalmers and Barea are not so different -- decent NBA players who can hit open shots but hurt their teams if they try to do too much. Both players have career production a tick or two below average, with the slightly older Barea generally the more efficient of the two.
But in these Finals, whether by luck or quality of opposing defense, Chalmers has been the much more efficient shot maker. Barea has scored 13 points on 23 shots, while Chalmers has taken one fewer shot, but has scored 20 more points, with 33 points on 22 shots over the first three games.
Chalmers and Barea are bit players in this drama, but bit players who happen to be performing very differently in the final playoff series of the year. In a series that is turning on a point or two here or there -- the Heat have outscored the Mavericks by a total of eight points over the three games -- these are little things that matter.