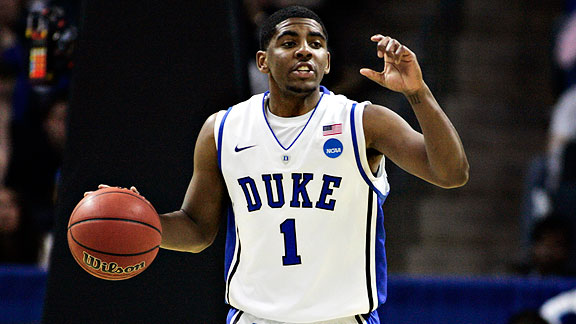 Andrew Synowiez/US Presswire
With only 303 college minutes under his belt, is Duke's Kyrie Irving worthy of being the No. 1 pick?
With the draft order set (in pencil), it appears that Duke point guard Kyrie Irving will be the likely No. 1 overall selection by the Cavaliers.
This would wholeheartedly represent a changing of the guard.
Of the past 35 No. 1 overall picks, just five have been guards. But if Cleveland does take the Blue Devils freshman, it would mark the third guard taken first overall in the past four drafts -- quite a shift from the 27 years prior to 2007, when only one guard (Allen Iverson) heard his named called first.
Guards Selected No. 1: Past 35 Years
After playing in 11 games and starting in just eight of them, Irving faces questions about an injured toe on his right foot that cost him 26 games in his only college season. The freshman didn't face a single ACC team, and never faced the same team twice. And while he did face some stiff competition -- he averaged 29.5 points against Butler and Arizona, to name a few -- the freshman played more than a third of his games against mid-majors Princeton, Miami (OH), Colgate and Hampton.
Now, Irving is no flash in the pan. He was the third-ranked player in the 2010 basketball recruiting class by ESPNU (after Harrison Barnes and Jared Sullinger).
And his numbers were quite good: His 61.5 effective field goal percentage was very good. His 46.2 3-point field goal percentage was very good. His PPR (pure point rating) of 1.4 is solid. And 33.3 percent of his points came from the free throw line, which is very good.
But it is more about uncertainty than ability. John Wall and Derrick Rose both dramatically improved their assist numbers and turned the ball over more when they first started as freshmen at Kentucky and Memphis, respectively. But by the end of his only college season, Irving's assists decreased -- he averaged 9.9 assists per 40 minutes in his first five games, but just 3.3 assists per 40 minutes in his last six games -- and his turnovers increased.
Still, the metrics show that Irving may be in good company, as he compares most favorably to Chris Paul and Ty Lawson. Further on down the list are Jerryd Bayless and William Avery, both first-round picks who have not had great success relative to the other players. Others are Steve Francis, Stephon Marbury and Mike Bibby, from which we can safely draw the conclusion that Irving will be a scoring point guard, like these other players.
Irving has about a 60 percent chance of being good and a legitimate chance of being really good. But because he played only 303 college minutes, there is also a relatively large chance (about 15 percent) that he fails.
If Irving had played 1,100 minutes (about 30 minutes per game) at the performance level he showed in 300 minutes for the entire season, his chance of failure would drop to about baseline -- about 4 percent -- and his chance of being a very good NBA player jumps to about 80 percent.
But as of now, he's a relatively high risk as the No. 1 overall pick.
The range at which Irving could play, from bust to superstar, is extremely large for a No. 1 overall pick. It is much larger than No. 1 overall picks in previous years because he has played so little. Is he worth the No. 1 overall pick?
Probably not in most years. But this year, it is likely.