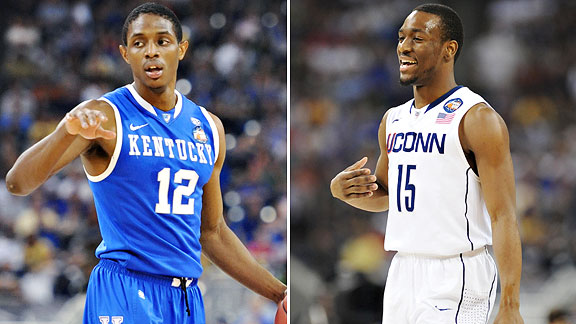 US Presswire
Kemba Walker won the battle at the Final Four, but is Brandon Knight the better draft prospect?
Kemba Walker might be the most polished collegiate player in this year's NBA draft. He won the 2011 NCAA title with Connecticut, he finished fourth in Division I scoring (23.5 points per game) and won numerous individual awards -- All-American, Most Outstanding Player of the Final Four and Big East Tournament, Cousy Award -- and he had his number retired at UConn before he even declared for the draft.
Brandon Knight, the next in the line of one-and-done John Calipari-coached guards, was a first-team All-SEC player and set Kentucky freshman records for scoring and 3-point shooting.
Which point guard would you choose?
One of the many questions that key NBA decision-makers will face in the draft (June 23 on ESPN, 7 ET) is how to measure the experience of Walker, a 21-year-old junior, against the potential of Knight, a 19-year-old freshman.
To help us, let's use one of the key metrics for evaluating point-guard prospects: pure point rating (PPR), which calculates assists and turnovers into a single number projection of how a particular player will fare as a distributor in the NBA. The average PPR of all current NBA starters while they were in college is 1.2.
Walker had a 1.5 PPR in college. It also took him only 18 minutes per game to get a steal or block and he was able to score inside. His upside is the same or slightly better than Knight's, but he is definitely a safer pick -- his chance of failing is less than one out of 10. There are no red flags on Walker, making him a one-out-of-three shot of becoming a good player at the next level.
Knight, meanwhile, has a one-in-four chance of being good, but the numbers suggest that his chances of success ride heavily on his shooting ability, not his passing. Knight had a minus-1.4 PPR in college, which is extremely low for a point guard -- lower, in fact, than any NBA starting point guard's college PPR except for Stephen Curry, who did not play point guard until his third and final year at Davidson.
Knight's youth and specific metrics on steals and rebounds also raise red flags. In short, studies show that point guards with his characteristics don't live up to first-round expectations. Knight has about a one-in-three chance at failing -- he is an NBA player, but he is a poor risk for a lottery team.
Other guys have succeeded with such a low PPR; for example, Gilbert Arenas and Jerryd Bayless are point guards who are better as shooters than distributors. But it takes more than 40 minutes for Knight to get a steal or block, far more than either of these guys. And while his shooting is probably good enough to keep him around, Knight's defense could prove to be a problem, too.
After looking at advanced metrics it seems clear that Walker, whose Huskies beat Knight's Wildcats twice last season, wins again.