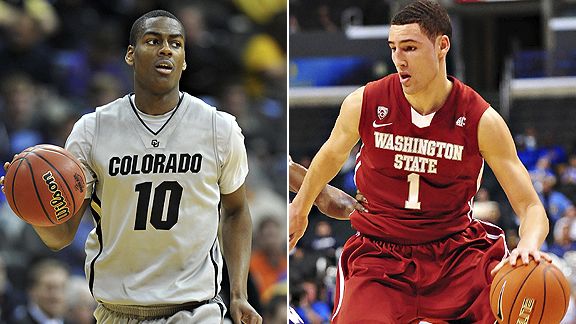 Mark D Smith/US Presswire
Colorado's Alec Burks may have more versatility ... but Wazzu's Klay Thompson has the NBA range.The consensus top shooting guard prospects in the 2011 NBA draft are Colorado sophomore Alec Burks and Washington State junior Klay Thompson.
So ... which is the better bet?
Burks generated 120 points per 100 possessions as a freshman, while Thompson contributed 95. Both used 32 percent of their team's possessions this past season, but Burks produced 118 points per 100 possessions while Thompson produced 109.
One differentiating element in the Burks/Thompson debate is age. In his second year with the Buffs, Burks, who doesn't turn 20 years old until after the draft, scored 20.5 points per game. Thompson scored about a point more per game but the junior is already 21 years old and has three college seasons under his belt.
Head-To-Head Comparison
Burks' ability to get to the free throw line also sets him apart. Nearly 31 percent of the points Burks scored at Colorado were from the charity stripe, while Thompson scored just 18 percent of his there. Burks' rebound rate was also much higher than Thompson's, and his turnover rate was much lower.
Burks had a better field-goal percentage (46.9 to 43.6), but Thompson's real strength was as a deep shooter. In fact, in his career at Washington State, almost 44 percent of Thompson's total field goal attempts were from 3. Burks, meanwhile, shot about 18 percent of his attempts from beyond the arc and connected less of the time (39 percent for Thompson to 32 for Burks).
Thompson's game is predicated on shooting; he may be the best pure shooter in the draft. He shoots a lot of 3-pointers, and at a high rate. But Burks has a better effective field goal percentage.
Both have defensive issues, with neither getting a lot of steals or blocks to suggest that they will be significant contributors on that end.
Overall, Burks shows more to his game that will get him through down shooting days. This is not to say Thompson won't be a good player. He deserves to be in the league, but he won't be the kind of player who will shoot efficiently enough to help a good team, except off the bench.