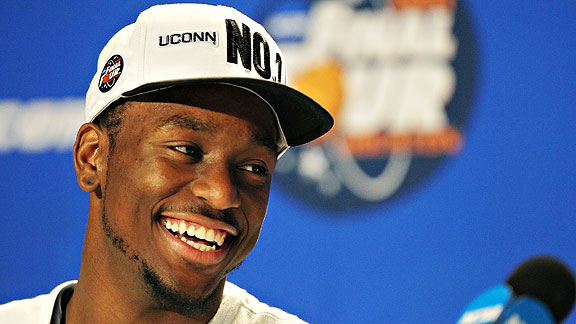 Andy Lyons/Getty Images
Kemba Walker is defined by his reputation as a "winner." But will winning matter in Thursday's draft?
Kemba Walker is, by all accounts, a winner.
He's won a college basketball national championship, almost single-handedly leading an inexperienced University of Connecticut team, unranked in the preseason, on an improbable run of 11 straight postseason wins to cap off the 2010-11 season. He's won games, most notably with a step-back dagger against Pittsburgh that's sure to be replayed each year around tourney time. He's won awards, taking home most outstanding player trophies at the NCAA and Big East tournaments as well as earning an All-American nod and a spot on a slew of other honorary postseason lists.
And accordingly, he's won over draft experts and decision-makers, as evidenced by his pre-draft status as a near-lock to land in the 2011 lottery.
Even current NBA players are buying in. In ESPN The Magazine's annual player-picked mock draft, the Jazz's Al Jefferson selected Walker No. 3 overall. Why? "Kemba is a winner and a fierce competitor," he said.
Who wouldn't want a winner? Especially if you're representing a lottery team, for whom, more often than not, winning is at a premium. Bag yourself a player with a winning attitude, the thinking goes, and that mindset might rub off on the rest of the locker room.
But how far up the draft board will that reputation take you?
'He's just a winner'
More than any other prospect in this draft, Walker is defined by his team's on-court success in 2010-11. What separates him from the likes of Kyrie Irving and Brandon Knight -- raw, high-upside point guards whose talent far outweighs their production -- are his immeasurable intangibles.
He's a leader. He's tough. He's got heart.
He has the hoops version of je ne sais quoi: a certain something. And despite all the basketball skills stacked up on his draft résumé, you keep coming back to the same phrase when trying to answer why, exactly, he has been such a success: He's just a winner.
But some of the biggest doubts surrounding Walker's ability to succeed at the next level stem from those same qualities.
You see his inefficient shooting numbers, and it's easy to label him as a player whose college-crafted reputation might disguise some ugly truths. And that's where the second-guessing begins. Sure, Walker can command a huddle, but with college 3-point shooting of just 33 percent in 2010-11, can he make teams pay for going under the screen? And yeah, he can hit the big shots, but with that ho-hum 28 assist rate, Walker doesn't strike you as a point guard who truly excels at setting up others.
In the Final Four, the shining moment of his final college season, Walker was a mere 11-for-34 from the field and 1-for-9 from 3-point range, with almost as many turnovers (six) as assists (seven).
But as ESPN draft guru Chad Ford wrote shortly after the Huskies hoisted their third national title, "Walker proved once again that he's a winner."
Walker might be a "winner." But how much does "winning" really matter in the NBA draft?
Where winning fits in
Winning is the ultimate team goal, but draft prospects are rated almost entirely on individual talent. Players such as Enes Kanter and Bismack Biyombo, with barely one or two meaningful games under their belts, can be pegged as lottery picks. And with the No. 1 pick in 2004, the Orlando Magic passed over former UConn star Emeka Okafor, then the NCAA player of the year, also coming off a national title season, for Dwight Howard, a high school player with heaps of upside but nary a college victory. ... A move that has worked out OK, to say the least.
And yet, while potential almost always rules, sometimes a prospect's team success can at least influence draft-day decisions. In 2009, for example, Tyler Hansbrough -- like Walker, a household name fresh off a national championship -- was selected 13th overall by the Pacers, ahead of high-upside picks Jrue Holiday, Earl Clark and Indiana's current point guard, Darren Collison. Although strong and physical, Hansbrough was only an OK athlete with a low ceiling. But after four years as the darling of college basketball, he carried a reputation as someone you could count on, no matter what, to get a win. (He's nicknamed "Psycho T," for crying out loud.) And indeed, he's become that same kind of player in the NBA.
The physical element
But unlike Hansbrough, Walker has the apparent physical tools to compete head to head with the other athletes in this year's class.
Despite his diminutive stature -- when he measured 6-foot-1 in shoes, it was hailed as a major victory -- Walker had one of the best maximum verts (39.5 inches) and standing verts (32) of any player run through the ringer at May's draft combine in Chicago. And his 3.16-second three-quarter-court sprint wasn't too shabby, either.
Better yet, just watch Walker weave his way through a defense or kick into top gear in a flash. Rather than relying on perfectly executed sets, the Huskies thrived amid chaos, instead gathering all the speed, size and raw talent coach Jim Calhoun could fit on the court and whipping them at opponents. And Walker was often the projectile, charging at the heart of the defense, kamikaze style.
It's that attacking, take-no-prisoners style that allowed him to rack up the fourth-highest scoring average (23.5 points per game) in the NCAA last season. But with few alternative options on offense, UConn's reliance on him doing so also turned the junior into one of the game's biggest ball hogs. According to college stat maven Ken Pomeroy's calculator, Walker used 31.4 percent of the Huskies' possessions, 20th most in the nation, and took 33 percent of their shots, 26th most.
As Calhoun told the Hartford Courant this week, "The decision-making with us was simple. [Tell Walker to] get the ball, go as far as you can, as long as you can, and make a play."
Making plays is what Kemba does and what has led him to this point, right on the doorstep of a professional career. And yet, when evaluating him objectively, there is still the lingering question that the skill set that made him so special in college might not be what's necessary at the next level. After all, he might have made plays at key moments, but that 54.3 true shooting percentage doesn't bode well for some of the other times.
Asking the right questions
But perhaps we're not asking the right question. With so many variables to consider in a process that ultimately serves as a well-researched crap shoot, a large part of whether a prospect booms or busts comes down to plain old desire. Walker might be a winner now, but, when faced with a new standard of excellence, a new lifestyle, etc., will he still want to win?
In the opening panel of the MIT Sloan Sports Analytics Conference in March, Malcolm Gladwell moderated a discussion centered around psychologist Anders Ericsson's "10,000-Hour Rule." In his book "Outliers," Gladwell wrote that greatness is achieved through 10,000 hours of practice. For example, the Beatles played live in Hamburg, Germany, more than 1,200 times in the early 1960s, amassing more than 10,000 hours of performing, before returning to England. "It was the making of them," Gladwell writes.
For this discussion, the panel sought to determine how the 10,000-Hour Rule relates to the modern athlete and the idea of the "natural" athlete. Eventually, the talk turned to players with prodigious talents that never panned out. Jeff Van Gundy nominated Stromile Swift, a bouncy 6-foot-10 forward beaming with athleticism. But Swift, the No. 2 overall pick in 2000, "didn't love [basketball] as much as you would've hoped," Van Gundy said.
Rockets GM Daryl Morey pointed to Marcus Banks, a point guard "with speed, built like a running back" ... but whose answer to "What do you really want to do with your life?" was that he would want to be a male fashion model.
Desire is still the great unknown of the draft -- of any sport. We can look at the stats, analyze the games tapes and do all the research, but for the most part, one's response to success is often unpredictable. That's true even for Walker, one of the best-known collegiate players in the country.
But at the very least, he has an encouraging history. When he was a pass-first point guard coming out of Rice High School (N.Y.), some wondered whether Walker would ever develop the necessary scoring skills. But after becoming an energy scorer off the bench in his freshman year at UConn and taking another major leap this past summer to become "the man" on a roster that at times appeared nearly barren, he's progressed to the point where we question his ability to be a pass-first point guard.
Now he'll need to make a whole new set of adjustments to have similar success in the NBA.
For Walker, this battle will be much harder to win.