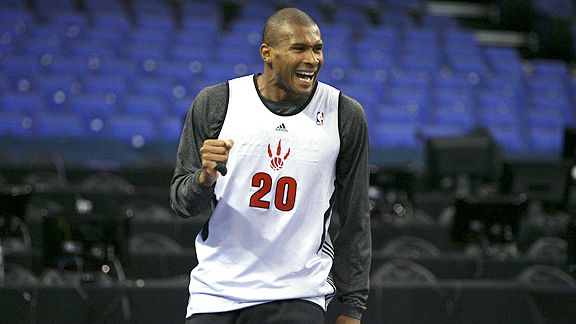 Catherine Steenkeste/NBAE/Getty Images
Leandro Barbosa has until the end of the month to opt-out -- if a lockout looks likely, he may.
The Raptors' Leandro Barbosa was all smiles on Wednesday playing soccer in New York at former teammate Steve Nash's charity soccer event.
But back in Toronto, his brother, trainer and confidante Artur is immersed in the reality that Leandro has a difficult decision to make. Barbosa has about a week to decide whether to opt out of his $7 million-plus deal with the Raptors -- possibly to become the highest-paid basketball player in Brazil.
NBA labor uncertainty, and the prospect of a lost NBA season, drive the Barbosas' thinking. In exploring alternatives, several top clubs in Europe, as well as two soccer-rich Brazilian club teams have emerged as possibilities.
Chief among the alternatives is the Brazilian club Flamengo, which recently brought soccer great Ronaldinho back from Europe, and is looking to capitalize on the strong Brazilian economy. Brazilian basketball now has the full support of the Globo television network, so there is a bigger media stage than ever for Brazilian hoops. Barbosa, the biggest name in Brazilian basketball, is a natural target.
"Leandro received a great deal of interest from many clubs in Europe as well as the richest clubs in Brazil," says Artur. "You probably heard about the proposal from the Flamengo sports club of Rio de Janeiro. Since then we have received big interest from some top clubs in Euroleague who had not imagined that Leandro would strongly consider leaving the NBA."
Artur agreed to answer some questions about the thinking that's going on right now.
What is Leandro's top priority? Playing in the NBA? Size of contract? Style of play? Relationship with coach or players? Going home to Brazil?
Leandro's top priority is to be able to play basketball at a world class level. Since he was a little kid he has dreamed of playing in the NBA and he has been blessed to have had the opportunity to do this.
However, now there is a possibility that the league will not play this next year. Leandro has worked and sacrificed his whole life to play and that is what he wants to do.
If the NBA and the Players Association reach an agreement on a new CBA quickly -- before June 30 -- would Leandro stay?
Leandro has not left the NBA yet. However, because of the player's option that he has in Toronto and given the uncertainty about next season, we have been looking at different offers in order to gauge the market and have the information that we need to make an informed decision.
This is a basic free-market principle, when there is market uncertainty, it is disruptive to the participants. People don't like uncertainty and we are taking this opportunity to look around and analyze the landscape. If an agreement is reached on a new CBA this will change the landscape from what it is today and this will be valuable information that will affect our decision.
Does Leandro like playing in Toronto?
Leandro loves playing in Toronto, like I said earlier he has always dreamed of playing in the NBA and here in Toronto he is living his dream.
Would it be a dream come true to play in Brazil? Is the money comparable? Has a player of his stature ever played in Brazil?
He is living his dream playing in the NBA, however he has not forgotten his roots and where he comes from.
He is proud to be Brazilian and would be honored to play on a Brazilian team. He has had the chance to play on the national team and enjoyed it. The money can be comparable depending on the situation and structure of his contract. Brazil has a strong economy and if he has to choose between not playing basketball because the NBA is locked out and playing in Brazil (or Europe) he will choose to play. He is a competitor and wants to compete.
Are you aware of any other NBA players in a similar situation, considering going overseas at the moment?
We have heard rumors of others that are looking into going overseas, but to be honest we are focused on what we are going to do and not really worried about what others are doing. I would not be surprised if others were to go overseas to play if the NBA locks out the players. That is a basic free-market principle at work, people go where they can use their competitive advantages to attain the best possible outcome.
It is Adam Smith's invisible hand in action, but now it is operating on a global level.
Today, other leagues might be able to compete with the pay available in the NBA. This does not mean that the NBA will lose its market power, but if it is not resolved in a sustainable way, it could start to move that way.
Anything else you'd like to add?
Yes, I would love to wake up tomorrow and realize that this whole business of the potential lockout was nothing but a bad dream.