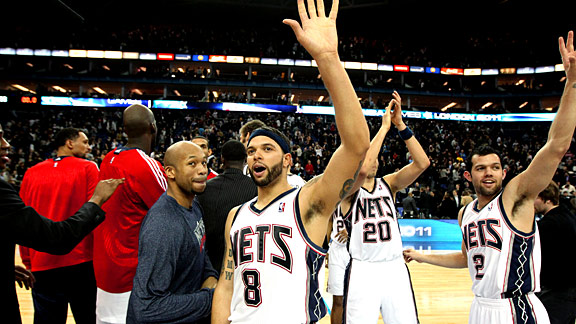 Nathaniel S. Butler/NBAE/Getty Images
If players are still locked out this fall, Deron Williams will reportedly take his game to Turkey.
Today there are reports that Deron Williams and Zaza Pachulia could be teammates this fall ... in Turkey.
I love this move by Williams. To me it is all upside, for an assortment of reasons:
Now there's real pressure on Mikhail Prokhorov, and implied pressure on every owner with valued stars, to get the NBA season started on time. There's nothing like watching the future of your franchise take the floor night in and night out in a chippy overseas league. If Williams gets injured in Turkey, it's bad for Williams, but it's dreadful for the Nets, who are hoping to use Williams to lure fans to a new arena in Brooklyn a year from now, not to mention a big free agent like Dwight Howard. Without Williams, the Nets' roster is pretty sad, and Prokhorov's investment in basketball endures a major setback.

The Nets can ill afford hardball. Before they can make Williams the centerpiece of the next phase of their existence, they need to woo him into signing a contract extension.

Williams is guaranteed not to miss an NBA game next season. FIBA makes member nations honor each other's contracts. So NBA players with contracts, like Williams, are only available to the likes of Turkey's Besiktas because NBA owners have locked out players, making them unemployed. So long as that's true, he's free to sign elsewhere. But when the NBA is back in business, Williams is back in the NBA ...

Which means he has not so much agreed to play in Turkey. He has instead picked up a Plan B for himself, to earn some money if and only if he remains locked out at the end of the summer. There's little risk.

More than a few NBA players have expressed an interest in playing overseas next year, but there won't be roster spots and cash for all of them at the end of August. The time to get the good deals is now.