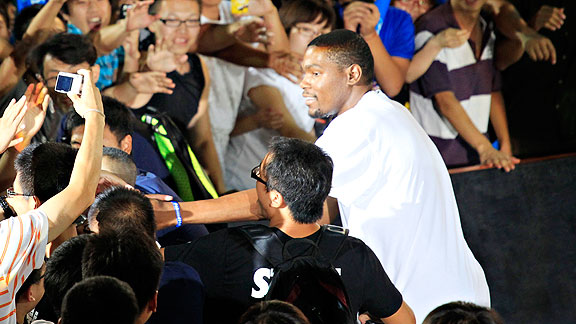 ChinaFotoPress/Getty Images
Players like Kevin Durant have a rare opportunity to cash in on their overseas fame.
The NBA Collective Bargaining Agreement, when it's in effect, does a lot of things. A lot that is good for the players -- it governs, for instance, their pay, benefits, and time off.
But some of its job protects the league. And those parts are on hiatus, too.
Notably, the CBA gives the league significant power to make money from selling NBA merchandise all over the globe, and from the globalization of basketball generally. (Section XXXVII, gives the NBA "the exclusive right to use the 'Player's Attributes' of each NBA player.")
The league takes all those rights and wisely makes the most money possible. For instance, Adidas reportedly pays the league something like $400 million to spend 11 years as the league's official uniform and apparel supplier. Some of the value of such a deal comes from the CBA, which generally bans players from wearing other brands on their bodies walking to, or playing on, an NBA court.
The CBA also requires players to make up to six appearances a year specifically on behalf of the NBA's merchandising division, called NBA Properties. The document stipulates that players must be paid at least $2,500 per appearance, but insiders suggest some such events -- for instance when the NBA organizes for players to appear in China -- can be incredibly lucrative for the league.
Similarly, when LeBron James changes teams, or Kobe Bryant changes his number, vast quantities of expensive jerseys are sold quickly, and as negotiated in the existing CBA, the vast majority of those profits go to the NBA, not the superstar player who are driving the value. The players' proceeds of merchandise sales are meted out once a year, and represent a small portion of the total revenues.
All that is different now, however, because the CBA is not in effect. (Although, interestingly, jersey sales roll on in the NBA store. UPDATE: Those sales, it turns out, are not governed by the CBA but by a separate agreement with the players union that has two years remaining.)
On some level, business-minded superstar players must wonder, though: How much could they make from merchandise sales? If Kevin Durant Thunder jerseys go for $40, and a million people buy them well ... that's a $40 million piece of cake to be carved up, and it wouldn't be outrageous to think the player might, as an individual on the free market, be able to negotiate the fattest slice.
Many have suggested that it's crazy for players to go overseas and put NBA millions, and their NBA teams' chances, in jeopardy, due to injury or otherwise. Others say it's akin to becoming a scab, with a similar effect of crossing a picket line to make dollars while colleagues without those opportunities are struggling.
Those with the best understanding of the markets, however, say that kind of thinking misses the point. For a player like Durant or Deron Williams, a trip overseas could be a lot more lucrative than is immediately apparent, and opportunities for overseas income are more varied and far-reaching than is commonly known discussed.
Durant's agent, Aaron Goodwin, says that when all factors are taken into account, NBA players can "absolutely," make as much money playing overseas as they do in the NBA.
Goodwin says no deal has been struck, but Durant is "very interested" in ongoing talks with Turkey's Besitkas, which this season begins play in the same lauded arena in Istanbul where the NBA's top scorer played very well in the World Championships for Team USA a year ago.
"I have always seen overseas markets as huge opportunities for NBA players," says Goodwin, "but to do it properly, where the players shared in the licensing and marketing. These opportunities did not exist. The players' ability to openly explore overseas relationships was primarily through programs run by the NBA or endorsement relationships. Because of the lockout, there is a window for the players to explore these opportunities for themselves and expand their own brands.
"Let's say a top NBA player went over to play for F.C. Barcelona, and a shoe company packaged together a nice jersey and some shoes. That unification of those brands, F.C. Barcelona, a top player, a top shoe company ... all three parties have the potential to turn this into a good business."
Durant has been something of a lockout hoops sensation, drawing plenty of eyeballs in person, on TV and online no matter where he shows up. When the NBA is in session, the appeal he has to fans is monetized all kinds of ways, in ticket sales, TV deals, jersey sales, corporate sponsorships and more. A lot of the best basketball revenue streams are dependent on having a team, a stadium, and organized week-in week-out competition -- things that simply aren't available without leagues. All of which point to potential value were a player like Durant to unite forces with an overseas team.
Durant is already known in Turkey. By signing with a Turkish team, he could be well positioned to sell a lot of, for instance, Besitkas Durant jerseys in Turkey and beyond. Only this time around, instead of seeing pennies on the dollar from such sales, he can negotiate a fat chunk of the revenue from those merchandise sales. In addition, Durant could open new potential to become a pitchman for Turkish products, marketed in Turkey.
"It's a relationship," says Goodwin, "that can expand. We can have a partnership. He can help a team expand its brand. We have sponsors and partners that may be able to help them. It's an opportunity for everyone involved to have something that never existed before. Even if the lockout ends quickly, and Kevin is back in the U.S., there can be camps, clinics and appearances with an overseas team for years to come, new market endorsement opportunities for Kevin, and a chance for the team to do new things. The opportunity exists for some teams to become household names beyond their home nation.
"Look at David Beckham. He only sometimes plays soccer in the U.S., but he's a household name here. This is an opportunity to start going down that road. And if you own a team overseas, why not have Dwyane Wade for a month? The value is tremendous. How do you measure that effect? You can't. In five or ten years a player could become synonymous with an overseas team. It is shortsighted to just assess the dollars per month in income from the team."
It is common for NBA players to make offseason trips to China or Europe on behalf of Nike or the NBA. But there's no reason they couldn't make such trips on behalf of overseas teams -- even if they no longer play for that team.
And as for the injury risk, Goodwin points to two realities: Most players will risk injury on the court no matter which country they're in, and insurance generally guarantees the NBA contract.
"Kevin is going to play regardless, as he has shown throughout the summer," says the agent. "Why not use this as a business opportunity? No player is going to play anywhere without his NBA contract being guaranteed, nor would you play in an overseas exhibition without coverage. It's not an issue. He's going to play ball. He wants to play ball. Might as well explore his options.
"I don't think it's bad for anyone. There are no have and have-nots. There are only a few hundred NBA players. Everyone who wants to has the opportunity to either sign overseas, or at least go there and do some clinics, become an ambassador ... enough things are going on. If the union gets involved, and I think it's headed that way, all players can explore something overseas. The only people who might suffer are non-NBA players. There may not be as many overseas jobs for non-NBA players."
Goodwin says the whole thing can serve the league's long-term goals, too, by deepening ties between NBA players and overseas fans. "You always need the NBA," he says. "They are the best partner. But at this moment, we are not afforded the opportunity to be partners with them. In that scenario, you have to build your own business."