It's six in the evening and still too hot to do anything but sweat. Ninety-five desperate degrees hang over Barry Farm, one of Southeast D.C.'s roughest neighborhoods.
The only hope of relief comes from the rec center's public swimming pool, but it sits entirely undisturbed, its surface a perfect sheet of glass. Without a single swimmer to watch, the lifeguard bounces a ball, staring longingly at the park's main attraction: a blistered patch of concrete where lean, sweat-soaked basketball players glide and leap through a haze of shimmering heat.
This is the Goodman League. Ignore the Nike swoosh in the center circle and it looks like any public basketball court. But the players on a typical summer night here include the likes of John Wall, Ty Lawson or Dante Cunningham.
This Saturday, local heroes Kevin Durant and John Wall will represent Goodman in the most anticipated street game in decades, against a team from California's Drew League that will feature Durant's Thunder teammate, James Harden, among other NBA players.
But top-flight basketball is only a small part of the Goodman magic. To those who know, the appeal is rooted in the league's promise of a respite from local violence, a rough brand of mutual respect and fun for all ages that is all too rare in this corner of D.C.'s Anacostia neighborhood. It's the promise of a few hours under a different, more fun set of rules.
All that comes from one place, the ringleader, the commissioner and man on the mike: Miles Rawls.
"People show up to the see the games, of course," says Durant, a regular here since he was 16. "But without Miles, people wouldn't come, no matter who was playing. You could have Kobe Bryant playing LeBron James one-on-one and nobody would come."
Inside the gates
Forty-nine and a grandfather, Rawls has a full-time job for the Department of Homeland Security, but has nevertheless been on the scene, in the flesh, running the show six nights a week, every summer for the past decade and a half.
Drew League vs. Goodman League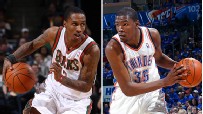 THE DETAILS
Where: Trinity University, Washington, D.C.
When: Aug. 20, 6 p.m. ET.
How: Available via webcast for a fee.
NBA PLAYERS EXPECTED
Drew League (Calif.): DeMar DeRozan, James Harden, Brandon Jennings, JaVale McGee, Craig Smith, Derrick Williams, Dorell Wright, Nick Young.
Goodman League (D.C.): DeMarcus Cousins, Kevin Durant, Donte Greene, Ty Lawson, Gary Neal, Josh Selby, John Wall, Sam Young.
Born and raised in Barry Farm (or, as the locals call it, Barry Farms), Rawls takes guff from no one. (He once famously engaged President Obama in some trash talk at a Wizards game.) It's an essential part of the league's success; Rawls' ability to assert his own morality "inside the gates" of the Barry Farm basketball court is precisely why the police hang back. In there, Rawls rules, and it's better that way.
"Barry Farms is one of the toughest neighborhoods in D.C.," Durant says, "and every time we play, nothing happens. No fights, nobody wants to get into it. It's like family, and that's what I like about playing down there."
There is an old-school element to Rawls' approach. "Back in the day," he explains, "if you got out of line there was somebody, a neighbor or somebody who would give you a swift kick in the ass, and you better not tell your father or your brother or you'd get another ass-whipping."
Eric Singletary, a three-time Goodman champ who played professionally in Europe, explains that the vibe inside the gates has a powerful effect. "A lot of these people are living in despair and hopelessness, with minimal wages, minimal dreams, minimal desires," he says. "Let's face it, some of the people who watch are criminals."
Says Rawls, sternly: "I won't have it in the gates. Nowadays, it's hard to get that street cred and respect. But down in Barry Farms and throughout the city, from what I've done, I get about as much respect as The Man -- no disrespect to The Man."
It costs hundreds to watch Wall take on Lawson from the sidelines in an NBA arena. But not here. Admission to the Farms is free.
"The only thing we charge," Rawls says, "is for you to act like you got some sense."
Rawls' secret weapon
"I didn't have nothing coming up," Rawls says. "I wore the same clothes all week. There were 15 of us kids."
He credits his parents and 14 siblings with keeping him straight. "In the hood, when people do stuff on the criminal side, they say, 'Well, they're a product of their environment.' I'm a product of my family and my household coming up. I'm not a product of society."
After living all over the world for 12 years as part of the Army's infantry, Rawls returned home in 1995 to find the George Goodman League of his youth in disrepair.
He has missed just three nights, because of knee surgery, ever since.
"For a long time we were down here with no police," Rawls says. "When it was really packed and there were turf wars going on, it was tough. I had the respect of guys on the street and if something went down, a shooting or whatever, when I found out who it was I went to them man-to-man and said 'I'm working on something here, take that mess somewhere else.'"
Over the years, Rawls has accumulated a critical mass of street cred. Being a federal officer helps. Being built like an NFL halfback helps. Fearlessness and a famously quick tongue are essential. But it is also impossible not to respect the work, the highly visible (and audible) hours he has poured into the league.
Rawls' primary weapon is his mouth, which, at a typical game, supplies an endless string of unpredictable one-liners, original nicknames and good-natured disses. His instant wit is the thread that ties Barry Farm together.
When an unlucky defender was sent stumbling a few nights ago, Rawls screamed: "Oh no! Young man is drunk at the bar. Somebody take his keys! Friends don't let friends drive drunk!" No one remembers whether the shaking-and-baking ballhandler made the bucket, but that line won't be forgotten any time soon. Nor can you forget the nicknames he gives out to players.
The kid with the side of his head shaved and the top covered in long dreads is "Half and Half."
Kevin Durant, because he wears his shorts higher and shorter than just about anyone in the league, is "KD Dumars."
Rawls often reminds the crowd where a player went to high school -- here, Ty Lawson is still known as Tywon, his full name and what he went by at Bishop McNamara High School, located 20 minutes down the road -- how many years he's been playing in the league or how he's been doing this season. Should an ambitious hooper attempt a move above his pay grade, he's likely to hear, "Know your capabilities!"
Rawls' favorite nickname these days belongs to a physical lefty guard with shoulders of granite and a fierce power game. Because of his complexion and his being body more square than most, Rawls calls him "SpongeBob."
Standing at midcourt before tipoff of a Goodman playoffs game, Durant bunches his too-short shorts in his hands, revealing the spandex covering his skinny thighs. The odd look doesn't escape Rawls, who crows, "Look at KD rocking those Victoria Secret joints."
All Durant can do is look down and smile. It's Rawls' show.
No matter who is playing, if the game isn't close in the fourth quarter, he'll simply count down from five to zero and that's it. Game over. No one even argues.
Run by its own rules
For the players, it's high-level competition, but for the audience, it's a block party, a picnic and -- oh yeah -- some basketball. Lawn chairs, hot wings, squealing children, French fries and Philly blunts are the norm courtside. At halftime, a D.J. mixes Motown with go-go and contemporary.
One moment, a giggling 6-year-old chases an errant football onto the court, derailing a few fast-breaking NBAers.
Next, the unmistakable smell of marijuana wafts across the court.
No one seems much bothered by either occurrence, least of all the cops parked outside. They recognized long ago that the rule of law communally enforced in Rawls' world works better than any imposed by sirens or handcuffs.
Durant laughs when asked about the smoky air. "It's the hood, man," Durant says. "Stuff is going to go on out there. That's part of what makes the league great. We can stay in the hood and play and people are going to come out and support."
Most everyone you ask around the park will tell you how great it is that guys like Lawson and Durant "give back" by coming back.
But Durant doesn't show up to do good.
"I don't see it as a charity, as me giving back," he says. "It's just me going down and hooping. I don't look at those people as charity because it means more to me than that. I want to show people how much better I've gotten over the years."
You hear in Durant's voice a curious yearning for a player whose young career has been judged with almost universal acclaim: He still wants to show out for his hometown.
So does Rawls.
Until 2008, when Gilbert Arenas showed up to Barry Farm on a surgically repaired knee, almost no one outside of D.C. followed the Goodman League, though Arenas was far from the first pro to test himself there. When Rawls would try to drum up interest, even local radio stations brushed him off.
"I'm the top league, the top dog in town, I love it," he says now. "I'm proud of what I've done over these last 15 years. Used to be when you heard of Southeast D.C., Barry Farms, it was killings, shootings. Now it's positive stuff. You see my face and my league."
As the locked-out basketball world focuses on the league's title bout with L.A.'s Drew League at nearby Trinity University (where the game is being held because the visitors refused to play on Barry Farm's asphalt) on Aug. 20, Miles recognizes an opportunity to provide more than a positive image.
Rawls recently filed his Goodman League operation as a tax-exempt nonprofit organization. He hopes it will help him attract more sponsors and funding to institutionalize and preserve Barry Farm's fragile dynamic of fellowship.
"I'm almost 50. I can't do this forever," he explains. "I got to set up this mentorship for these kids and teach them things: how to live, how to read. A lot of them can't even read and write.
"You can't save them all, but even if you save one or two, you did your job."
Rawls knows he has a special position in the community, and a limited time to put it to good use. "God willing and if I'm healthy -- and it's still the way I want it to be -- I'll keep doing it. And if not, someone else will have to take over the reins like I did. Will it happen? I doubt it very seriously."
As he drives through an opening in the chain-link fence that surrounds the courts, his gleaming white SUV parts a sea of smiling faces and raised fists. They've been standing around waiting for him to arrive and the show to begin.
He pulls into his reserved spot just behind the bleachers and says with a broad grin:
"This is Barry Farms, where I was born and raised. I wouldn't change a thing."
D.C.-based Beckley Mason (@BeckleyMason) founded the HoopSpeak blog.