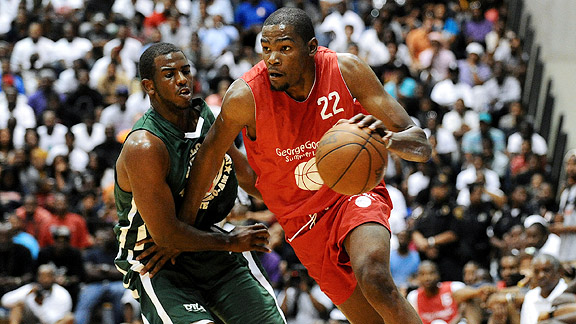 Patrick Smith/Getty Images
Kevin Durant showed off his new-and-improved handle and his old scoring prowess (59 points).
BALTIMORE -- As thrilling as it is to see LeBron James, Kevin Durant, Carmelo Anthony and Chris Paul reunited on one court, the Melo League's 149-141 victory over the Goodman League won't appear in any win column or count toward any championship. But even in games that count for nothing, we can learn something. The following are 10 takeaways from Tuesday night's exhibition at Morgan State University that (mostly) matter.
1. Josh Selby can fly. I've caught Selby in action a couple of times this summer, and at no point have I thought he looked ready to contribute as an NBA guard. But boy, can he jump and finish. On Tuesday night, the 55th overall pick in the 2011 draft and future Memphis Grizzly had a number of silly alley-oops, including one thrown from half court by Juan Dixon that he caught on the right side of the rim, spun all the way around and threw it in on the other side. Even if he doesn't play more than a handful of minutes this year, don't be surprised if he figures prominently in the Dunk Contest.
2. Oh Eddy, where art thou? The one piece of real NBA news that was supposed to come out of Tuesday's game was an answer to the question: Can Eddy Curry still play in the NBA? Well, we're still wondering. The once supersized center was a no-show in Baltimore. Though he's reportedly lost a decent amount of weight, whether he can help an NBA team remains unknown.
3. After recovering from an elbow injury, this was Anthony's first competitive game of the summer. "This is my first time actually playing in a game like this," he said. "I'm back like I never [was hurt]. I'm back." But back to what? As of today, not an NBA season. After the game Melo appeared genuinely antsy for the season to begin: "We all want a deal done. We want to play basketball at the end of the day. We don't care about none of that other stuff, they can deal with that. Just let us play basketball and continue to negotiate, that's what we say."
4. Even among NBA players, Paul makes passes no one else in the gym can even imagine. His sixth sense for setups led to the play of the night, when he drove down the left side of the lane and, with his man draped all over him, fired what appeared to be a peculiarly poor shot attempt off the backboard. Before the crowd realized what was really happening, Clipper guard Eric Bledsoe exploded down the middle of the paint and leaped off one foot to catch Paul's psychic dime and deliver a two-handed slam.
5. LeBron's post game is still a work in progress. Although James has the ability to overwhelm players like Kevin Durant with his strength, his best moves Tuesday night didn't utilize that advantage. Instead, LeBron looked most comfortable stepping back or falling away over either shoulder. He hit a high percentage of these looks, but he remains oddly awkward powering his way to the rim in the style of, say, Carmelo Anthony. James picked up a couple of close buckets by lowering his shoulder and scoring off of two-foot jump-stops in the paint, but also missed badly on what would appear to be routine jumpers in the 5-to-9-foot range. It's that in-between range that he still needs to find in order to be the unstoppable force in the post so many believe he can be.
6. Could Austin Daye be a shooting guard? The lanky Pistons forward struggled to defend Anthony in the post but looked more useful against the Spurs' Gary Neal. The sharpshooting Neal was able to hit over Daye a couple of times, but Daye did block a jump shot and also rejected Neal from behind on a layup after Neal scooted past him. Daye's offensive skills make you think of a poor man's Durant, but his defense is just poor. Could moving him to the 2 allow him to shoot at will over shorter players and use his length on defense to smother smaller, quicker players?
7. Maryland hasn't forgotten Juan Dixon. The former national champion with the Maryland Terrapins received a nice ovation from the crowd of 4,500 when he checked into the game. Looking the part of old-timer with a gray T-shirt under his jersey and a blue neoprene brace on his knee, Dixon showed the solid, fundamental play and consistent midrange game that helped capture an NCAA title with Steve Blake in 2002.
8. Chris Paul is one of the most technically sound players in the NBA, but he was clearly enjoying the chance to add a little flash to the usual repertoire. He put on crossover exhibitions every chance he got, whipping the ball side to side, between his legs and in front of his defender, and feinting with his feet, shoulders and head. Sometimes, after giving his defender motion sickness, he would step back and shoot; other times he would shake and head to the rim. Once, with Durant isolated on the right wing, he flipped the ball between Durant's spindly legs and ran around the other side for a layup.
9. LeBron played without a headband. As he acknowledged on Twitter, that hairline isn't getting any fuller. I doubt Daye had anything to say about it, though. When LeBron charged down the lane and banged it home on the Piston forward, Daye futilely put both hands into LeBron's chest to stop him. Sure, it'd be great if LeBron won seven titles, but it'd be more impressive if he reversed the stigma associated with male-pattern baldness.
10. Durant's handle has improved dramatically this summer. He seems much more confident dribbling through traffic in the open court and using his crossover and hesitation moves, often one after the other, to reach the rim. Durant's long arms make for a crossover that covers about eight feet side to side, and he seems more comfortable using the move to both step back and explode toward the basket. His rhythmic crossover routine repeatedly befuddled his defender for the night, LeBron, and with his step-back as an ever-present counter-threat, Durant was able to get to the rim with surprising ease.