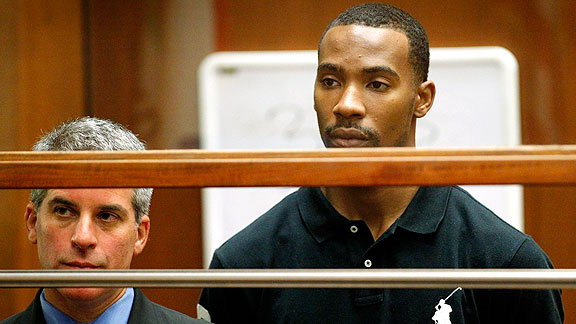 Al Seib-Pool/Getty Images
Javaris Crittenton, in court Wednesday with attorney Brian Steel, has a Twitter account that was deleted.
Kyle Weidie is a Washington, D.C., writer who maintains the website Truth About It, a TrueHoop Network blog about the Washington Wizards.
Former NBA player Javaris Crittenton has been charged with murder in connection with the shooting of a woman in Atlanta on Aug. 19. His attorney says Crittenton is innocent and was on his way to turn himself in, and to clear his name, when federal authorities nabbed him Monday night at a Southern California airport.
Reports suggest Crittenton may have been attempting to retaliate for an April robbery.
After a standout high-school career alongside Dwight Howard at Southwest Atlanta Christian Academy, and a year at Georgia Tech, Crittenton, a 6-foot-5 guard, was the Los Angeles Lakers' first-round draft pick in 2007. He played sparingly for the Lakers, Memphis Grizzlies and Washington Wizards before he and Gilbert Arenas were suspended in January 2010 for an incident in which they quarreled and brought guns to the Wizards' locker room. After a brief 2010 preseason stint with the Charlotte Bobcats, Crittenton played last season in China and the D-League.
Crittenton had a Twitter account that has been disabled since the murder charge was made public. His @JayCrittDTE feed had fewer than 350 followers, in large part because it was protected. (The general public could ask permission to subscribe to the account.) Before it was disabled, I subscribed to the feed and had access to Crittenton's tweets in the days leading up to his arrest.
This wasn't Crittenton's first Twitter account. @JayCrittDT existed in the summer of 2009, but ended after a brief period, with the most notable tweet being a gay slur. I asked him that fall why he shuttered the account, and he said: "Sometimes the Internet, Facebook, MySpace, Twitter, that can take away from your concentration on something that's more important. And as soon as I got off [of Twitter], some of the players started getting in trouble. You have to watch what you say on there. I think the best way to avoid that is to just not be on there, so I got off."
Crittenton resurfaced on Twitter as @JayMoneyC in March 2010, but that account soon went away as well. His most recent account, @JayCrittDTE, accepted my follow request and also began to follow my Twitter account (@Truth_About_It) at the end of July.
Below are some of Crittenton's tweets. The tweets have not been edited, except for profanity and to remove others' Twitter addresses.
Crittenton's latest Twitter profile featured a photo of him smiling while on the court with a basketball, and included lyrics from Jay-Z's rap song "Say Hello," based on the movie "Scarface" as follows:
Javaris Crittenton

@JayCrittDTE ATL, LA, DC, Bmore

Say hello to the bad guy! They say I'm a bad guy. They say a lot about me let me tell you what I aint! 2 Words-LOYAL & REAL. HATERS MOTIVATE ME….nuff said

http://javariscrittenton.org
Before the day of the shooting
In early August, Crittenton talked about his investments. Tweet from Aug. 8:
I try not to let my money just sit in the bank so I invest in stocks & bonds. Apparently I f***** up this time. Woke up & I'm down 30k.
Crittenton's next tweet: "I think I feel sick."
The former honor student was generally seen by colleagues and others as a quiet, gentle person. This side of his personality was reflected in his tweets, which often mentioned workouts, taking his little sister to Chuck E. Cheese, religion, movies and rap lyrics.
Tweet from Aug. 14:
Today make sure everyone let's the ones you love know you love them. No matter who they are and no matter whether you show it or say it.
Other tweets that Sunday focused on lessons from church.
Later that day, Crittenton heard from a D.C. club promoter about Gilbert Arenas. His reply included: "don't show that weirdo no love homie."
Tweets over subsequent days continued to be about getting to the gym, sleeping, staying on "the grind," and the occasional quote meant for inspiration. He interacted with several Twitter users with the same "DTE" ending as is on his Twitter handle. DTE stands for Duct Tape Entertainment, an Atlanta-based music label, according to a source close to Crittenton.
Two tweets from Aug. 18, including a derogatory term that's been edited:
I respect a person more that can tell me they got a problem with me to my face opposed to someone who say s*** behind ya bacc & then … When they see you it's all smiles and handshakes. #faken*****
Later on Aug. 18, the day before the shooting in Atlanta, Crittenton tweeted about going to see the movie "Planet of the Apes."
On the day of the shooting
According to reports, it was about 10 p.m. ET on Friday, Aug. 19, when a mother of four was gunned down in Atlanta. Crittenton has been arrested for the shooting.
On Aug. 19, Crittenton tweeted six times:
Man Planet of the Apes is a must see! Ceasar is a beast. Might as well been a gangsta film with Apes

@[Twitter name deleted] just been grinding. What's up big boi? Ain't seen you in a min

"@[Twitter name deleted]: @JayCrittDTE was it good??" Movie was real good. You gotta see it

In a whole different zone right now. Only a matter of time.

@[Twitter name deleted] Cmon now pretty lady. You gotta chill with the ATL disses.

Good night world. Gotta get some rest. Super early workout in the am
After the day of the shooting
Crittenton's tweets about morning workouts, naps, Jacuzzis and movies resumed the next day as usual, though the following days included occasional allusions to something more dramatic.
Tweet from Aug. 22:
I hear people out here slandering my name. They want me to fall so bad. I just can't though. Wish folks would stop praying on my downfall.
Tweets from Aug. 23:
Damn, they wanna label me a menace!

Like I said before if y'all twitter gangsters got something to say to me put my name on it and let it be known! I don't respect subliminals

These twitter thugs abs gangsters kill me. Don't play tough behind your phones and computers. I'm wherever you want me to be.
On Aug. 24 Crittenton tweeted about plans to travel to Los Angeles, about messages of focus and direction and about going to the gym.
The next day he reached out to former Wizards teammate Nick Young, a California native, tweeting to him he had just touched down in L.A.
Crittenton's tweets from the West Coast mentioned L.A. traffic, working out and going to the movies. It was not the first time Crittenton has tweeted about the city listed as one of his homes along with Atlanta, Washington and Baltimore in his Twitter profile.
Crittenton's last tweet came at around 8:30 p.m. ET on Aug. 26, within an hour after news of the warrant for his arrest spread across the Internet.
Tweet from Aug. 26:
This is crazy. Trouble continues to follow me for some reason. I put my trust in God.