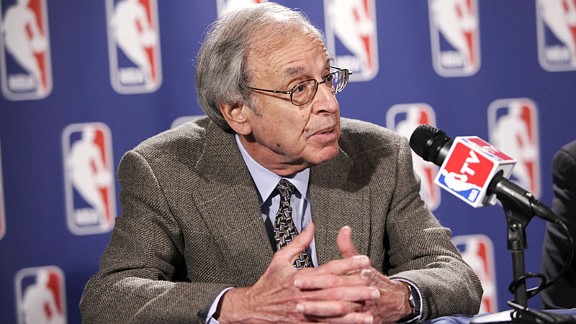 Steve Freeman/NBAE/Getty Images
George Cohen doesn't just have to unite the people in the room.
The billion-dollar question is: What's happening inside George Cohen's mediation sessions?
But the real money in this $20-plus billion deal might rest on another issue: What's happening outside?
These negotiators got close to a deal once before, but it fell apart when Halley's Comet, or Garnett's Comet, struck.
George Cohen's challenge, in other words, is not just getting Billy Hunter and David Stern on the same page. That's child's play, in many ways, compared to roping in all those hard-cappers and 53-percenters who haven't been part of the process, but still could derail it.
During a break in yesterday's talks, Cohen told Steven Greenhouse of The New York Times:
Among the important differences between sports negotiations and others, is you have the two parties, the union and team owners, then you have the commissioner representing the league as a third party. And then, behind the scenes, you have a fourth party, the agents who are representing individual players, and they have a voice that is being heard in the process. And then there are the interests of the fans.
And let's not forget strident and influential players, including Dwyane Wade, Kevin Garnett, Paul Pierce and others.
I remember doing the dishes once. My dad was visiting from out of town, and sat nearby as I worked. At some point, though, he offered some direction, some pointer, some advice. Some way I should do a better job washing the dishes.
The kind of thing parents do, even when their kids are adults. If you'd been there, it would not have seemed like a big deal, and I didn't say anything.
But I remember clearly thinking: If you want to have some say over this thing, roll up your sleeves, get up out of that chair, and join in.
Or, if you prefer to rest, that's cool, but ... a little respect, please. I'm washing your dishes here, too.
At some point years ago the NBA formed its labor committee, and the union formed its executive committee. People like Derek Fisher, Theo Ratliff, Mo Evans, Matt Bonner, Peter Holt and Glen Taylor signed up. They've been flying all over, putting in very long hours whittling a mountain of conflict into a semblance of an agreement.
It's probably a fantasy -- what room is big enough for all those with a lot at stake? -- but wouldn't it be great if this could be a deal where those people could be left to do their work?
David Stern spoke a while ago of how owners had "fully empowered" the NBA's committee to negotiate on all points. If that power remains in place after Thursday morning's board of governor's meeting, so much the better.
If the players association executive committee can similarly operate with the full faith and confidence of players, including superstars and their agents, well then just maybe George Cohen will be able to work his magic.
But if he's really mediating between parties who are not just divided and strident, but also absent ... it's tough to see how this could get done.