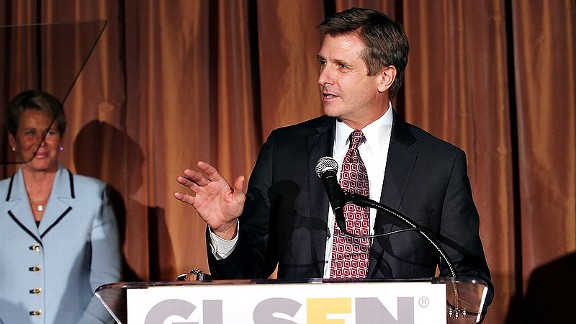 Alex J. Berliner/ABImages
Rick Welts: "I have to be part of this dialogue in men's team sports going forward."
Momentum isn't just a phenomenon on the floor or in the flow of a seven-game series. By virtually every account, the NBA enjoyed one of its best seasons in 2010-11. Television ratings and merchandise sales soared, while several teams have put lucrative new local broadcast deals in place. Most of all, the narratives and subplots coming out of the season were captivating, storybook stuff.
But the inertia wasn't just felt on the court. The league made strides off it, too.
Sports has always provided a laboratory for a range of social and cultural issues and, in that respect, the NBA achieved a lot of good -- yet another reason why the current lockout and prospect of a cancelled season is frustrating.
Among the more aggressive initiatives pursued by the NBA was GLSEN's "Think B4 You Speak" campaign. Their keynote televised spot, starring Grant Hill and Jared Dudley, was bold, well-produced and unprecedented. Ten years ago, the idea that NBA players would take to the camera during the playoffs to tell kids that using gay as an epithet is uncool would've been noble but naive. Yet GLSEN's ad was as ubiquitous as the NBA's talking basketball and Heineken's The Asteroids Galaxy Tour spot.
How did GLSEN corral Hill and Dudley? The NBA aggressively pursued gay-friendly athletes and enlisted them. The league signed Steve Nash and Brook Lopez up for the print campaign. Meanwhile, Dwight Howard tweeted his support.
Less than 24 hours after the GLSEN public service announcement premiered during the conference finals, the New York Times published a front page feature on Rick Welts. In the body of the article, the then-Phoenix Suns president became the first executive in men's pro sports to come out as gay.
The response to Welts' announcement has been overwhelmingly positive, particularly in gay organizational circles. Gay folks have done well over the past 15 years in political and cultural spheres, but there are still incredibly few recognizable public figures carrying the torch. The same dozen or so celebrities traverse the country speaking at various charity dinners giving pep talks to donors and organizational leaders.
Welts has now joined that roster of out, gay figures and he was honored on Friday night in Beverly Hills by GLSEN, the organization that launched the Changing the Game initiative, under whose umbrella "Think B4 You Speak" campaign resides.
From the outset of the evening, you could sense Welts' presence was different.
He doesn't hail from the entertainment industry and isn't a fixture in charitable gay circles.
This is all new to him -- and, in turn, he is new to the community.
We caught up with Welts at the event, where he was accompanied by his partner, Todd Gage.
Kevin Arnovitz: There's a certain brand of celebrity gay public figures achieve and you're there. Tonight is proof of that. Is that exciting? Disorienting? Overwhelming?
Rick Welts: I really didn't know what to expect. I was probably prepared for a mixed reaction to the story -- maybe 90-10. But it was unconceivable to me that of the thousands of calls, emails, letters -- people still write letters -- every single one has been nothing but encouraging and positive which, for me, was a little overwhelming. It was overwhelming in a positive way, but it did instill in me a sense of responsibility going forward. I really wasn't sure that would be the case. I thought maybe that would be it, that I'd get my 15 minutes of fame, but clearly it just continues.
I'm still trying to figure out what my role should be. I'm all about running the Golden State Warriors. That's my job. That's what I want to focus my time on, but somehow I have to be part of this dialogue in men's team sports going forward. What form that takes, I'm not quite sure yet.
During the early part of your initial media tour, you seemed a little bit reticent at first, like it was all still very new -- which I guess it was. Has your comfort level in those contexts grown?
Welts: I don't think I felt that. Maybe it came across that way. By the time I got to that point, I knew what I'd signed up for. So nothing about it was unexpected or scary. It turned out to be a much easier process than I'd imagined.
We had our Warriors press conference a couple of weeks ago, and there's still a little bit of out-of-body experience when I'm listening to these questions about my sexual orientation in the context of running an NBA franchise. It's okay. I hope on some level it makes a contribution, but I'm really all about doing my job for the Warriors. I want that to be the focus. I know this is always going to be there.
Your job is not to instill in the Golden State Warriors an ethic of tolerance, but do you hope to have an impact -- do you feel obliged to have an impact -- on, say, Dorell Wright, Steph Curry, Monta Ellis and Mark Jackson, who is an observant evangelical Christian? Is "making a contribution," as you say, a hands-on experience whereby you speak to the team for 15 minutes one afternoon after practice and tell your story?
Welts: The answer is, "I don't know." I had a great conversation with Mark on the phone. Everyone in the organization has been incredible. I'll tell you one of the most gratifying experiences I've had since May -- and you'll understand this -- is the interview I had with the Warriors. I was with Peter Guber and Joe Lacob for six hours. I realized I didn't have to guess what they knew or might have known or how they'd feel about it, whether they'd have a problem with that, because I was out.
And it wasn't until about four hours into the meeting when one of them goes, "So how did the announcement go over with the ownership in Phoenix?" I said, "It went over great," and then we went back to the Warriors. For me, as someone who spent his whole business career worrying about how that would affect my ability to be successful in the occupation I'd chosen, that was a pretty amazing experience.
About the move from Phoenix to Oakland. There was a lot of well-wishing on your way out the door. You were going to spend some time contemplating your next move. Then, boom, you had the job at Golden State. Did you already have the Warriors gig lined up when you resigned from the Suns?
Welts: I was at a point in my life where the important aspect of it was living in northern California. My partner has two kids whom he has joint custody of and they live in Sacramento -- so he's not relocatable. I initially thought I'd take some time off. I got some amazing book offers, maybe do some speaking -- and I was really excited about that. But just as I was leaving Phoenix, Robert Sarver said, "I'm going to call the Maloofs in Sacramento and the new guys in Golden State and say, 'You know what? They ought to talk to you.'"
He did that --
--This was before the resignation or after?
Welts: After, but I was still there. So the weekend after I left, I spent that six hours with [Guber and Lacob]. They had a short list to start that I was on, but I wasn't available. Then I became available and the opportunity presented itself.
So you're sitting across the table from these guys. They've paid a lot of money for this team. What's your pitch? What's the Rick Welts platform for how to turn the Golden State Warriors into an elite NBA franchise?
Welts: They had really done their homework on me and I'd really done my homework on them. So we knew if there was a connection on both sides, we were going to make a deal. They wanted to make sure they were bringing in someone who had a general approach to business in the NBA that was not business as usual. They wanted someone who wasn't afraid to think big. For them, what hasn't been done is more interesting to them than what has already been achieved. That's how they envision the franchise and they want someone on the business side who demonstrated that same kind of approach. And that's exactly the kind of owners I was looking for if I was going to jump back in this as quickly as I did.
Let's talk about the No H8 Photo you guys posed for. I'm probably one of only 10 gay dudes in California who doesn't have one. But the airbrushing on those shots is pretty incredible.
Todd Gage (Welts' partner): Airbrushing? What are you talking about?!
Welts: There's no airbrushing.
Please.
Welts: It was something I agreed to. By total coincidence, Todd was in town that day. I called him and said, "Get your ass down here," and he did.
Gage: They take every line out. It's incredible.