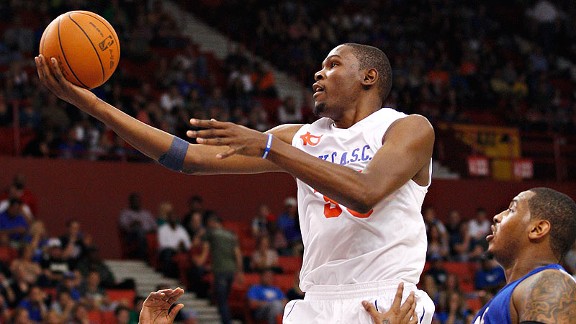 AP Photo/Sue Ogrocki
Kevin Durant led the way for the White team, finishing with a triple-double in his charity game.
OKLAHOMA CITY -- It wasn't an All-Star Game, but Oklahoma City sure treated it like one. A crowd of 12,874 at the Cox Convention Center saw stars like LeBron James, Kevin Durant and Russell Westbrook (White team) duke it out with Chris Paul, Carmelo Anthony and James Harden (Blue team) in a surprisingly entertaining game, the White Team prevailing in overtime 176-171.
Shirts being sold around the arena were billing the game as "Durant versus Griffin," but with the Oklahoma City-born former Sooner Blake Griffin forced to skip the event because of a cut on his foot, the game, like the city, belonged to Durant. Right before the tip, the Thunder forward grabbed a microphone to thank fans for coming, telling them, "We'll try and make it a show."
I'd say mission accomplished.
It wasn't the best basketball I've ever seen and it certainly wasn't competitive until the fourth quarter. Miles Rawls, the voice and commissioner of Washington, D.C.'s Goodman League who Durant brought in to emcee the game, reminded the crowd, "It's gonna get good in the fourth." And it did.
Even though it won't count in any win or loss columns, here are 10 very important takeaways from the game.
1. In a game featuring Durant, LeBron, Melo, Westbrook and Paul, would you believe me if I told you that Michael Beasley was the game's top scorer? Be-Easy, as Rawls called him throughout the night, dropped a game-high 56 points and did it on an absurdly efficient 25-for-35 from the field. But here's something to keep in mind: Beasley did almost all of that during the first three quarters, when the game was an up-and-down, no-defense affair. When the game got serious in the final 11 minutes (including overtime), Beasley, who was on the floor, didn't score, much less shoot.
2. To expand on that a bit, the first 42 minutes or so of the game were nothing more than pull-up 3s, alley-oops and fast breaks. Everyone knows defense doesn't really exist in these games and it most certainly didn't the first three-and-a-half quarters. But the intensity absolutely picked up when the game got to crunch time. The White team, which trailed virtually the entire game, took its first lead late in the fourth -- and then it was game on. I hadn't seen a single screen all game, but in the last five minutes of regulation it was screen-and-roll every possession, with LaMarcus Aldridge hedging as if it were a February contest against Phoenix. The Blue team's offense went almost exclusively to Melo in the post working on Durant, while Durant and LeBron took turns running the White team's offense. I don't care what anyone thinks about these meaningless exhibition games -- it was good basketball.
2b. The preferred shot of choice in this game? The 3. Of the 278 field goal attempts, 82 came from behind the 3-point arc (the Blue team finished 14-for-41 from 3, while the White was 13-for-41). The best shooter was Carmelo, who went 5-for-9 from deep. The biggest chuckers, though? Durant (7-for-17 from 3) and Harden (6-for-17) who went a combined 13-for-34 from deep.
3. Chris Paul had 25 assists for the game. While that number alone might impress you, consider this: He had 13 -- yes, 13 -- in the first eight minutes of the game. And they weren't just easy alley-oops or drop-offs to Melo for a dunk. CP3 busted out an array of maneuvers and no-look passes to pile up his assists.
4. The game featured probably the best set of rosters of any of the charity games this summer, and that's even with a good number of no-shows. Griffin pulled out because of his foot, while Amare Stoudemire, Monta Ellis (who was replacing the rumored Dwyane Wade) and John Wall (who missed his flight) also didn't show. Rudy Gay didn't arrive at the game until the fourth quarter because of a delayed flight and didn't play.
5. For those scoring at home: Kevin Durant, 30 shots. Russell Westbrook, 31.
6. Durant hit a big 3 with 25 seconds left in regulation to put the White team up two and when he did, the arena completely erupted. Following a game-tying layup by Melo on the other end, the White team had an opportunity to win it. And you knew that, in his city, Durant was getting the final shot. With Paul checking him, Durant, just like if Scott Brooks was drawing it up, launched a 30-footer that missed at the buzzer. However, the White team would pull ahead early in the OT period and ultimately hold on for the win.
7. Since it wasn't an official game, players weren't obligated to speak with the media, though Durant and Paul went to a podium after the game. Other players stopped and talked only if they felt like it. Naturally, when LeBron emerged from the locker room, cameras and recorders swarmed him but LeBron politely said, "I love you guys, but I'm gonna pass." He did, however, stop and pose for a number of pictures with fans as he was leaving.
8. LeBron's star power is impossible to ignore. When he walked onto the floor for the first time about 45 minutes before tip-off, the arena exploded into a loud cheer. It wasn't really a "Oh my gosh! My favorite player!" type of cheer; more just excitement to see LeBron. He's got that aura, that unavoidable pull to him.
9. Damien Wilkins was a starter and scored 17 points. Nothing says, "This isn't actually the NBA" quite like that.
10. Props to Oklahoma City. I know I live there so I'm incredibly biased, but everything about this game was top-notch. Not just the fan support and turnout, but the presentation and organization of the event was outstanding. It was as if it were a real-deal game. This is as close as OKC will probably ever get to hosting an All-Star Game, so organizers went all out. Media meal, halftime show, T-shirt tosses, kiss cam, fan contests -- it had everything. For a charity game that was organized in just a couple of weeks, it went off largely without hitch.
Royce Young runs the TrueHoop Network blog, Daily Thunder. Follow him on Twitter.