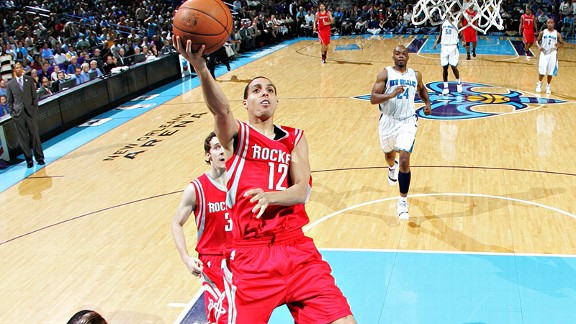 Bill Baptist/Getty Images
The Rockets' Kevin Martin says he'd hate to lose a season over one percent of revenues.
The NBA landscape has been swimming in the language of rejection and ultimatums.
A rare exception is Houston Rockets guard Kevin Martin, who made some waves by saying that he's in favor of taking the best deal possible, while implying his primary concern was not missing games.
"I think about [the ongoing CBA negotiations] probably more than I think about myself," the guard said on the phone, from Ohio, where he grew up. "I'm just always hoping there's going to be a breakthrough. Every time they meet, I hope they're getting close."
With so many meetings ending in heartbreak, does he still muster hope every time?
"I just patch my heart up," he says, "and hope that it doesn't get broken again. I'm going on the ride with them the whole way."
Martin's comments have made him the most prominent player to openly plea for a quick deal. His comments were also interpreted as an endorsement of the offer the NBA made last weekend, but Martin says that was never the case: "I did not say we should take the deal on the table. My feeling is that one or two percent should not decide the season. It's just not worth losing a season over.
"Billy Hunter and Derek Fisher hit the nail on the head: BRI is big, but the system is huge. They're spending countless hours on this, getting down to the dirty work of negotiating. Hopefully they can keep a system where players are treated fairly, and both sides can get what they want."
Martin says that since his thoughts were made public on SI.com, the feedback has largely been positive, but adds that after any article, "you'll hear everything."
Martin makes these comments even though his agent is Dan Fegan, one of a handful of agents who is in hot pursuit of decertification -- a tactic on the opposite end of the bargaining spectrum.
"We talked for quite a while today," says Martin, of his agent. "We're definitely on the same page. He does negotiations for a living, I get buckets for a living. He has been educating me through this process, but he's not trying to swing his clients in any direction. We both respect each other, and that has been our relationship for the last couple of years."
Martin is pleased with his union. "We have to back our union until the wheels fall off. Hopefully they don't fall off, and we can get a deal everyone can live with."
In the meantime, Martin has been trying to learn from the NFL lockout: "In football, I saw a lot of injuries early. I think that's because, after the lockout, a lot of guys weren't together, they weren't in the best shape they could be. I'm trying to keep my game sharp. I hope there's going to be training camp in two weeks ... and I'm preparing like that."