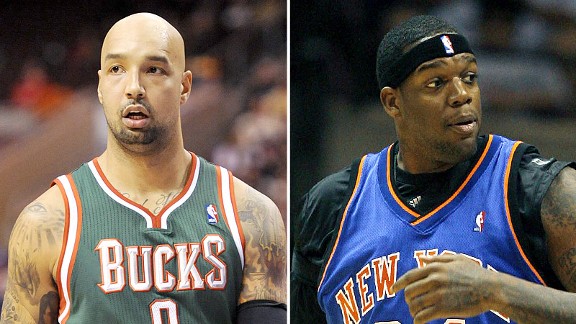 US Presswire
Drew Gooden, left, and Eddy Curry are prime examples of bad contracts. Owners want shorter contracts, but that means more free agents every summer.
The basketball landscape is littered with symbols, but none more damning than the bad contract.
Rhetorically, there's a good reason for this. No matter how conscientiously you point out that bad contracts represent a small fraction of the whole, or that the volume of underpaid rookie-scale players and superstars far exceeds the number of bloated deals, the trump card is irrefutable:
"Jerome James," "Eddy Curry," "Gilbert Arenas," "Drew Gooden."
Bogeymen have always populated the political debate: the welfare recipient who drives a Cadillac. The failed CEO with his golden parachute. The undocumented immigrant who uses the emergency room and public school. The retailer who gouges a community after a natural disaster. The corporate jet owners who get tax breaks.
In that same spirit, basketball has James, Curry, Arenas, Gooden and the guy who slurped up your team's budget and then failed to live up to his contract. These players might be the far-reaching outliers, but they represent something fundamentally unfair to most fans:
Getting paid to do a job, then not doing it.
That transgression is particularly rotten when the job in question is playing a child's game, and this breach of public trust makes the overpaid player a very convenient talking point.
Of course, a bad contract doesn't birth itself. It starts off as an offer extended by a team soliciting the services of a player -- usually in free agency, sometimes as an extension of an existing deal. Either way, an NBA front office saw a vacant roster slot, thought enough of a player's potential to pursue him, then ultimately inked him to a lucrative deal. As much as we can fault the work ethic of someone who phones it in after signing such a deal, the job of vetting the character and projecting the performance of a player falls on team executives and the owners who employ them.
As much fun as it looks from the outside and the ranks of a fantasy league, general manager is a grueling, all-consuming, difficult position. The tenure of a general manager usually ends with a pink slip. Unless he's wearing a baseball cap in June standing alongside a star player who's lifting the Larry O'Brien Trophy, a GM's missteps always attract a brighter spotlight than the small victories. The chase for NBA talent is fraught with all kinds of hazards, and even the best human resource managers in the league are going to have an expensive blemish or two on their record.
For this reason, a push for shorter contracts has been a central part of the "system issues" conversation since well before the expiration of the previous collective bargaining agreement. Whether you interpret this as a means for bad teams to seek protection from themselves, a smart way to keep spending in check, or a way to prevent deadbeats from profiting without performing, reduced contract length is almost certain to find its way into the next CBA, whenever the deal happens to be executed.
In the owners' Nov. 11 proposal to the players' union, the length in contract of the mid-level exception signees for both taxpaying and non-taxpaying teams was reduced from five years to either four or three years. Maximum contract length for players with Bird rights was reduced from six years to five, and from five years to four for non-Bird players. In addition, option years for players earning greater than the league average were eliminated (which would effectively shorten contracts vis-a-vis the last CBA), as were sign-and-trade deals for taxpaying teams after Year 2 of contracts (ditto).
What are the repercussions of shorter contracts?
Shorter contracts mean more turnover, which means more free agency. And free agency, lest we forget, has always been the vehicle for the creation of bad contracts.
On the surface, this change would provide a modicum of safety for front offices and ownerships. Never again will a player like Gooden earn a mid-level deal of five years and $32 million. In the new NBA, the maximum a mid-level player could be offered would be 4 years and $20 million. Curry's 6-year, $60 million contract would also be an impossibility.
In other words, execs' colossal mistakes will be trimmed in scale by about 20 percent and their medium-size stupid pills would be reduced by 35 to 40 percent. Curry would've merely been a 5-year, $50 million blunder, while Milwaukee would be on the hook for one year and $12 million less, assuming the Bucks would've opted to use the mid-level on Gooden -- and that Gooden wouldn't have had suitor willing to pay him more.
General managers would be inoculated from truly epic failures, but they'll also be filling more roster spots, more often in more feverish free agent markets. Execs will have more opportunities to make more mistakes of, albeit, slightly less detrimental consequences. That means bad judgment could potentially be compounded in an off-season when a league has dozens of more roster spots to fill with free agents.
On the flip side, shorter contracts would punish crafty executives capable of locking in talent to favorable long-term contracts. With more roster slots to fill more frequently, smart execs will have more shot attempts to work their magic. In 2002, Joe Dumars signed Chauncey Billups to a 6-year, $34 million deal, possibly the best mid-level deal in history. In today's NBA, Dumars would be denied full reward for his prescience. The jury is still out on Wes Matthews in Portland, but his $7.2 million contract in the final year of his 5-year deal might prove to be a bargain. Under the new system, the Trail Blazers wouldn't enjoy the benefits of Matthews' potentially cost-efficient services.
In a league with shorter contracts and greater turnover, navigating the free agent market will be more important than ever. But if making sound judgments on extending free agent contracts is a task front offices as a whole have mismanaged -- by the league's own admission -- is it reasonable to expect that to change with even more opportunities for mistakes?