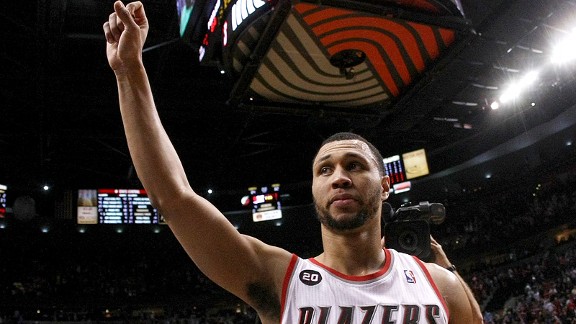 Jonathan Ferrey/Getty Images/Getty Images Sport
Brandon Roy is 27 and, reportedly, retiring due to a lack of knee cartilage.
NBA fans are irate about a lot these days. Chief among their complaints is that as superstars flock together in a small handful of large-ish cities, the rest of the league can't contend for championships.
But ... sometimes they can.
They have had that going in San Antonio, it's happening in Oklahoma City. Memphis made a big playoff run last year.
And for a hot second the Portland Trail Blazers, led by Brandon Roy, were the poster children of how smart management and good young players can make magic happen.
With word that Brandon Roy is retiring, that era is over.
In 2008-2009 Roy's team won 54 games. That number is good, but not earth-shattering, until you add age to the assessment. It sounds crazy, but it's true: Such a young team has never won so much. Winning 54 with players too young to log big minutes on most teams, and are under contract with below-market rookie deals ... it gets people excited.
It's no wonder the Blazers topped John Hollinger and Chad Ford's inaugural Future Power Rankings, which debuted that year. This was the team, when it came to potential.
And it was Roy's team. He was the best player and the vocal leader, oozing cool confidence. He was also the reason the Blazers had one of the most efficient offenses in the league. Roy would put the ball on the floor and -- at his own chosen speed, and with endless herky jerky movements -- either find a shot for himself at the rim, from the mid-range, or he'd draw a double-team and kick the ball to his endless array of sweet-shooting teammates splayed our along the perimeter. Travis Outlaw and Steve Blake were just some of the players who had career shooting years by firing it up after Roy kicked it out.
And Roy himself had a ridiculous ability to get the job done. It's rare a player finds a layup against a set defense like this. It's also rare a player hits a shot like this double-teamed, turnaround, fall-away, buzzer-beating overtime 3 to beat the Rockets.
Lucky guy, huh?
Or, not so lucky, all things considered. And it's not just Roy's retirement. It's the end of this team. The Blazers still have some young talent and some hope. But instead of Roy, LaMarcus Aldridge and Greg Oden in their primes, and a deep collection of young supporting pieces, the team now features Alrdidge in his prime, and a rotating cast of attempts to fill gaps left by injuries, and an owner who has alienated so many people that he will, watch for it, be accused of gerrymandering this medical retirement for the cap relief. Why would he be accused of that? Because the team did that once before, in the case of Darius Miles.
Roy's team filled Portland with enough optimism as to make you forget the days of the Jail Blazers. Now, it's finally clear, however, that it's not Roy's team anymore.