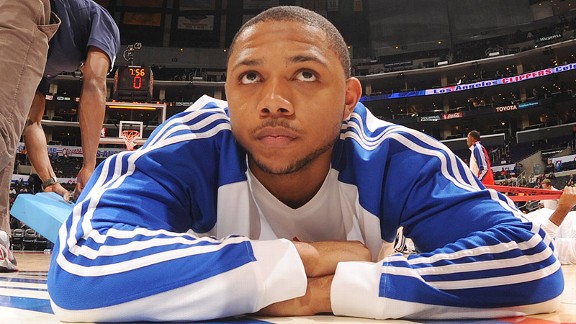 Evan Gole/NBAE/Getty Images
While Chris Paul named his landing spot, Eric Gordon went along for the ride.
At practice one afternoon during Eric Gordon's rookie season, I repeated something he had said in a postgame interview the previous night to a member of the Clippers coaching staff.
"Eric spoke?"
It wasn't said cruelly or with any sort of ridicule. The staff loved the young guard from Indianapolis, who had just turned 20. There were guards with better ball-handling skills on the draft board at No. 6 in 2008, like Jerryd Bayless and D.J. Augustin, but the Clippers liked Gordon's sturdiness. They knew he was introverted, but didn't realize just how reserved he was. Mike Dunleavy repeatedly begged Gordon, who loves to absorb contact off the dribble, to be more expressive with referees so he could earn more trips to the line.
Gordon will never win the Sam Cassell Award for gregariousness and quotability, but he gradually came out of his shell both on and off the court. He became more communicative with the coaching staff, teammates and the media. As defenders took notice of his quick-trigger, shot-put release and closed out on him more promptly, Gordon became even more confident driving to the rim. Gordon is a bowling ball, fearless in traffic, and he's going to score a ton of points as the Hornets' No. 1 option this season.
Maybe it's his round face or sullen voice or midwestern manner, but Gordon still seems to convey a little trace of sadness (though often that's just shyness disguised). There are certain players in an NBA locker room who feed off endorphins found only in the brains of pro athletes or rock stars in their 20s. Gordon isn't one of those guys. He works diligently, but quietly.
On Wednesday when Gordon found out he'd been dealt to the Hornets, he was on a bus with teammates Ryan Gomes, Eric Bledsoe and Willie Warren, Clippers assistant coaches Dean Demopolous and Howard Eisley, four season ticket holders and the Clippers Spirit dance team, Scott Howard-Cooper of NBA.com tweeted.
After visiting patients and signing autographs at Hollywood Presbyterian Medical Center, the group hopped back onto the bus and Gordon sat in the back with his teammates. A few minutes after leaving the hospital en route to a second stop in downtown Los Angeles, the mood quickly shifted.
"We found out about five minutes into the drive from the hospital to downtown," Ricky Chu, a 20-year season ticket holder who was on the bus. "We saw on Twitter that the trade went through. Everyone was just looking at their phones and was, like, 'Wow!' Right when we looked up, he got a phone call and you could just tell that's what it was about because you could see his face go really sad. There was no anger about it, but you could tell he was really bummed."
Gordon got off the phone just before the bus arrived at the second stop, an office building that's home to a company that has season tickets to the Clippers. He had a quick, quiet conversation with his teammates in the back. Then the bus pulled into the second location, and everyone rose to get off.
"Everybody knew, so everyone started looking back at him. And he was trying not to look up at everybody, because I'm pretty sure he knew that everybody else knew," Chu said. "And it was really awkward because this was a thing we went to to promote the Clippers, to get everyone excited. One minute, he's a part of it. Then all of the sudden in the middle of the event, he finds out he's getting traded."
Demopolous and Gordon lingered behind for a moment, while everyone else gathered outside the bus. Clippers staffers asked the season-ticket holders not to mention the trade to Gordon, and they obliged. When the group reached the office on an upper floor, Gordon fulfilled his final duties as a Los Angeles Clipper with poise.
"We went inside and [Gordon] put on a happy face," Chu said. "He was still going through the office, signing autographs for people. Everyone is there loves him. He smiled, took pictures with them even though he just got traded."
Later Gordon confided to ESPNLosAngeles that he was surprised by the trade:
People in the organization were telling me I was going to probably stay here, stick around ... But you don't know who to trust or follow, give you a lead on anything. I'm just going to take it for how it is. It is kind of tough to swallow, but I'm just a basketball player. I'm not going to have any hard feelings about it.
On Wednesday, an NBA superstar had a decisive voice in where he'd spend the next two years of his professional life. Another, slightly less decorated player got a phone call in a rush-hour bus telling him to pack his bags.