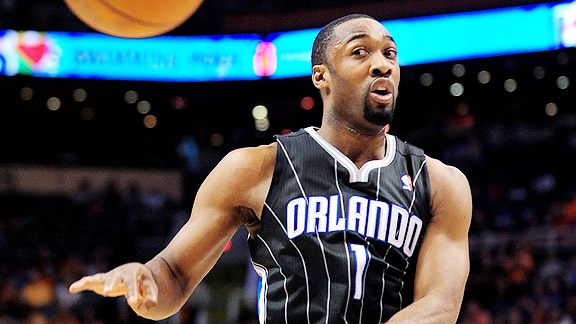 Andrew D. Bernstein/NBAE via Getty Images
Gilbert Arenas is looking to join a contender after being waived by the Magic via the amnesty clause.
Since Gilbert Arenas cleared waivers last Sunday, you haven't heard his name much.
Eventually, though, someone will take a chance on an unrestricted free agent who once averaged better than 25 points per game for three straight seasons.
And I'm told that Arenas, in the wake of his Orlando release, has established a four-team wish list for resuming his comeback from the gun-play debacle in Washington that derailed his career and an unsuccessful stint with the Magic. The 29-year-old is holding out hope that the call comes from either the:
• Lakers ...
• Heat ...
• Knicks ...
• Or whichever team trades for Dwight Howard.
The New Jersey Nets have quietly indicated that they plan to take Arenas on if they're able to complete the trade for Howard that the Magic keep resisting.
The intentions of the other three teams, though, appear to be in flux.
The Knicks, sources say, prefer Baron Davis to Arenas and are trying to convince BD to sign with them in the next 48 hours.
But the most interesting scenario I've heard all weekend is the idea that both Davis and Arenas could wind up in New York. One source close to the situation, in fact, says that the two Angelenos have discussed this concept.
Would the Knicks dare bring them both in? Seems unlikely with Mike Bibby already in New York, but you can make the argument that -- given the bargain prices involved -- Davis plus Arenas is at worst an intriguing option in the Knicks' quest to develop a guard rotation on a par with the frontcourt power trio of Carmelo Anthony, Amare Stoudemire and Tyson Chandler.
Arenas' hometown Lakers, meanwhile, continue to give the impression that they're hesitant to launch into a Gil experiment. This, after all, is a time of high sensitivity in Lakerland in the wake of Lamar Odom's exit and Pau Gasol's uncertain future with the team.
The wild card in the equation is the Heat. They're also said to prefer Davis to Arenas, but Miami can't be ruled out for Gil. Not with Pat Riley in charge.
Thanks to multiple knee surgeries on top of the suspensions, Arenas has managed to appear in just 117 of a possible 328 regular-season games since signing that monster $111 million contract. Yet the fact remains that Miami needs backcourt help as much or more than the Knicks and has already illustrated Riles' we'll-try-anything nature with the recent signing of center Eddy Curry.
Stay tuned. If the Knicks don't prove to be an option and Arenas is intent on waiting a while to see what Orlando decides with Dwight, Miami might have a window to start the season and get a sense of just how big its backcourt need will be before taking (or nixing) the Gil plunge.
Word is Arenas has established Miami as his East Coast base and would love to wind up there.