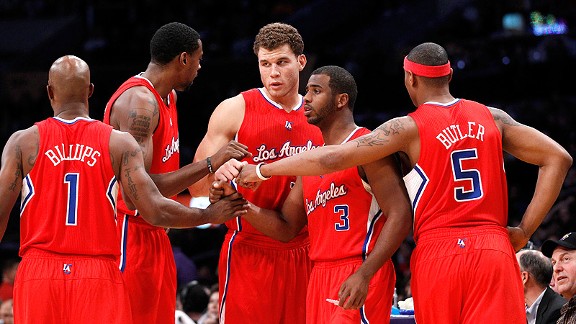 AP Photo/Danny Moloshok
How much can we take away from the Clippers' stellar performance on Monday night?
It was all so odd.
Not just that the Clippers trampled the Lakers in a preseason game, or that the media scrum outside the Clippers' locker room after the game dwarfed the crowd waiting to get inside the Lakers' inner sanctum.
Not even Donald T. Sterling, inside the Chick Hearn Media Room after the game, lecturing his guests about the virtues of making basketball a physical -- not a cerebral -- contest.
The strangest moment of the night was more basic than that. It was the sensation of looking out on the floor at Staples Center and seeing the two most trustworthy guards in basketball manning the backcourt for the Clippers.
That's because the defining characteristic of Clippers fandom has always been fear. Fear that basketball possessions would be squandered carelessly by players without the talent or inclination to get the job done. Fear that the organization would choose caution over risk and fumble an opportunity to change course. Fear that supernatural forces would conspire against the Clippers ... just because that's what supernatural forces do.
That fear wasn't present Monday night, and its absence was the most profound epiphany during an entertaining preseason game from which very little about basketball could be gleaned.
We know the Clippers are a dangerous unknown -- only a tad less unknown than they were 24 hours ago. Their regular season opens on Christmas Day in Oakland against the Golden State Warriors, after which they'll play the Bulls, Lakers and Heat at Staples Center over a 15-day period. How do we know if the Clippers are for real? Here are some guideposts to follow:
Have Chris Paul and Blake Griffin developed mental telepathy?
All this talk of seismic cultural shifts in Los Angeles boils down to one essential ingredient: the level of havoc these two All-Stars can wreak in the pick-and-roll.
Everything else is just scene-setting.
We saw what Paul was able to do with an exacting partner like David West in a pick-and-pop game. Now Paul will have the most explosive power forward in a generation at his disposal. How quickly can they get into their dance steps? When opponents play Griffin for his signature spin, or when the entire defense sags and drops into the paint, how can the dynamic duo make them pay? Paul and Griffin's proficiency will not only determine how lethally they can punish the league, but how many open spot-up jumpers can be generated for Chauncey Billups and how easily Caron Butler will be able to dart off down screens for quick looks.
It will take a little time, but once Paul and Griffin become fluent in their common language and the need for cues and verbal direction melts away, the true potential of this team will be much clearer.
How is Chauncey Billups acclimating to playing off the ball?
Billups is a combo guard by origin, but it's been a long time since he was asked to defer ballhandling duties to a teammate and make a living off the ball. Last season before being moved to New York, Billups' numbers as a catch-and-shoot threat were superb (1.36 points per possession). In 2009-10, Billups finished 15th in points per possession as a spot-up shooter for players with more than 100 attempts, and in 2008-09, he was fourth in the league.
Billups is prideful. Telling him that, at 35, the best way for him to extend a prolific and celebrated career is to go stand over there on the wing away from the action is easier said than done. Clippers coach Vinny Del Negro reiterated on Monday night that he doesn't see 1s and 2s and 3s on a whiteboard so much as he sees "basketball players." If Billups can buy into the practical implications of this and make himself comfortable as a floor-spacer and secondary playmaker, he can help the Clippers score a ton of points.
Is Vinny Del Negro the man for the job?
The big winner of Monday night?
Del Negro. Not because he outcoached anyone, but because what transpired on the floor suggests that Del Negro's shortcoming will be mitigated by circumstance.
The league is moving away from systems and intricately choreographed play calls from the sidelines. Today's NBA is about getting the ball up and finding clean looks at the basket before defenses can get set. And if you have a couple of floor generals such as Paul and Billups on the roster, there will be plenty of margin for error because they're more than capable of manufacturing opportunities for themselves and others when the shot clock begins to tick down. The thickness of Del Negro's playbook measures only a 10th of the thickness of what Mike Dunleavy toted to work every day. With this team at this moment, that might do the trick.
But sometime in late spring, a critical moment will arise. The Thunder will use Kendrick Perkins and Nick Collison to clamp down on Griffin. The Mavs will identify a fatal inefficiency in the Clippers' defense. When it's time for Del Negro to counter, will he have a solution?
Are the Clippers treading water with their reserve units?
DeAndre Jordan gets hit with two early fouls. Griffin walks off the court toward the tunnel for examination in the trainer's room. These things aren't worst-case scenarios -- they're inevitabilities in the NBA. Young, high-flying centers become overexuberant, and bouncy power forwards turn ankles.
A healthy Clippers squad is stacked at the guard spots. But right now, they have a frontcourt reserve corps of Brian Cook (a stretch-4), Ryan Gomes (a smart 6-foot-7 tweener) and rookie Trey Thompkins, who John Hollinger projects to be the next Brian Cook. None of the three can be fairly characterized as a banger, and the Clippers are likely to sign a brawny big man over the next 72 hours. That understudy could prove to be fateful for the Clippers. Small sample-size theater has never been more hazardous than in a shortened season, but whether you watch the progress of the Clippers' five-man bench units on Basketballvalue.com, or just eyeball the team's rhythm and flow when Griffin takes a seat, we'll learn something about the Clippers' prospects in late May and early June by how well those second units perform.
Will Donald T. Sterling stay out of the way?
Longtime Sterling consigliere Andy Roeser and general manager Neil Olshey have put the Clippers in a position to reverse decades of futility. Selling Sterling on the vision was likely every bit as challenging as swinging the deals themselves.
Whatever liabilities remain for the Clippers on the roster or in the locker room, they pale in comparison to the damage that could be unleashed if Sterling were to decide to meddle in the progress. He insulted Gomes and Randy Foye in August 2010, soon after the two veterans were acquired. He embarrassed himself, Baron Davis and the franchise by loudly heckling the team's former point guard courtside.
With Paul and Griffin weighing their long-term options over the next 18 months, the Clippers can't afford to have Sterling do anything to disrupt the aspirations of everyone involved in this project -- not Roeser or Olshey, not the superstars, not the supporting players, nor the fans in Los Angeles. Sterling has earned several lifetimes of fortune. He can add to it by simply letting basketball people conduct basketball business and basking in the glow of the winter sun at the Malibu compound.