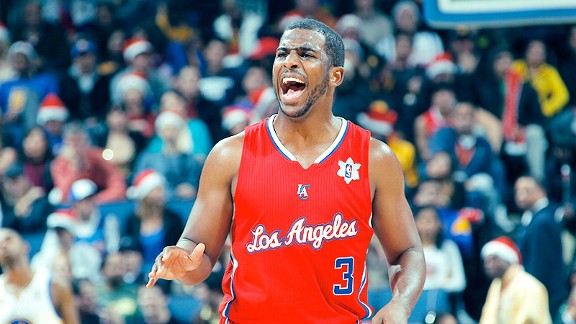 Rocky Widner/NBAE/Getty Images
Chris Paul's shooting is a game-changer.
A shooter waits in the right corner, feet set and hands ready. A big, bouncy center creeps along the left baseline and prepares to dunk anything that comes his way. From the right wing, a second shooter cuts through the paint to the opposite corner as the shooting guard floats up to the left wing. Chris Paul dribbles facing the rim and casually drifts to a spot on the 3-point line -- a straight line drawn between his feet and the basket would pass directly through the right elbow.
This is Paul's spot.
What he does from here is more or less why Chris Paul is the most deadly crunch-time player in the NBA. What he does is shoot.
In the second half of the Clippers' opening night win against the Golden State Warriors, Paul shot 4-for-4 from the six-by-six foot box in between the right elbow and the 3-point line. It's precisely this ability that separates him from other pass-first blurs like Rajon Rondo.
Paul was brought to Los Angeles to help make Blake Griffin truly great, to smooth out the jagged edges in DeAndre Jordan's game and to revitalize Caron Butler. But most of all, he came to win and win big by making everyone else better with his passing and exquisite command of pick-and-roll dynamics. So why let his teammates just stand around while he isolates 25 feet from the hoop?
Well that passing ability is good for more than just selling Lob City T-Shirts. Paul's insistence on finding the open player, whomever it may be, is also why he's able to find himself open for flatfooted jump shots -- even when the whole defense is staring right at him.
When Paul winds his way around a screen, his shoulder snug to the screener's hip, or when he signals he's ready to score by bending low from the waist and beginning his mesmerizing crossover routine, help defenders stay put. They know that despite signs to the contrary, though his focus seems like it could melt the steel rim, Paul's vision extends to every inch of the court. Send three defenders his way as Chicago did to Kobe Bryant on Bryant's potential game-winner and Paul is sure to find the open man.
So because defensive help's heels are tacked to the hardwood, the player with the undesirable task of staying in front of Paul, last night Monta Ellis, must concede an extra foot or two to stop the drive -- a killer crossover soon becomes a dump off to dunk-happy DeAndre Jordan.
The only goal of Paul's defender is to shuffle his feet fast enough to prevent Paul from shattering the team's defensive structure. Staying in front of him is more important than staying close to him.
And that's just the air space Paul, who is only 6-feet tall and does not get much elevation on his jumper, needs to shoot without so much as a hand in his face. Instead, Paul shakes and shimmies until the defender's knees and ankles approach the consistency of pudding, then gathers his feet, rises straight up and lofts the ball gently through the net.
Hoopdata tells us that for the last four seasons, Paul has shot about 45 percent from 16-23 feet -- an impressive rate from that difficult distance. In that same time, the percentage of his total field goal attempts from this range has increased, absorbing what used to be more efficient attempts at the rim. This shift is why many remain unconvinced that Paul is his old 2008 self.
But while the 19 foot pull-up is hardly the best shot in basketball, it's a shot Paul makes and that his skill essentially forces the defense to concede. It's impractical to trap Paul because his ballhandling wizardry and powerful frame make him impossible to bully. And while simply getting the ball out of his hands counted as a defensive victory during Paul's last two seasons in New Orleans, Paul's new SoCal teammates will feast on opportunities to go 4 on 3.
Vinny Del Negro didn't acquit himself all that well in his first game as helmsmen of the new Clippers. The team showed a worrisome lack of offensive imagination and organization and was fortunate that the absence of purpose and weakside motion wasn't fatal against the Warriors' dilapidated defense.
But credit Del Negro this: He knows that when his team needs a bucket, you could do much worse than a 18-foot Chris Paul jumper over a backpedaling defender. When your last resort is your best player's go-to move, and that player is Chris Paul, it seems not even the Clippers can screw it up.
Beckley Mason edits and writes the TrueHoop Network Blog HoopSpeak. You can follow him on Twitter at @BeckleyMason.