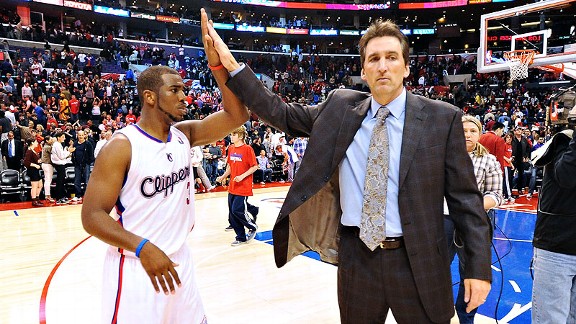 Andrew D. Bernstein/NBAE/Getty Images
How are the Clippers generating their impressive offensive output?
80 percent of life is showing up.
Of all of Woody Allen's enduring punch lines, none is so practical as a life lesson. You don't have to be a genius to achieve success -- just show up. Those silly perfect attendance awards they hand out in school? They're a better predictive measure than we think -- and we can apply that lesson to basketball.
At its very root, a basketball possession is an opportunity for points. There are no promises you'll score. But NBA teams that get a shot off at the basket score an average of 1.16 points per possession. Barring an illegal defense call or a foul away from the ball, teams that don't get a shot off score exactly zero points on average.
The lesson here is fairly simple: Show up for the possession and you're likely to pad your lead or narrow your deficit. That's a primary reason Dean Oliver rates turnover rate as one of his "Four Factors of Basketball Success," second only to shooting proficiency.
The Clippers have ranked as one of the three most efficient offenses in basketball since the outset of the season. They've accomplished this while running very rudimentary stuff in the half court. Much of the playbook consists of angle pick-and-rolls, some early drag screens and horns sets (bigs at the elbow; wings in the corners) that move into simple curls or ball screens. In recent days, they've added some second-side actions in which after an initial pick-and-roll with Chris Paul and Blake Griffin, the ball is swung quickly to Chauncey Billups, who will get into a similar action with DeAndre Jordan.
But as the Atlanta Hawks demonstrated during the latter seasons of the Mike Woodson era, you can rack up some nice efficiency numbers if you protect the ball -- even if your offense is obvious and not remarkably innovative. The Hawks' game plan was so utterly predictable that "Iso Joe" became a calling card. Yet when you'd visit any advanced team stats page, you'd find the Hawks near the very top of the rankings. How could an offense whose trademark set consisted of a swingman pounding the ball one-on-one possibly rate so high? The answer: Atlanta rarely turned the ball over.
The Clippers rank second in turnover rate, behind Philadelphia (which, not coincidentally, is the only team with a more statistically efficient offense). Wednesday night against Houston, the Clips didn't turn the ball over once in the first quarter while scoring 41 points on 26 possessions. Everything they threw at the basket fell through, though little of it was the result of brilliant choreography. As usual, the Clippers used very basic actions to find shot attempts -- and they generated at least one each time they brought the ball across the time line by simply being careful with their possessions.
Against Milwaukee on Saturday night, the Clippers turned the ball over 10 times in the first 18 minutes and looked dreadful doing it -- trailing the Bucks 28-24 when a timeout was called at the 5:42 mark of the second quarter. From there, the Clippers went 16 minutes without a turnover. Over that stretch of 27 possessions, they scored 41 points.
The Clippers are getting the ball in the hands of the right people in the right spots for a lot of easy baskets. Like every good offensive team, they suffer lulls like the one they endured during the first half against Milwaukee on Saturday (and that drought was largely because of an uncharacteristic barrage of turnovers). But by and large, the Clippers are crafting a simple offense predicated, more than anything, on showing up. They aren't even getting very many second chances -- they rank 27th in offensive rebounding rate -- but the likelihood they'll get a first chance is very high.
Never has an effect had so obvious a cause. The arrival of Paul has completely transformed the Clippers' attack, which logged the highest turnover rate in the league last season. A Paul team has never ranked below 8th in turnover rate, and it's not hard to understand why. Paul exerts more careful control over a possession than any point guard alive. His teams rarely turn the ball over not only because he's protective of the basketball, but because he has an incredible capacity to deliver the ball to teammates in low-risk, high-reward spots. Someone, somewhere will end up with a shot, and because Paul is capable as a distributor, he doesn't need a lot of tactical help or fancy plays to find that someone.
Clippers coach Vinny Del Negro rejects the idea that the Clippers' playbook is decidedly less intricate than what the rest of the league is doing.
"Everybody runs the same stuff," Del Negro said. "I would say 80 percent. Everyone tries the post-up guys. Everyone runs isolations. Everyone runs pick-and-rolls. It's all the same stuff; they just have different visuals for it. We call something horns -- it's an elbow set. They call it 54. Everyone runs ... we call it floppy, single-double -- other teams call it power or they call it 2-chest."
Del Negro said there's little variance in the schematics of NBA teams, with very few exceptions.
"Most of the stuff is very similar," he said. "Angle pick-and-roll, high pick-and-roll. Everyone runs those. Other than probably the old Utah stuff -- the UCLA stuff, which we run, which other teams run -- or the triangle offense, which only the Lakers used to run, everyone runs pretty much very similar stuff."
Del Negro said he believes that execution far outweighs design on the basketball court. On Friday, he said he calls only about 50 percent of the Clippers' half-court sets from the sidelines. As a coach, he's not there to put his stylistic imprint on his team or to wow the league with his tactical prowess. He's in Los Angeles to inspire basketball players to play basketball. Give him quality players, and he'll give you a quality product. This is the Vinny Del Negro brand.
The Clippers' most imposing challenge right now is improving their 22nd-ranked defense. After getting torched by San Antonio and Chicago, they've turned in three strong performances at home. Griffin and Jordan have the speed to cover a lot of ground, while Paul is a pest on the ball, but there are still nuances that haven't been refined, a process that will continue under the direction of Clippers assistant Dean Demopoulos.
At some point, Del Negro will find himself in a chess match, and the stakes will grow larger and larger as the calendar moves through the season and into the playoffs. He'll have to draw something up for a final possession or add a wrinkle to fully maximize a mismatch. There will be opportunities to exploit an opponent's weakness and to combat a strength. Great coaches recognize those opportunities quickly and decisively -- can Del Negro? And to the extent he's right about 30 teams all running the same sets, will he know how to distribute those play calls down the stretch of a crucial game?
In the meantime, can the Clippers win big by playing the Woody Allen offense? By merely keeping turnovers low with Paul at the controls, can they maintain a hyper-efficient attack -- irrespective of how elegant or creative the X's and O's? Is it possible that showing up is 80 percent of a possession?