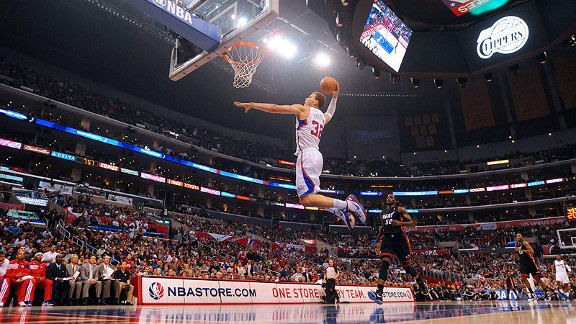 Andrew D. Bernstein/NBAE/Getty Images
Blake Griffin and the Clippers are still sizing up their prospects in the West.
LOS ANGELES -- For all the fanfare that arrived with the acquisition of Chris Paul and the incorporation of Lob City into Los Angeles, nobody has a handle on where the team should set the benchmark for the season. Would a conference semifinals berth represent success or a buzzkill? If this team is a contender, as some have suggested, does that mean anything short of a competitive showing in a conference finals would be disappointment?
As a general rule, NBA teams rarely call their shots. They don't declare their expectations publicly -- the exception being the Miami Heat's pep rally during the summer of 2010. Privately, though, virtually every owner, general manager, coach and player has set the bar. Neither LeBron James nor Kevin Durant has to come out and say it, but everyone knows that for Miami and Oklahoma City -- along with Chicago and the Lakers -- it's title or bust. For nearly half the league, making the playoffs would render their season a success.
When you speak to Clippers' management, coaches, players and fans, it's clear the team exists in expectation purgatory. They aren't playing coy or feigning modesty, even though they're a supremely confident -- sometimes brash -- bunch on the floor. They honestly don't have a firm grip yet on how to appraise their team. After the Clippers' wild 95-89 overtime win against Miami on Wednesday night, Blake Griffin took a battery of questions from a scrum of reporters that, in sheer numbers, is beginning to rival any press corps in the league. He patiently catalogued the various takeaways from the win, the places where the Clippers still need to improve and the attributes of his teammates. Then he was asked whether the Clippers were an elite team.
The question gave Griffin pause -- and it wasn't because he was trying to summon his best Crash Davis/Nuke Laloosh postgame clichés. This wasn't a case of a player being politic or reticent about giving the rest of the NBA bulletin board material or managing the expectations of the fans. Griffin, like most of his teammates, simply isn't sure.
"I'm not even ... I'm not ..." Griffin let out a little chuckle, then continued. "I'm not even thinking like that. I don't worry where our team is ranked, or what other people think about our team -- whether we're a top team, or a mid-tier or whatever."
Griffin isn't a young player who lacks self-assurance, nor do most of his teammates. But even after a bizarre and spirited win over the league's marquee team, the Clippers are treading with care as they navigate the season. In recent days, they've tried to disown the Lob City tag. They're determined not to fall victim to the kind of hubris that followed the Heat around last season.
However you rate the Clippers, the win over Miami represents their first real milestone of the season. They came into Wednesday night 4-3. They notched three wins against lesser opponents, and a fourth on their home floor against a quality Portland team. Meanwhile, they lost their three most difficult games (at San Antonio, vs. Chicago, at Portland). Though he tailed off a bit down the stretch, Paul put together his most prolific game as a Clipper. He exerted complete authority over the game during the middle two quarters, orchestrating pitch-perfect possessions that showcased his instincts and vision. The team had seen it in stretches over the season's first two weeks, but this was Paul's most sustained performance.
The Clippers entered Wednesday night's matchup with the NBA's 25th-ranked defense and now faced the challenge of combating two of the league's most lethal wings in the league with a platoon of Caron Butler, Chauncey Billups, Randy Foye, Mo Williams and Ryan Gomes. Yet they proceeded to hold the Heat to 89 points in 99 possessions. The rotations weren't always fluid, and the pick-and-roll coverages were, at times, scattered, but the Clippers showed a brand of physicality they hadn't previously demonstrated. The Heat got their fair share of deep catches and crisp ball reversals early, but after a rough patch early in the second quarter that saw the Clippers' second unit falter, the starters returned and lured the Heat into a barrage of tough jumpers. When the Heat tried to spread the Clippers' defense, they Clips closed gaps quickly and decisively.
Have the Clippers turned the corner on their defensive issues? A bit, perhaps, though there's almost certain to be some recidivism going forward. The combination of raw youth and creaky veterans virtually guarantees as much. And that's probably why the Clippers remain cautious about setting goals.
"I think if you get too caught up in the results, I think you forget about the process," Clippers coach Vinny Del Negro said. "Then I think you miss things and I don't think you can be as good as you can be if you do it that way."
The Clippers want to see some refinement before they figure out if they're a title-chasing team in earnest, or merely consolidating in preparation for something bigger in 2012-13, when they'll have a season under the belt and the opportunity to address the deficiencies on their roster.
Across the way outside the Miami locker room, Heat coach Erik Spoelstra explained the hazards of setting wholesale goals, especially with a newly-assembled team, an exercise he's well-versed in.
"The thing that nobody wants to hear is that it takes time in this league," Spoelstra said. "Even if you can put a lot of talent and a lot of pieces that you think naturally fit together, it takes time. Very rarely in this league are you able to put together a team with a lot of new players and to immediately succeed. [The Clippers] have done very well. They've gotten off to a great start."
How do you balance restraint when you want to achieve success? That's the diciest part of all.
"I'm not a patient person," Del Negro said. "So I want to see results quicker."