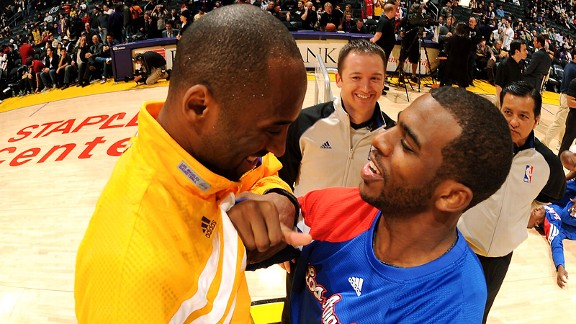 Andrew D. Bernstein/NBAE/Getty Images
Two crunch-time standouts, with contrasting styles, face off in L.A.
Chris Paul and Kobe Bryant could not have more different approaches to crunch time. Chris Paul says he shoots only when open and is mostly looking for the open guy. Bryant admits that by and large the game plan is for him to shoot, no matter what the defense does. Meanwhile, Paul's team has had the best crunch time offense in the NBA over recent years, while the Lakers have been average, even as Bryant's many tough makes fuel a cottage industry in Bryant hero-worship.
When the Clippers face the Lakers on Saturday, it's not just a battle for the L.A. bragging rights. It's also a landmark in the evolution of how we think about crunch time in the NBA. Is it about being the guy, or is it about making the best basketball play?
Henry Abbott on Kobe Bryant vs. Chris Paul in crunch time.

(Also on iTunes or espn.com/podcenter.)