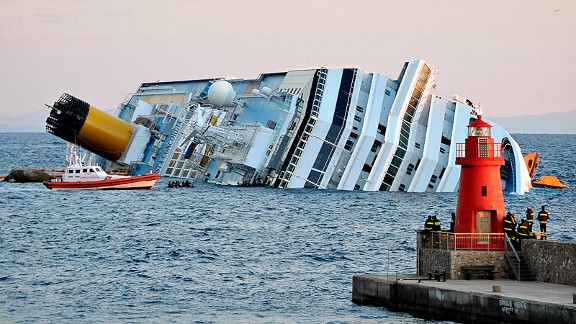 Andreas Solaro/AFP/Getty Images
The Costa Concordia could cost the Heat's owner a fortune.
On Micky Arison's Twitter account, the only concern has been for the victims and their families.
And with divers still hunting for the dead and missing, what else could matter?
But the wheels of finance never stop turning, and in the Guardian, word is that the Costa Concordia tragedy, in which 11 are now reported dead, with 24 still missing, is devastating to the personal fortunes of the owner of the Miami Heat.
With close to 100 ships, Arison's mighty cruise empire includes all kinds of brands beyond the central Carnival: Holland America, Princess, Seabourn, AIDA, Cunard, Ibero, P&O and, wouldn't you know it, Costa Cruises, which recently endured one of the worst incidents in modern cruise history.
Estimates are that the accident itself will lead to something like a billion dollars in costs (repairing the ship, settling lawsuits) most of which will be covered by insurance. But the real ongoing concern is that this is the time of year when a lot of people book cruises, and images like the one above are big discouragement. They not only hurt the Carnival brand, but the whole industry. Rupert Neate and Simon Bowers report for The Guardian:
Wyn Ellis, an analyst at Numis Securities, warned that the incident will put people off booking cruises in the "key point in the booking cycle" as people begin to plan summer holidays. About a third of cruise bookings are made between January and March. "People will cancel, and others will look at alternatives," he said. "There will, justifiably, be questions about the adequacy of management and emergency operational procedures on board which may have longer term cost implications."

Arison, whose father Ted founded Carnival in 1972, said: "At this time, our priority is the safety of our passengers and crew. We are deeply saddened by this tragic event and our hearts go out to everyone affected by the grounding of the Costa Concordia, and especially to the families and loved ones of those who lost their lives. They will remain in our thoughts and prayers."
Carnival's stock price is down so severely that just the part Arison owns has taken a hit worth nearly half-a-billion dollars.
Earlier this month, before the Costa Concordia accident, there were already reports that Arison had lost more than a billion in net worth over the last year.