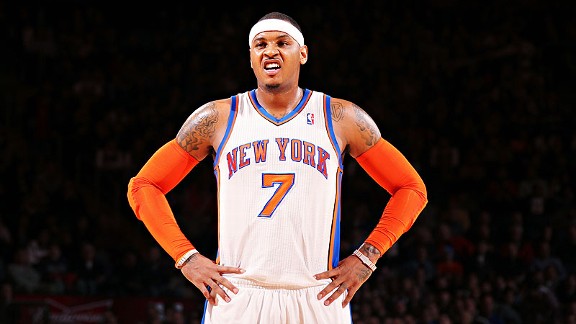 Nathaniel S. Butler/Getty Images
Carmelo Anthony's homecoming has been a mixed bag of thrills, lousy chemistry and lots of losing.It's not complicated.
Since the celebrated Carmelo Anthony trade 11 months ago, the New York Knicks have won 20 regular-season games and lost 21.
That doesn't sound so great, but it gets worse:
The Knicks also lost four straight in the playoffs, winning none.

The Knicks didn't get Chris Paul. Many fans and observers believed getting Melo put the Knicks closer to obtaining CP3, who is known to have wanted to play in New York. (Remember the famous wedding toast.) But by maxing out Melo, the Knicks made that nearly impossible. Now CP3 is a Clipper until 2013 and probably beyond.

The Nuggets are winning: They're 26-12 since shipping out Melo, much better than the 32-25 record they posted with him last season.

The Knicks are 16th in Marc Stein's Power Rankings, and ranked 20th in the NBA according to John Hollinger; the Nuggets are 8th for Stein, 11th for Hollinger.

The Knicks have a losing record and negative scoring margin this season despite having played the third-easiest schedule in the league.

The Knicks are ranked 22nd in offensive efficiency, even though Melo and Tyson Chandler are posting easily the highest PERs of their respective careers.

The Knicks would be seeded No. 8 in the East if the playoffs started today, and would play the top-seeded Bulls.

The Knicks don't own their first-round draft pick in 2012 or 2014, and might have to swap 2016 first-round picks with Denver.

Danilo Gallinari, a rising young star the Knicks traded away along with five other players and three draft picks to get Melo, was a local favorite, and he criticized the trade last week, telling the New York Daily News, "I thought we were having a really good season [last year]. … People were having fun coming to see the games. … We had a positive record, the excitement was there."
Maybe it gets better from here. Maybe they solves the chemistry issues. Maybe Baron Davis is the savior.
But facts are facts: The Carmelo Anthony Knicks aren't very good.
Royce Webb is an NBA editor at ESPN.com.