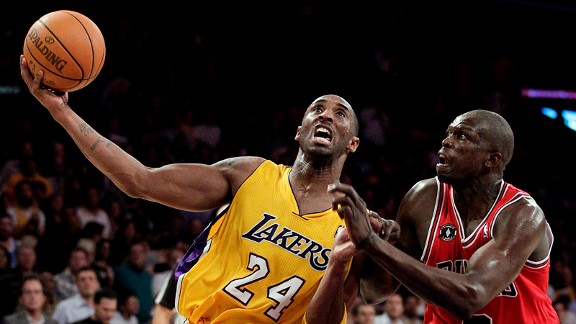 AP Photo/Jae C. Hong
Iron men: Kobe Bryant and Luol Deng play heavy minutes, which may hurt their teams in June.
Let's say you are asked to make a huge presentation -- the most important of your year, and maybe your career -- in June.
What can you do, here in January, to make sure you are prepared?
One approach would be to work every available minute between now and then.
But does anybody think that would work? Only if you're made of iron, and ... you're not. You need to factor in some rest. But how much?
Coaches of top NBA teams wrestle with questions like that nightly, especially in handing out minutes. Their teams are at their best with their best players on the floor. Play them too little, and you might lose games you could win. Play them too much, though, and you may get them run-down, injured or just plain spent by playoff time.
There is no magic formula for any of this.
But there may be a rough-and-ready guideline. For instance, if you ran the Bulls, Thunder or Lakers (three teams with title aspirations and players putting in long minutes), you might like to know that it has been a surprisingly long time since teams with players logging very heavy regular-season minutes won a title -- and it's not for lack of trying.
3,000 minutes in a regular season means not missing a game in an 82-game season, while playing a mighty 37 minutes every outing.
Somehow, this is quite common: Over the last 20 years, players have passed that high bar an incredible 324 times. And beginning with the era of Michael Jordan's Bulls, such players commonly won titles -- 11 of 13 champions starred iron men in the 3,000 club, very often Jordan himself.
But something changed in the NBA about the time Larry Brown's Pistons won the title. Over the last seven years, since Ben Wallace in 2004, NBA players have played beyond the 3,000-minute mark in the regular season nearly 100 times. The players who have done that are essentially a who's who of NBA studs. The vast majority are All-Stars, and many have won titles. The names include LeBron James, Dwight Howard, Derrick Rose, Kobe Bryant, Dwyane Wade, Dirk Nowitzki, Kevin Garnett, Chris Paul, Kevin Durant, Pau Gasol, Blake Griffin, Paul Pierce, Ray Allen and Chris Bosh.
But interestingly, when those players played those heavy regular-season minutes, do you know how many of them won titles?
In the last seven years: Zero.
They all won their titles in seasons when they played fewer than 3,000 regular-season minutes.
Makes you wonder
A lot of guys played a lot of minutes and didn't win titles. But most years, most players don't win titles, you know? Is there any evidence to suggest that those players didn't win titles because they played long minutes?
There are hints it may be so.
You know how if you work really long hours, you are more likely to get sick or injured? And then you miss work, right? On the other hand, if you work a more reasonable number of hours, like, say nine or 10 per day, and take weekends and vacations, you might find you can work more hours per year, because you won't have to deal with all the complications and health issues that come with crazy hours.
Whether you cut back the hours yourself, or let your body do it for you, it will happen one way or another, so it seems. There's some rough amount of work (50 hours a week? 60?) beyond which it just seems to be asking for trouble.
It looks like the NBA may, similarly, have a workload sweet spot. And it's surprisingly low: About 33 minutes per game for stars on top teams. Or, 2,700 minutes per 82-game season for stars on top teams (nearly 2,200 in this lockout-shortened 66-game season). Tons of players go way over -- and many find themselves missing work due to injury or illness. Others, as the theory goes, may find themselves not at their best come playoff time.
I just spent hours looking at every title-winning team from the last 20 years. And I focused specifically on the three players on each of those teams who logged the most minutes.
Surprising findings
The question is, if you're Mike Brown or Tom Thibodeau, how many minutes can you expect all those Kobe Bryants and Luol Dengs to endure on their way to a title?
The answer appears to be: Not as many as you might think.
Even though I looked strictly at the three players with the heaviest minutes on title teams, we didn't find many players logging crazy minutes. Over the last 20 years, this group has averaged 2,706 minutes per 82-game season, or 33 minutes a game.
Now, realize I did something tricky there: I divided their minutes over 82 games (or 50, in the lockout-shortened 1998-99 season), breaking tradition by counting games they missed entirely due to injury. That was intentional, because just like a worker trying to figure out how many hours is best to work a week, I'm interested in what worked, whether players missed time because of injury, fouls, blowouts, family issues or anything else. My assumption that the price you pay for playing too much is very often measured in time missed. I want to know how many regular-season minutes you can play -- and keep playing well deep into the playoffs.
The trend holds, more or less, even if you measure minutes per game the traditional way. Players have passed 39 minutes per game more than 200 times in the last two decades. Only Tim Duncan, Hakeem Olajuwon, Michael Jordan and Shaquille O'Neal (three big men and the NBA's ultimate anomaly) have ended those seasons with titles. The last time anybody did that was nearly a decade ago, when Duncan averaged 39.3 minutes per game in 2002-03. The following season, Ben Wallace became the last player to win a title playing more than 3,000 minutes in the regular season.
HOW THE CHAMPS PLAY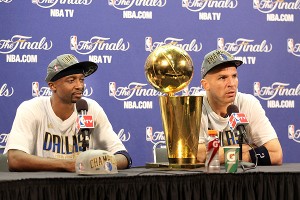 Jason Kidd and Jason Terry led the champions in minutes played last season, but neither played all that much. Looking at the three players who led title teams in minutes played, we see those players don't play as much as you might think. Minutes are expressed as an average per game the team played -- a change from the common practice of omitting games the players missed entirely (see explanation in the main article).
Value in restricting minutes
The argument against resting players is that coaches need to win games now, both to keep their jobs and to make the playoffs to win those titles everybody wants.
Meanwhile, Gregg Popovich is widely seen as the NBA coach most willing to restrict his players' minutes in the name of long-term performance. Not only does he have a hair trigger to pull his starters from blowouts, but in the weeks before the playoffs he has been known to sit Duncan, Tony Parker et al for the mildest of maladies, real or imagined.
If Popovich is the Leonardo Da Vinci of restricting minutes, his Mona Lisa is surely the injury-prone Manu Ginobili. Ginobili has been essentially an MVP candidate in terms of production, but he very often plays fewer than 30 minutes per game, most of the time coming off the bench. Very few coaches know such restraint.
And of course Popovich's Spurs have not only won four titles in Duncan's prime, but they also won the most regular-season games.
It certainly suggests that good teams would be smart to at least consider sitting players strategically, like Popovich has done to great effect.
What's more, who is to say that Popovich isn't getting more minutes per season out of his players by playing them shorter minutes per game? Is he really giving up anything at all?
A handful of those players I have been studying, who play heavy minutes on title teams, play light minutes per game but nevertheless finish in their teams' top three in minutes played per season. Toni Kukoc played just 26 minutes a game in 1995-96. Thanks to being healthy for 82 games, however, he finished third on the team in total minutes (even though Dennis Rodman played far more per game). Ron Harper did something similar for the Bulls two years later, racking up 632 more minutes than Scottie Pippen, despite playing 10 fewer minutes per game. Rick Fox, Gary Payton and Derek Fisher have all been top three on their teams in minutes per season while playing Manu-like 20-something minutes per game.
Insecure coaches?
Here's a guess as to why coaches play their best players such long minutes: Because they're scared. Scared of lots of things. Scared of losing, scared of looking dumb and -- in an industry where the average job lasts just a few years -- scared of getting fired. The reality is that almost every coach in the NBA is on the hot seat every year. (A notable exception: Popovich.)
Any coach who doesn't feel the heat is oblivious. It makes sense that so many of them essentially fire all of their guns until they are out of ammunition.
That's essentially what Rudy Tomjanovich did in 1993-94. He played Olajuwon a mighty 41 minutes a game, and somehow the center held up for all but two games. The Rockets won their first title, with the top three players playing an average of 35.6 minutes per 82 games -- one of the highest marks in recent history.
The following season, the team was a bit older and more beat up. But Tomjanovich was, by then, a more secure title-winning coach who had every reason to believe his players could turn it on when he wanted them to. No need to rush back from that injury quite so quickly, big fella! The next season the three top Rockets all sat out chunks of the season and averaged just 31.1 minutes per over the season, and nobody played more than 2,853 minutes. The Rockets won the title that season, too.
Truer now than ever -- for some reason
Jason Kidd played the most minutes, 2,653, of any of the 2010-11 Mavericks, just slightly more than Jason Terry and Dirk Nowitzki. Between them they averaged a paltry 31.4 minutes per 82 games. (Somewhere Olajuwon scoffs.) But, interestingly, that 31.4 is more or less what things have been like for high-minute players on title teams for the last seven years. It used to be that title-winning teams routinely had players playing more than 3,000 minutes per game. But now something is different.
And it relates to some fundamental changes the league made early in the decade. They're known as "the handcheck rules" but there were no rule changes. In 2001, the league instructed referees to pay more attention to existing rules permitting drivers and cutters freedom of movement. A new standard was pushed internally by the directors of officiating Ed Rush, and later Ronnie Nunn: contact that affected an offensive player's "speed, rhythm, balance or quickness," explains NBA executive vice president of basketball operations Stu Jackson, "would be evaluated as being illegal, and not marginal."
This was not just about hands, either. Especially since the summer of 2004, when the freedom of movement initiative was re-emphasized to referees, that standard has been interpreted to mean any contact that upsets speed, rhythm, balance or quickness can be whistled for a foul.
"If you go back to -- not to disparage them -- but Pat Riley's Knicks. Their defense was predicated on giving that quick shot with the hand," says Jackson. "You remember a player like Derek Harper. He'd steel arm you, you know? As you started your move toward the basket, he'd give you that little jolt, to allow him to recover and get between the offensive player and the basket."
The game, Jackson says, had "grinded to a halt" and referees were instructed to free it up by calling things by the book that had been permitted. That, in turn, forced new defensive strategies which involve all kinds of switching and movement. The idea was to have 10 players moving, and it worked.
"There is no question," says player trainer and ESPN analyst David Thorpe, who watched the changes unfold. "Being an NBA player is far more work now. Tom Thibodeau is the guy who figured out how to take advantage of the new rules. And watch his teams. The minutes now are so much more intense. There is movement all the time, unless you're guarding isolation, which is rare. And it's movement towards action. There's more contact. There's more mental fatigue. There's more to do. Ask coaches who were in the league before and after, like Rick Adelman or Pat Riley. They'll tell you. There's just so much more to defense these days."
Maybe playing the game like that, with intense and complex movements at both ends of the floor, all game long, players simply can't sustain as many minutes of peak performance. Think of it like a running race that used to be held on a flat course, but is now run over hills. It's harder.
Nevertheless, a lot of coaches are deploying minutes like the game is played the old way. Kevin Love is playing nearly 40 minutes per even in a lockout-condensed season. All kinds of playoff-bound players are playing well over 35 minutes per game. Deng is north of 38 per game. Kobe Bryant -- one of the oldest elite wing players in history -- is only a hair behind.
It's nice to think that players ought to be tough enough to muscle through. But it's not really a debate about what ought to be. What is is that teams led by those playing limited minutes have been hogging all the titles lately. That's something to think about, if winning in June is a bigger goal than winning in January.