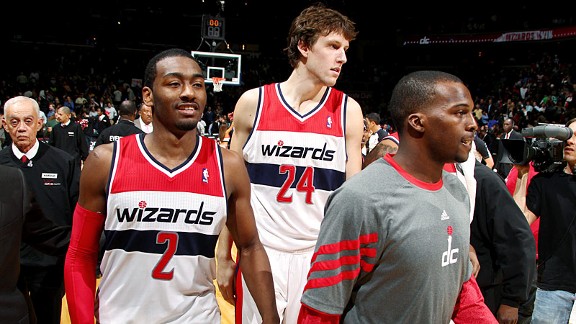 Ned Dishman/NBAE/Getty Images
The Wizards found a moment to smile, but you can only smile so much when you're 2-12.
It is the nature of the NBA season that at any given moment, some teams are rolling, while others are rife with anxiety.
Today, though, an oddity: It's hard to find any team that's worry free.
Take a quick look at the NBA's top ten according to John Hollinger's Power Rankings:
76ers The darlings of the NBA's early season just lost at home to the Nuggets, and still haven't won enough to sell those discounted tickets.

Heat Dwyane Wade's health is one concern. A recent three-game losing streak is another.

Bulls Derrick Rose is injured, Jaokim Noah has been out of rhythm, the defense was better last year, and the Grizzlies just walked all over them.

Hawks The wins have been nice, but Al Horford is out and the home stand is over. Next up: At the Sixers, which is far scarier than it used to be.

Mavericks The champs just lost to both L.A. teams, Dirk Nowitzki has been ill, and 8-7 is nobody's idea of "defending the crown."

Nuggets Denver has started a road trip in style, but remember when they topped the league's defensive efficiency rankings? They're 13th now.

Blazers The story of the season has been high energy levels, almost none of which were evident in a despondent and shabby loss in Atlanta.

Spurs After one of the worst halves in team history against the Heat, Gregg Popovich said the team should be embarrassed. And they're missing Manu.

Thunder One little loss to the Wizards can take all the fun out of what had been seven straight wins.

Lakers They've won six of seven, but that one was a dispiriting loss to the rival Clippers. And they play in Miami tonight.