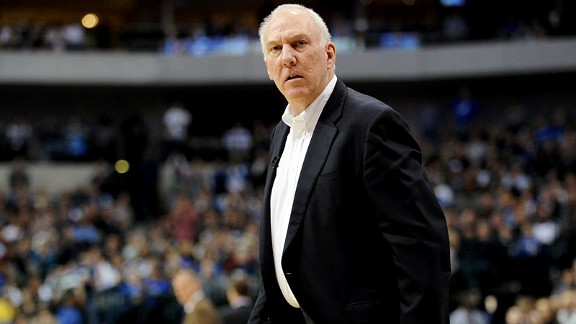 Albert Pena/Icon SMI
The Spurs coach pulled his starters in the third and they never returned.
It will be recorded as just another San Antonio loss, in a season with too many. This one came against a crucial rival, in overtime, with playoff implications.
But to me the dazzling thing about the Spurs' loss to the Mavericks is that it was a chance for the Spurs to rub the rest of the league's face in the fact that they don't do things like other teams.
Gregg Popovich pulled his last starter with around three minutes left in the third quarter of a game that went to overtime. But for Kawhi Leonard straying onto the court for a few seconds here or there, none returned.
In fact, Popovich didn't make a single substitution from the beginning of the fourth on. There's a lot of meaning in his decision to stick with the lineup of Danny Green, Matt Bonner, James Anderson, Tiago Splitter and Gary Neal. Just some of that:
A love letter to the bench
On Friday's NBA Today podcast David Thorpe explained (in a way that really resonated with a ton of people who have been e-mailing, calling and Tweeting -- wow) what he calls "Royal Jelly." It's about the fine art of nurturing players -- intelligently giving them the support, trust and guidance to evolve. It's the opposite of assuming players are what they are and can be no different. Baby bees can turn into drones or queens. They're born the same. The queens, though, are the ones that get the royal jelly, which, I'd argue, Popovich hands out more readily than most coaches.
In most systems, on most teams, the big minutes in the big games go to those who have already earned them. In San Antonio, Popovich knows those minutes can do a lot to inspire young players to develop. He has long been handing them out to players who would struggle to make a lot of NBA rosters. And he has way more than his fair share of those players evolve into meaningful contributors. Is it just that his front office knows how to find diamonds in the rough? Or maybe Popovich has mastered the art of polishing.
Is Danny Green the kind of guy who nails a buzzer-beater to win a huge game on the road over the defending champs? Most people, maybe even including Green, would have said "no" a day ago. But now he hit just exactly that shot -- but for a tenth of a second and video review, the Spurs would have won at the end of regulation. This effect echoes across the lineup. James Anderson drove hard to the left of the lane, looking for all the world like an out-of-control guy not far removed from the D-League. But after drawing a defender, he made a beautiful dish to Splitter. And on and on. The five Spurs who played can all file away memories that prove, beyond a shadow of a doubt, that they can hang.
Secure stars
Why don't more coaches sit their best players with the game on the line? I put it to you that in many cases it's because they literally cannot. Playing those minutes is what stars want most, and stars ultimately are more important to teams than coaches. They are unbenchable.
But Popovich knows that Tim Duncan and Tony Parker are legends already. They don't need to prove that every game. Now and again, they can be cheerleaders without hurting their status one bit. They appear to be secure enough not to make a fuss. This team has bigger goals than winning just this one game.
The San Antonio minutes savings plan
In a schedule-condensed season when fatigue built up over weeks is playing havoc with players all over the league (did you see how tired Blake Griffin got at the end of the Clippers' win over the Nuggets?) Popovich didn't play any starter more than 28 minutes. DeJuan Blair, Tony Parker, Tim Duncan ... most of the Spurs' regulars have long-term health concerns. This is one more night none of them got injured. It's also a little like, say, being a diligent saver. Every time you put money in the bank, you seem like a bit of a spoilsport. People fixate on what you didn't get to do with that money. But when that rainy day comes, and you're sitting on all that cash, then you're the most fun guy in town. The rainy day, for the Spurs, is the playoffs. If they can make it, it will pay not to have all those starters worn out.
The Spurs could have won this game. Jason Terry worked miracles, and the Mavericks needed them all. With starters like Tony Parker and Tim Duncan, this one certainly wouldn't have ended with key misses from the likes of Danny Green and Gary Neal. And that's the end of the analysis for most people in basketball. But the Spurs didn't just get a loss. They also made some down payments on long-term team development. If this team surges later this season, it won't be coincidence.