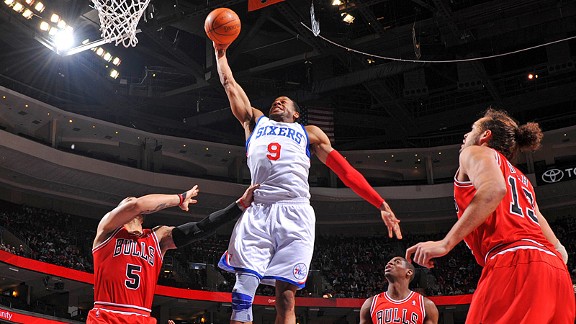 Jesse D. Garrabrant/NBAE/Getty Images
Another big win, this time against some of the NBA's best.
Justin Kubatko, of Basketball-Reference, doesn't mess around with numbers. He doesn't get all excited about things that don't matter. And the other day in The New York Times he wrote:
There have been 38 teams in N.B.A. history with a point differential of at least plus-10.0 points a game through their first 18 games. The median winning percentage of those teams was .753, which translates to 49.7 wins over a 66-game season. Additionally, 24 of those teams advanced to the N.B.A. finals, with 19 claiming the championship.

In short, mediocre teams do not go on extended runs in which they routinely outscored opponents by double-digit margins. If history serves as a guide, Philadelphia is a contender.
In other words, there are interesting numbers to suggest the Sixers are even money to win the title this year. Which is one nutty thing to suggest.
On the other hand, half the teams that have started this hot in NBA history did not win the title. And there is good reason to suspect these Sixers may fall into that category. They have played just about the easiest schedule in the NBA. When they have played the power teams on the road they have generally lost -- at Portland, at Utah, at New York, and badly at Miami. They have also lost at home to the Nuggets and (gulp) Nets.
The wins have come against the softest of the soft, and compromised teams. They beat the Pacers without Danny Granger or George Hill. They beat the Magic during their weird funk.
The Sixers are also deep, with a high-octane bench attack starring Lou Williams, Thaddeus Young and Evan Turner. Maybe this is the team that has cracked the code on the lockout-shortened, condensed schedule -- an advantage that will fade in the playoffs, when every team gets adequate rest between games.
Put it all together, and you have to wonder about projecting titles based on their margin of victory. You simply can't see them hanging with the likes of the Bulls and the Heat in the East.
Or, at least, you couldn't, until Wednesday night:
You can discount the win because of the injured Luol Deng. But it was still a rare blowout of the Bulls, who have been excellent even without Deng. And the Sixers are missing the star of their early success: Spencer Hawes.
The Bulls are one of the NBA's best defensive teams, which tends to keep games close even when their own shots aren't falling. But even without a go-to interior scorer -- really on the basis of spacing and guard penetration -- the Sixers rattled off big runs. A 16-2 run is often big enough to win a game, and the Sixers had one of those in the first half. Later they added runs of 6-0, 11-1 and 13-5. In contrast, the Bulls' best run was 10-2, and came in garbage time.
The Bulls simply didn't know how to beat this young, athletic, selfless team that is going hard every second at both ends of the floor. The Sixers don't turn the ball over much at all, they resist the urge to foul. Their best player, Andre Iguodala, is suddenly hitting shots like crazy.
However hard it has been to believe numbers that say the Sixers are serious contenders, it's getting easier now.
And it matters. It really matters.
Here are two of the big questions the Sixers' early success raises:
Still rebuilding?
This team was in the middle of being rebuilt. (The team's big promise to fans in the preseason: Cheaper tickets!) The two big contracts -- Andre Iguodala and Elton Brand -- featured in rumors all over the place. And I would have to think that's still plan A. This cute little winning streak plays perfectly, inflating the entire roster's value. The new owners have better cards to play than ever. Unless it's more than just a cute little winning streak. Unless this team really is built, right now, to beat the likes of the Bulls in a playoff series. In which case, why on earth would you touch anything?
A good team to join?
Let's take this even one step further. If the Sixers really do have a young team that shares the ball, competes hard at both ends, listens to the coach, looks out for each other, and wins a ton ... that sounds a lot like the Thunder East. Throw in a top-five market with a rich basketball history, and you're talking about the kind of team a superstar might want to force their way to. Dwight Howard, for instance, would be joining athletic committed defenders who would be only too happy to have a real post presence on the offensive end. It's hard to imagine having your choice of the Nets and Sixers and picking the Nets, the way things are going on the court right now. Teams seldom coalesce the way the Sixers already have.
Everything in the preceding two paragraphs can be seen as various forms of jumping the gun. Those are decisions that echo for decades, and this team has been good for about five weeks. The smart thing is to conclude nothing, for now.
But the pressing thing is that there's only six weeks, before the March 15 trade deadline. Over this next month-and-a-half, the Sixers could defy Kubatko's projections and become the average team everybody thought they were going to be. They could, in other words, rejoin the majority of teams essentially waiting for a miracle.
Or they could keep playing beyond everyone's expectations, and create their own miracle right here, right now, this season -- either by keeping up what they have been doing, making advantageous trades or, unthinkable a few weeks ago, getting their hooks into a fully empowered superstar like Dwight Howard.
The Heat come to town on Friday. If the Sixers win that one too, it'll be easy to start thinking very big.
The only thing that's certain about all that is that the big decisions will have to be made very soon, long before it's at all certain how good this team really is.
UPDATE: Jeff Fogle of Hoopdata e-mails an important follow-up:
We'll know more on March 1st.

Friday vs. Miami

Saturday at Atlanta

Monday vs. the Lakers

Wednesday vs. the Spurs

Friday vs. the Clippers

Saturday at Cleveland

The Magic, Mavericks, Timberwolves, Grizzlies, Rockets and Thunder all follow in February.

Not tough at all in terms of the fatigue of back-to-backs ... but very tough in terms of good teams in the mix and two road sequences. Philly has played 14 home games and only eight road games so far.

Philly's getting lumped in with some super teams that had much tougher paths to +10.0 or better in differential. How much would the math sink if Philly played Indiana's schedule to start things off (seven home games, 14 road games so far, but a 15-6 record that includes road wins at Chicago, Lakers, Boston, and Orlando)?

I've been waiting for this gauntlet to arrive to get a better sense of Philly's playoff potential. Glad it's finally here!